The Dance Enthusiast Asks Bessie Nominees (Part 3)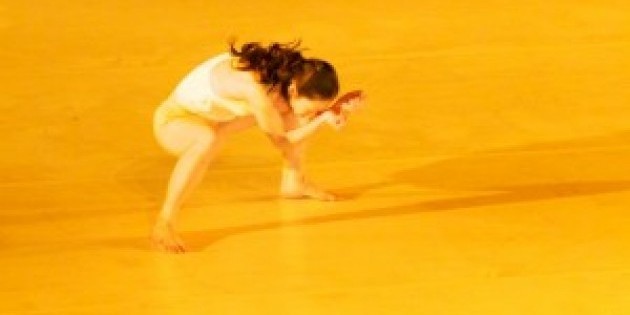 The Dance Enthusiast Asks: Lee Scher and Saar Harari
Outstanding Emerging Choreographer Nominee: LeeSaar The Company for "Fame" at Montclair State University, at their space in the Congregation Beth Elohim (Park Slope, Brooklyn), September 7, 2012.
 
Oct 9th 2012
*Watch out for the Bessies, New York Dance and Performance Awards on October 15, 2012 8pm at The Apollo Theater in Harlem
*Read more Q+A's with Outstanding Emerging Choreographer Nominees

Rashaun Mitchell
Liz Santoro
Jennifer Weber of Decadancetheatre
---
Tara Sheena for The Dance Enthusiast

Tara Sheena: How did you start choreographing? Did you always know you wanted to be a choreographer?

Lee Scher: We started working together long ago in Israel.

Saar Harari: Around 2000. It was just a way for us to express ourselves and our knowledge. We didn't have a lot of knowledge in choreography.

Scher: Yes, I think you gain knowledge of choreography by choreographing.

Harari: We moved here in 2004 and had the idea that if you worked in the studio, you would eventually move forward and get paid. In the first few years, we just worked. We really believed, if you worked, you would get paid eventually or you be presented. Since then, we are still going through the same notion: constantly creating and understanding ourselves and our tools.

Scher: Who we are and how do we do it… What's our secret? We still don't know, but now, we know a bit more. We know more about who we are and how not to freeze when something doesn't work. Just to create. Keeping it as fun as it can be.

TDE: How do you usually begin work? With an idea? A movement phrase? A piece of music?

Harari: We always make work. We don't work on one piece; we are constantly working.

Scher: We start work by living. We live. Then we sense that. And we decide if we want to react to it. For Fame, we started with the title. We wanted fame [laughs]. It was in the word and we had some ideas for structure.

Harari: Things started to influence and overlap. We try and create things everyday, because we work everyday and we put ourselves in this structure that also gives us possibilities. It's constantly making work; it's not making a piece and then finishing it.

TDE: What inspired the work that earned you your Bessie nomination?

Scher: We thought about the word. In Hebrew, when you say "fame," it is also "glory," and not just "celebrity." It is the moment that you've touched your dream from a very honest place. It wasn't, "I want to be a celebrity." We wanted to talk about the artist's path from the moment he is born. We look for this love and this precious need for love.

Harari: Because we invest so much in the dancers, we also work a lot with solos. It's easier to go deeper into the core of the material and the core of expression. We started from there. But throughout the piece, sometimes we'd react to [the name of the piece], sometimes we'd react to our instincts.

Scher: There's no plot. That's what's nice about contemporary dance - it's very open after all.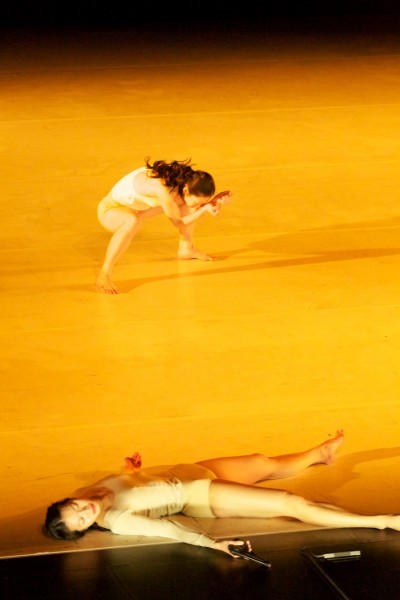 LeeSaar company in Fame. © Photo credits Daniel Francisco Valdez.
TDE: What was your biggest challenge with the work?

Scher: To live in New York. To be foreigners. To be so lonely. The combination of theater and the dance.

Harari: I think it was challenging because we were inside. Both of us were performing in the piece. It was easier being outside, seeing what worked with the dancers, but we had to work separately when we were in. We were in and out.

Scher: It was very challenging.

Harari: It was a very long process - more than a year and a half. It was also a challenge to go from P.S. 122, where we had most of our seasons, and taking a big step [to larger theaters]. It's not that we wanted to make a big production, but to be better. Better dancing, better choreography. We put effort into being better at what we do rather than putting a bigger envelope around us.

TDE: How do you know when a work is finished or, at least, ready for the audience to view?

Harari: We show a lot before [the performance]. When we showed in Holland, we invited a lot of knowledgeable people.

Scher: We learn from feedback, and not in the beginning when there are all these vegetables; when it looks and smells like a soup, it's time to open up.

Harari: When you have different people in the studio, you get all this different feedback and you see what isn't precise enough or what's too specific. You get a sense of how people will react.

TDE: Do you think about your audience when making work?

Harari: We think about possibilities.

Scher: We don't think about the audience; we think about how we can share with the audience.

Harari: It's mostly about how we can be clearer and more specific.

Scher: More exposed, more fragile.

TDE: Who is your favorite choreographer of the moment?

Scher: Ohad Naharin, Pina Bausch.

Harari: With Ohad, it's not just because of his work, although I really love his work, but the way he approaches things from the beginning; having so much knowledge and still starting afresh.

Scher: Ohad also inspired us with his Gaga [Movement Language]. Everyday, we live our lives with Gaga. Definitely his works, definitely. It's more than dance.

TDE: What's next for you and for your Bessie nominated work?

Harari: We already have another piece that's towards the end of its creation. There will also be a performance at Abrons [Arts Center] from November 1st-3rd.

TDE: Is there anything else that you'd like to mention?

Harari: I want to thank our dancers. I think they are really inspiring us in the way they work and the way they teach us. Three of them are Gaga teachers and they teach the company. They invest in us and work everyday.

Scher: They are a part of our body. We have a very deep connection.

Harari: I feel that we are a company that truly creates together.
To Find our More about the Bessies and the Bessie Nominees, Click Here
To Find our More about choreographer Lee Scher and Saar Harari, Click Here
To Connect to Dance/NYC's Bessie Pages for detailed info, Click Here
---
The Dance Enthusiast Asks questions and creates conversation.
For more of The Dance Enthusiast Asks, click here.
---
The Dance Enthusiast - News, Reviews, Interviews and an Open Invitation for YOU to join the Dance Conversation.