The Dance Enthusiast Asks Bessie Nominees (Part 4)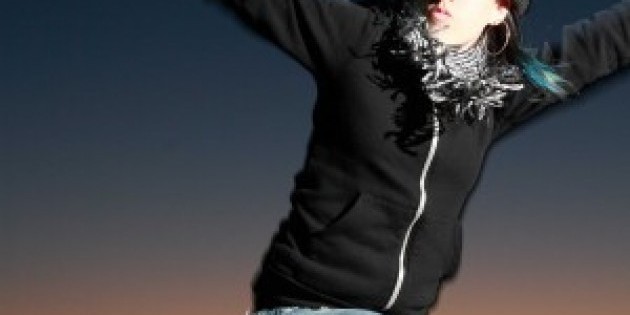 The Dance Enthusiast Asks: Jennifer Weber
Outstanding Emerging Choreographer Nominee: Jennifer Weber of Decadancetheatre for "DECA" at Joyce SoHo
  
September 2012
*Watch out for the Bessies, New York Dance and Performance Awards on October 15, 2012 8pm at The Apollo Theater in Harlem
*Read more about the Outstanding Emerging Choreographer Nominees on The Dance Enthusiast Rashaun Mitchell
Liz Santoro
Lee Scher and Saar Harari of LeeSaar The Company
---
Tara Sheena for The Dance Enthusiast
Tara Sheena
: How did you start choreographing? Did you always know you wanted to be a choreographer?
Jennifer Weber
: When I was a kid, I loved the TV shows Star Search and Kids Inc. Although I didn't take any dance classes, I would choreograph duets for my younger brother and I. I was always very serious about this - organizing rehearsal times and being generally intense. When I was in college (at University of Pennsylvania), I auditioned for all the student-run dance groups, but got rejected from all of them. So I started my own. Strictly Funk still exists at Penn. As the founder/director of Strictly Funk, I started to choreograph for real. I immediately fell in love with choreography - the process, the challenge, the power of speaking on stage, and the community created by dancers working together. After graduating, I moved to NYC to start my own company in the real world. I've always loved choreographing, but I never would have imagined that I could actually make my dream job my career. I feel so lucky to work with such an amazing and inspiring group of collaborators. We are a true family of artists.
TDE
: How do you usually begin work. With an idea? A movement phrase? A piece of music?  
Weber
: That depends on what I am doing. Sometimes it's a concept, sometimes music, usually a combination of the two and how they relate to each other.
TDE
: What inspired the work that earned you your Bessie nomination?  
Weber
: We were nominated for our 3-week April Season at Joyce SoHo, which included three pieces. One of the pieces 4 was a world premiere, so I will focus on that. For 4, I wanted to use the language of hip-hop to physically translate a piece of classical music into hip-hop dance - a conceptual challenge for myself and the dancers. I chose the Summer Concerto of The Four Seasons by Vivaldi, because I loved the idea of working through the emotions and colors of the seasons. In hip-hop culture, we often think about the idea of "the loop" - a beat sample that is repeated over and over to make a full musical track. When a DJ scratches a loop or an MC rhymes over the beat, the juxtaposition of sounds shifts the loop in our ears. On a larger scale, we all live through the loop of the four seasons every year. Although the seasons remain the same, we are personally evolving and therefore feel the same seasons in new ways each time they come around. I wanted to keep the musicality of contemporary hip-hop (the strong connection between sound and movement) and see how it could amplify sounds within the classical score.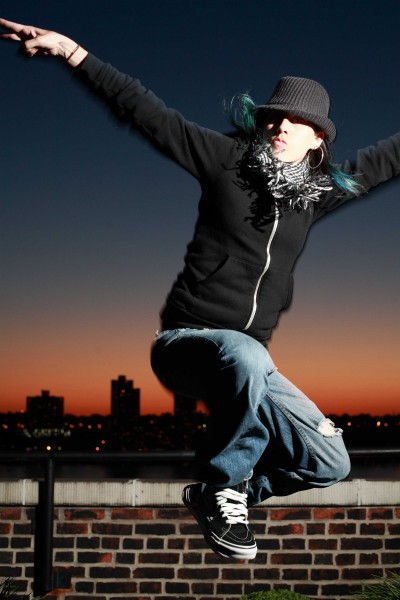 Jennifer Weber, Bessie nominee
© Photo courtesy of jenniferweber.wordpress.com
TDE
: What was your biggest challenge with the work?  
Weber
: As hip-hop dancers, we are so used to working with counts, but there was no way to "count" the music, so the hardest part was describing sounds to each other, saying things like, "You know that part that sounds like…" and trying to mimic the sounds.
TDE
: How do you know when a work is finished or, at least, ready for an audience to view?  
Weber
: I think work is never finished, but when it comes together, its pretty obvious - it just feels right.
TDE:
Do you think about your audience when making work?
Weber:
I do. I think about how I can use dance to inspire the audience. I want to create work that pulls the audience in, that shows them how strong the language of hip-hop can be, and how beautiful and powerful women in hip-hop are. I want people to leave the theatre feeling like they can do anything.
TDE
: Who is your favorite choreographer at the moment?  
Weber
: Steven Hoggett from Frantic Assembly (a physical theatre company based in the UK).
TDE
: What's next for you and this Bessie nominated work?  
Weber
: Well the work is currently on a five week, 18 venue tour of the UK. The Brewery Arts Center in Kendal, UK has commissioned the Fall Concerto of 4, so we will debut that in addition to our current repertory on the tour. The company will return to NYC the day before the Bessies! After that, we will spend a few weeks at Gibney Dance as a DIP Resident developing new work and then head to San Francisco for the San Francisco Hip-Hop Dance Festival. It's a busy fall season for the DECA Crew!
TDE
: Is there anything else you'd like to mention?
Weber
: Please check out our website

www.decadancetheatre.com

. Also, we would really like to thank Cathy Eilers at Joyce SoHo for creating the "in rep" program. Allowing emerging companies to present their work for three weeks instead of a single weekend really gave us the opportunity to develop
both our work and our audience. No doubt, it helped get the audience, which led to this 
nomination!
To Find our More about the Bessies and the Bessie Nominees, Click Here
To Find our More about Jennifer Weber and Decadance Theatre, Click Here
To Connect to Dance/NYC's Bessie Pages for detailed info, Click Here
---
The Dance Enthusiast Asks questions and creates conversation.
For more of The Dance Enthusiast Asks, click here.
---
The Dance Enthusiast - News, Reviews, Interviews and an Open Invitation for YOU to join the Dance Conversation.