Related Features
Advertise With Us
Make an impression - place an ad on The Dance Enthusiast. Learn more.
Contribute
Your support helps us cover dance in New York City and beyond! Donate now.
The Dance Enthusiast Asks: Crystal Pite

Behind The Scenes with Kidd Pivot at the Baryshnikov Arts Center
The Dance Enthusiast Asks Crystal Pite
Choreographer and Artistic Director of Kidd Pivot Frankfurt RM
---
Interview and video by Christine Jowers for The Dance Enthusiast
Kidd Pivot Frankfurt RM, the company whose name refers at once to a boxer, gunslinger, pirate (Kidd) and precise, elegant movement (Pivot) provoked a huge sensation both critically and popularly with the work
Dark Matters
. Crystal Pite, Kidd Pivot's choreographer and artistic director, has been cited by Ella Baff, the executive director of Jacob's
" There is always a trajectory or an energy that is proposed in any particular movement and I like to try to follow that. I find that the movement really informs me about the act of choreographing itself. There is always information there about where to go next."
- Crystal Pite
(for more interview click
here)
Pillow Dance Festival, as "one of the most talented, intelligent, and original dance makers to come along in recent years." Baff is not the only fan. Pite and Kidd Pivot are worldwide sensations.
Last year, Pite won the coveted Jacob's Pillow Dance Award for her visionary artistry and explorations. Now, by popular demand, Kidd Pivot will return to the Pillow this summer to re-share that sensational work created, according to Pite, (out of) " that relationship I have to have with the unknown."
Is it any wonder then that this past February'sperformance of Pite's
The You Show
at The Baryshnikov Arts Center in New York sold out instantly?
Fortunately, our Dance Enthusiast team ordered tickets way in advance and got in. We also hit the jackpot and were able to watch the company in rehearsal, shoot some video and speak with Pite about her choreography.
Word is that Kidd Pivot Frankfurt RM is returning to New York to perform at the Joyce Theater in the fall. Keep your ears and eyes open. Youdon't want to miss this group.
---
Here is what two of our writers had to say about the experience of The You Show.
 
" 'A Picture of You Flying' touched me the deepest of the four pieces presented as "The You Show." The tangible story line and use of technical prowess to further that very accessible matter of trying to be a superhero while loving someone (even though they cannot share) was funny, yet serious...It was as complete a work as could be. All in all, the dancers of Kidd Pivot should grace New York's stages more often. Their skills were certainly appreciated by the whole audience."
Brittany Beyer for The Dance Enthusiast
"Crystal Pite demonstrated remarkable craftsmanship in her New York premiere, "The You Show" at BAC. 'The Other You', in particular, was a thorough investigation of man as an animalistic creature of curiosity and instinct, pit against his more "civilized" nature of strategy and manipulation. The Forysthe-like articulations of her choreography were used in a far more conceptually sophisticated way in this alpha-dog duet, than in the other three pieces. But, I do have to admit that 'A Picture of You Flying,' at the end of evening was a spectacular piece of fun worthy of a much larger audience." Cory Nakasue for The Dance Enthusiast
---
---

Christine Jowers for The Dance Enthusiast: What was the basis for The You Show?
Crystal Pite: I was interested in narrative…going back to some really familiar story lines of love and heartbreak, conflict and loss and just using the body as a way to get narrative, without "really" trying to get at any story. I rely on stories that are familiar and generic in a way. So that people can inhabit the dance. I overtly invite the audience to inhabit the dance - to imagine themselves really represented in the performer. That's why it's called The You Show.
It starts off with a voice-over that invites the audience to locate themselves in the dancer, "Look this is you. This is your hand.This is your back. This is you reaching back. This is the shape of your back as you reach."The audience can imagine themselves really represented.
I have a favorite proverb, which is, "Talk to a man about himself and he will listen for hours." I think there is the key to good theater making. When the viewer really has a sense, a feeling that the performance is about them, then they are going to be more invested.

Kidd Pivot Frankfurt RM in The You Show , Photograph Michael Slobodian
CJ: How do you come up with the gestures and partnering? They seem so complex and unique to you.
Crystal Pite:
I rely on the performers to help me build the material. I try to work to their strengths. And, I try to not waste movement. I make lots of choreography that I throw away and don't ever use, what I mean about "not wasting movement" is that with any movement, there is always something to follow, or a grip that wants to be used to its' fullest. If something is proposed physically, I like to either see it interrupted, or to see it exploded or imploded - I like to see it flow or morph into something else. I don't like to see movement dropped and wasted, in a sense. There is always a trajectory or an energy that is proposed in any particular movement and I like to try to follow that. I find that the movement really informs me about the act of choreographing itself. There is always information there about where to go next.  
---
CJ: Has choreography always come easy to you? What are you challenged by?
 
CP:
I am more challenged by the theatrics of choreography, the theatrical side of making work, of structuring a performance, of following through with content, of bringing all the collaborators together trying to make piece that is cohesive in concept and to pace something out and make a compelling, rich, water- tight experience for the audience.The actual choreography the actual making of the movement that's where I am most comfortable. It is not easy. But, relatively easy, in comparison with the other things.  

Kidd Pivot Frankfurt RM in The You Show, Photograph Michael Slobodian
CJ: In one of the duets for The You Show, the grande finale, the dancers become Transformers, a la the action figures, and they do a really great job of it. I kept thinking what a perfect show this would be for my children to see. I also really enjoyed it. Why the interest in Transformers?
CP: Well, I really like Transformers - just so cool as a concept. I love the animation and the ideas, and as a child too, I was really into them.
But to do that with live bodies and to watch those two dancers arm themselves and become armored by their colleagues like that was, I think, a way of expanding the relationship between them, making them larger then life and making the story between them echo and reiterate through the other people. We are all connected by those stories. We all share those emotions and those story lines in our lives. And this is a way of me getting to what that feels like.
And they (the dancers) are also just really good at it. At being connected and being attuned to the core of the image - being able to stick with it and make it super clear.

Kidd Pivot Frankfurt RM in The You Show , Photograph Michael Slobodian
CJ: Are you ever finished with your work? Is "The You Show" created in 2010 complete?
CP: I change little things every time we do it. Even today I just changed some little things that make it more efficient, that direct the viewers eye a little bit better-- timings, little adjustments. I actually really like this show. It is made of four different pieces. Each of them is a favorite, in a different way.
I enjoy watching, these four duets. Even though the final duet has the whole company in it, I still I consider it a duet because at the heart of that pieceis the relationship between two people. I enjoy watching each of these performers highlighted and presented in their own world. That was also the original impulse (for the piece). I wanted to give each of the dancers ownership over a quarter of the show, so rather than having an experience as an artist in one world where everyone is in it for the whole performance, I wanted to create smaller worlds --worlds that they could inhabit more fully or be more responsible for.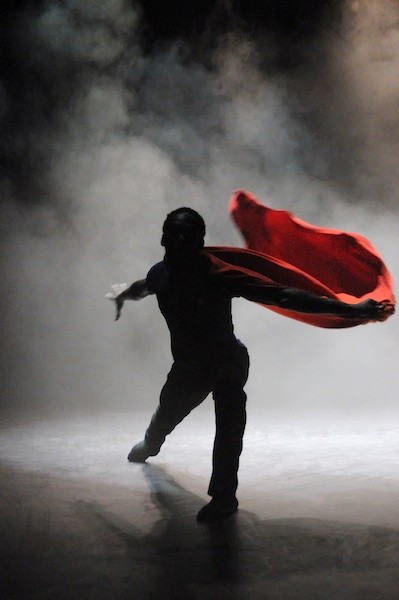 Kidd Pivot Frankfurt RM in The You Show , Photograph Michael Slobodian
---