Ingrid Silva of Dance Theatre of Harlem Speaks About Artistry and Inclusion as she Prepares to Dance at New York City Center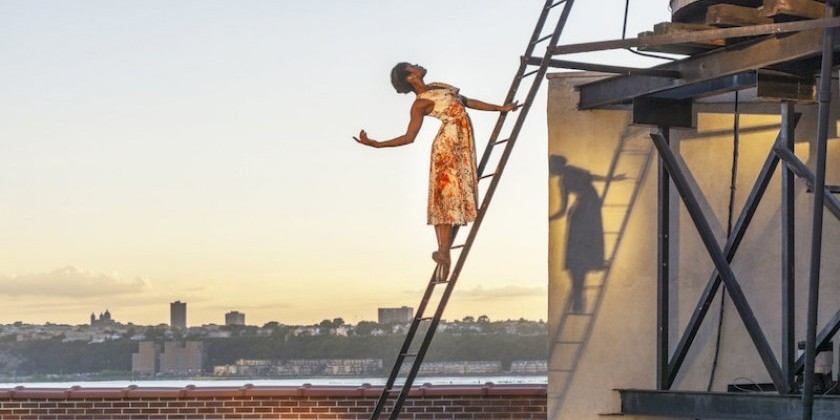 Stacy Menchel Kussell had the opportunity to chat with Brazilian ballerina Ingrid Silva, who is celebrating her tenth year with Dance Theatre of Harlem this year. Silva talks about growing up dancing in Brazil, her recent efforts for social outreach, and her most challenging new roles in the upcoming DTH performances at New York's City Center April 5-8, 2018.
For ticket information, go to the New York City Center website.
---
Stacey Menchel Kussell for The Dance Enthusiast: What were your first experiences dancing and what motivated you?
Ingrid Silva: I grew up in Rio de Janeiro and started dancing in a community outreach center at age eight. It wasn't until I was little older around 12 that I really started to fall in love with classical ballet. I loved the challenges of the technique — I felt I could defy gravity on my pointe shoes.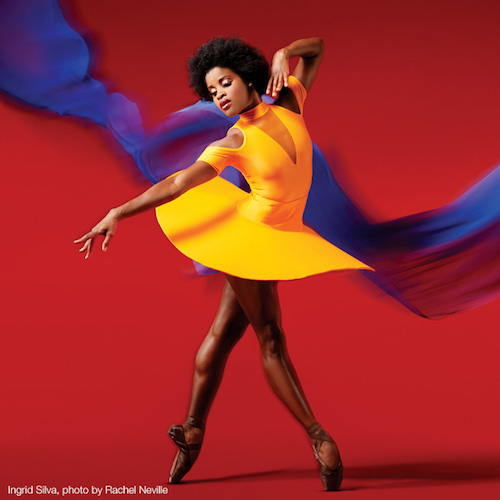 What brought you to DTH, and how have you evolved as a dancer since you joined the company?
Ingrid Silva: I was training at several dance companies in Brazil, and danced briefly with Grupo Corpo as a teenager, but I still longed to do classical repertory and there were no opportunities for black classical dancers in Brazil. So, I auditioned for DTH via video tape and was accepted into the training program in 2008 and then eventually joined the ensemble. I joined the main company in 2012.
I came to New York at 18 and didn't speak English, so it was quite an adventure. I have really evolved both as a dancer and a person since I joined the company and DTH has been an amazing place to grow. Now, it is about more than just the physicality in my dancing, I am deeply invested in exploring the artistry in each role.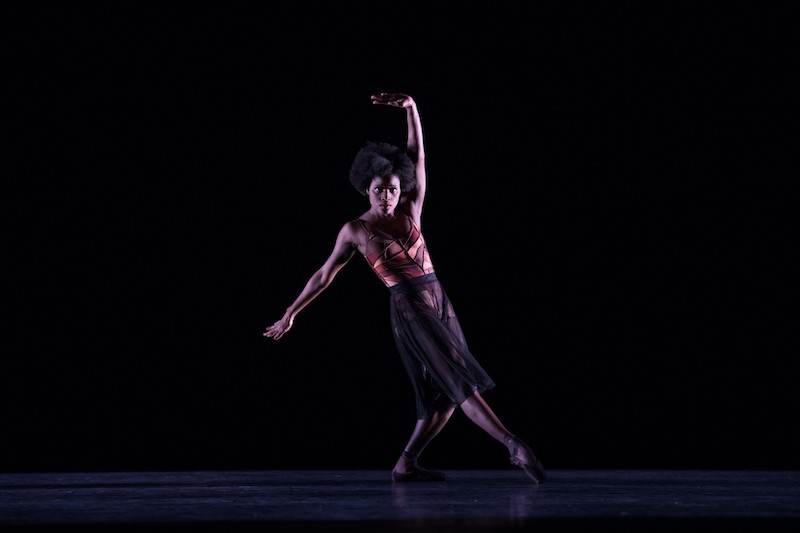 Artist Ingrid Silva in Dianne McIntyre's Change. Photo by Rachel Neville
What are your favorite highlights of the upcoming season, and what choreography pushed you as a dancer?
Ingrid Silva: We have a such a great program this season. The two pieces that really pushed me are Harlem on My Mind by Darrell Grand Moultrie and Dougla a revival of Geoffrey Holder's piece. In Harlem, I dance to "My Funny Valentine" in a very slow and sultry solo, which was new stylistically for me. Dougla is full-bodied and emotional, it takes everything you have.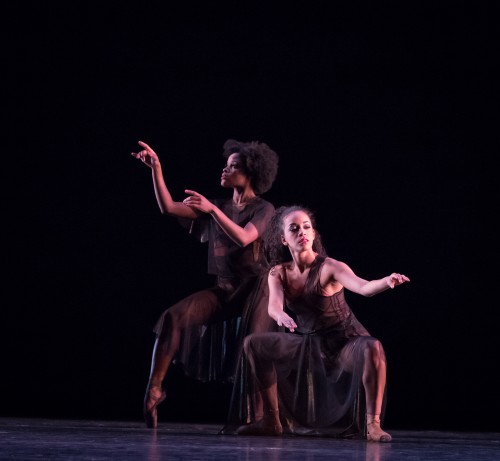 Dance Theatre of Harlem Artists Ingrid Silva and Alison Stroming in Dianne McIntyre's Change. Photo by Kent Becker
DTH formed during a historic time in American History regarding the Civil Rights Movement – what ways does the company continue to push for more inclusion in the dance world? And what efforts do you participate in personally?
Ingrid Silva: I have danced under the direction of both Arthur Mitchell and Virginia Johnson, dance icons who have done so much for inclusion in dance. What I have learned from them and what the company still embodies today is the idea — the fact — that dance is possible for everyone, and there are no boundaries.
I love performing for adult audiences, but my favorite work is what we do with children in schools during our lecture/demonstration series. I want children to see me not just as a dancer but as someone they can relate to. What was possible for me can be theirs as well. I also recently started an organization with female entrepreneur Helya Mohammadian called EmpowHer New York to empower women to from all walks of life.
---
The Dance Enthusiast Asks Questions and Creates Conversation.
For more of The Dance Enthusiast Asks, click here.
This Season We are Talking to Artists about Activating Space.
Activate Your Space in the Dance World by Sharing Your Insight on Performance in an #AudienceReview.