The Dance Enthusiast Asks: Jodie Gates
The Leader of The Room
written by Christine Jowers, Founding Editor for The Dance Enthusiast
May 29th, 2012
---
Jodie Gates'  Embellish and A Delicate Balance  will have their New York Premiere on June 2nd and 3rd, 2012 at The Joyce Theater, along with the choreography of Canadian choreographer, Peter Quantz, and his illustrious Q Dance  - For times and tickets click here
---
Jodie Gates, the former
Joffrey Ballet
,
Pennsylvania Ballet
, and
William Forsythe
dancer sits before her computer for our Skype interview. Perfect posture, up-swept ponytail, very little make-up, she wears an inviting smile and a tracksuit. Seems as if she's ready to spring into action at any second. I imagine it's the first time this former ballerina has sat down all day and I'm thankful to have caught her. 
Although retired from a 25-year career of dancing, Gates remains constantly on the move. She choreographs and coaches internationally and nationally; mentors students at the University of California at Irvine where she is a professor; and directs the Laguna Beach Dance Festival, which she founded in 2005 and which continues to be a boon for dance and all the arts in southern California. Gates is delighted by the dance awareness the festival has fostered along with synergistic growth of residencies and dance and visual arts collaborations. 
BalletX in Delicate Balance Choreographed by Jodie Gates ; Photography © Alexander Iziliaev

"I had no idea that I had a business sense," she confides, regarding the success of the festival and her artistic direction.  
What this artist is fully aware of, however, is her role as a leader in the ballet world's choreographic community. She is passionate about sharing her artistic lineage by creating dance work. "There are not many female, neo-classical American choreographers working today," Gates admits.  In fact, during our interview, I can't think of any.
"People tend to look at men first. We have to break the mold. I have been leading the room for quite awhile now," she reflects, "but, I suppose, I am a leader."
This week, as part of the Gotham Dance Festival at the Joyce Theater, we will have a chance to encounter this American ballet leader's incredible movement history. A new generation of ballet talent will illuminate Gate's lineage and bold interpretations of the same in the New York premieres:
Embellish
(2012) danced by the Colorado Ballet and
Delicate Balance
(2012) danced by the Philadelphia company, BalletX.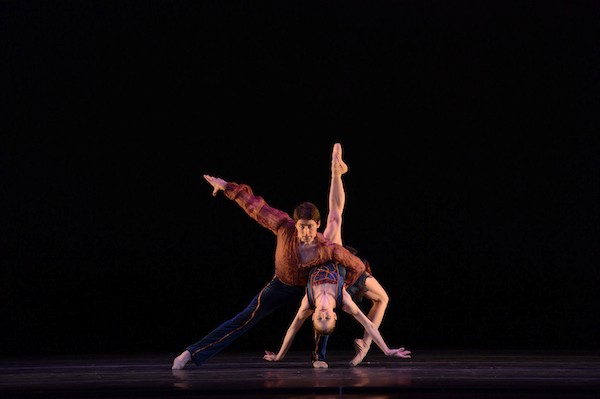 The Colorado Ballet in Embellish, Choreography by Jodie Gates ; © Photography Terry Shapiro
Embellish, performed to music by Mozart, is a rousing ballet that moves from the classical style to more contemporary deconstructions. It reflects the span of Gates' career. Delicate Balance, a ballet for ten dancers, not performed with pointe shoes, is "purposefully more grounded and earthy," reminiscent of the choreographer's explorations during her tenure with Forsythe.
Springing into action and facing news challenges seems part of Gates' DNA. As a schoolgirl in Sacramento she was on the relay team. Atypically, she didn't dream of being a ballerina. In fact, her father wanted her to be a track star. "I have quick fire muscles (perfect for track)," Gates explains.
But, Gates' older sister, a ballerina who danced for the Stuttgart Ballet, inspired the ever-curious, younger Gates to try dance too.  In short order,
Robert Joffrey,
director of the pioneering American
Joffrey Ballet
discovered the young ballet student, age 15, at a Sacramento dance festival. Thus began an "amazing 15 year mentorship," describes Gates.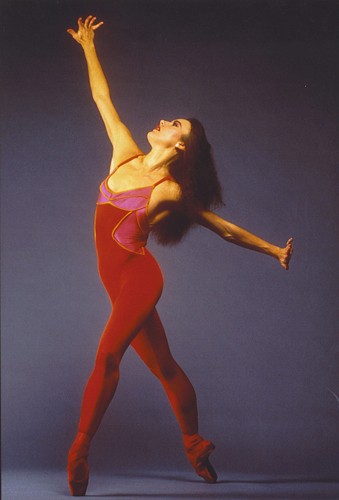 Jodie Gates in the Joffrey Ballet's BillBoards; Photo by Herbert Migdoll, Courtesy of Jodie Gates
As a Joffrey ballerina, Gates danced an eclectic repertoire featuring works by
Gerald Arpino
, Joffrey's co-director for many years, and other choreographic giants, such as:
Frederick Ashton
, the former principal choreographer of the Royal Ballet;
Mark Morris
, at first referred to as an
enfant terrible,
now considered a foremost interpreter of music through dance; and
James Kudelka
, the Canadian dance inventor known for his sensitive choreographic renderings.  At The Joffrey, Gates was also fortuitously introduced to the deconstructions of William Forysthe and she famously cavorted to the music of Prince and the choreography of
Peter Pucci
in The Joffrey's full-length ballet
Billboards,
a celebration of the 1990 MTV culture. She is proud to have been part of a ballet company at the forefront of reflecting contemporary life.
After Joffrey, Gates danced works of
George Balanchine
at the Pennsylvania Ballet, falling in love with his relationship to music in ballets such as
Serenade
and
Theme and Variations
. She also had the opportunity to dance story ballets, like
Coppelia
, and Agnes DeMille's,
Rodeo,
in which she played the part of the 'cowgirl'.  With maturity Gates came to find such dramatic roles freeing.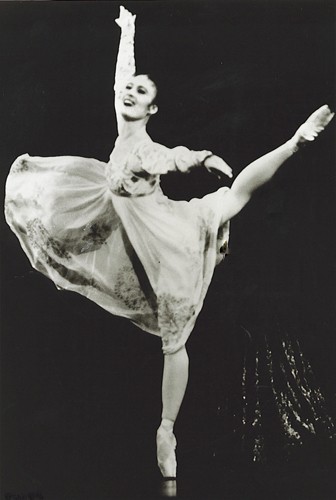 Jodie Gates in Romeo and Juliet; Photo by Herbert Migdoll, Courtesy of Jodie Gates
Her final position as a professional dancer was performing with William Forysthe's Ballet Frankfurt where she immersed herself in the choreographer's revolutionary creative processes; playing with counterpoint as well as employing improvisational tasks and tools.
"I was committed to take it all in, and do as much as I could at the highest standard."
What would Jodie Gates recommend to young women (and men) trying to lead the field of dance and choreography today?
"Never stop being inquisitive. Constantly investigate and be open to new roles," is her advice.
As to what keeps her motivated to be a beacon for women choreographers of ballet while creating dances and mentoring, Gates immediately replies, "Humanity, vigor, and vitality."
Now, I could have told you that the moment I met her in her tracksuit.
BalletX in Delicate Balance Choreographed by Jodie Gates ; Photography © Alexander Iziliaev
---
The Dance Enthusiast Asks questions and creates conversation.
For more of The Dance Enthusiast Asks, click here.
---
The Dance Enthusiast - News, Reviews, Interviews and an Open Invitation for YOU to join the Dance Conversation.