The Dance Enthusiast Asks Jordan Isadore aka Sara Du Jour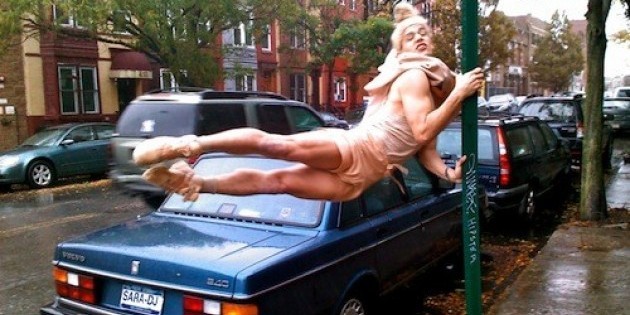 The Glitter is On Reserve
The Man Behind the SARA Phenomenon-Jordan Isadore
February 6th 2013
---
Trina Mannino for The Dance Enthusiast

SARA DU JOUR has been making waves via the internet since December 2011. You may follow her on Instagram, Twitter or Facebook. Better yet, watch one of her videos in which she dons a head-to-toe nude ensemble while rocking a messy top knot. SARA is crazy about "anything dance". Just don't get in her way of becoming a premiere contemporary dancer, or she may un-friend you.

SARA is making her way out of the virtual world and into a theater near you with her New York evening-length debut, Live in 3-D, at Triskelion Arts on February 15 and 16. Contributing writer Trina Mannino met with SARA's co-creater, Jordan Isadore, to discuss "House of DU JOUR".

Click HERE for more information on SARA's upcoming performance.
---
Trina Mannino for The Dance Enthusiast: How did SARA come to fruition?

Jordan Isadore: My collaborator Nicole Bridgens and I met in college, and attended a Batsheva Dance Company workshop in Israel together. When we returned, we wanted to continue to work together. We had a hard time at first because I moved to New York and she moved to San Francisco. We would create choreography and send it back and forth through YouTube. We often talked about what we thought was funny and ridiculous in the dance world and those ideas and anecdotes were the beginning of SARA. Then we started a blog about her. The blog gave us the opportunity to contribute weekly, choreographing videos and photos. Since we live on two separate coasts, we do a lot of Skype dates, e mail and talk on the phone to flush out ideas.

TDE: How has your formal dance background informed SARA DU JOUR?

Isadore: The things we witness in contemporary modern dance definitely influence our depictions of SARA. There are things that dancers accept as being normal; which in reality, are very bizarre.

TDE: Like what?

Isadore: Like how dancers turn messy hair into fashion statements, or how wearing sweats becomes a uniform or how dancers don't bend their legs to pick things up. I feel SARA is made of these trends.

But as much as SARA seems crazy and fun, there is a lot of thought going into each SARA project. We're constantly experimenting with how we can reference dance history or current trends in the field. There is a formality to building all of the pieces to create SARA DU JOUR and that stems from our training and experience as dancers.
Jordan Isadore and Nicole Bridgens of SARA DU JOUR; Photo Eddie Tallman

TDE: What are you trying to say through SARA DU JOUR?

Isadore:We are DJ's of sorts — remixing pop culture, dance history and contemporary dance trends. We're not trying to be original, we're taking ideas and elements that already exist and re-packaging them. The most interesting thing to me about SARA is that since she is trying to be current, she is allowed to evolve and grow. It's very exciting to mold a character.

TDE: You collaborate with several people on SARA DU JOUR in San Francisco and New York. How do you all embody SARA? Does each of you interpret her differently?

Isadore: Anyone can be SARA! We encourage our collaborators to have their own ideas about her and make their own choices while building on the character we have created. When I have the full Sara look on, I feel and act differently than I do as Jordan. I tend to be campier than the others when I'm SARA. It can be tricky when making artistic choices because as individuals we're making decisions for the "Collective SARA".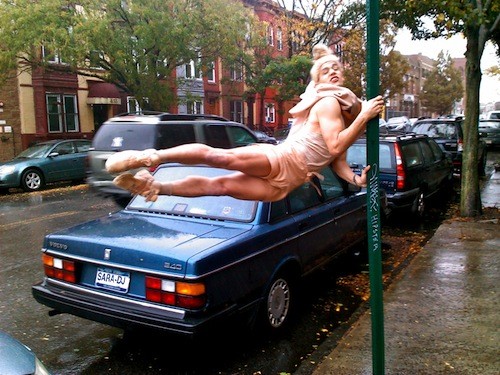 Jordan Isadore of SARA DU|JOUR; Photo Raja Feather Kelly

TDE: What is SARA DU JOUR Live in 3-D going to be like? (The performance at Triskelion Arts will be the New York debut, but SARA premiered in San Francisco at The Garage in January).

Isadore: It's called Live in 3-D because we're trying to bring SARA into the real world, and at the same time, we're going to bring the audience into the internet with SARA. Throughout the show we look at different social media platforms and explore what it would be like if we were living in YouTube, or if Pinterest was tangible. What would it mean to be "friends" and to "follow" someone. We're trying to use very little video to keep in line with the Live in 3-D theme so we're using sets and lots of props to create this world.

We will ask the audience to participate in the performance by keeping their phones on to take pictures, tweet and Facebook in real time as the show is going on. We'll also hand out 3-D glasses so that the audience will fully have the 3-D experience.

TDE: In addition to your SARA DU JOUR projects, you dance with a number of companies, including Skybetter & Associates and Shen Wei Dance Arts. Is it challenging to balance your performance career and SARA?

Isadore: It definitely can be overwhelming. Nicole and I make blog deadlines for one another, and when one of us goes on tour, we have to anticipate how that will affect the project. The great thing about SARA is that she can be collapsed into a bag and be taken anywhere. I've made a number of SARA videos while touring and on vacation.

TDE: Do you find SARA in your everyday self?

Isadore: Of course. SARA has this boisterousness about her that I admire. I feel that I have it too, but don't always reveal it. Since we created SARA, she has helped release Nicole's and my fears and vulnerabilities. When we're SARA, it's especially easy to explore and be open.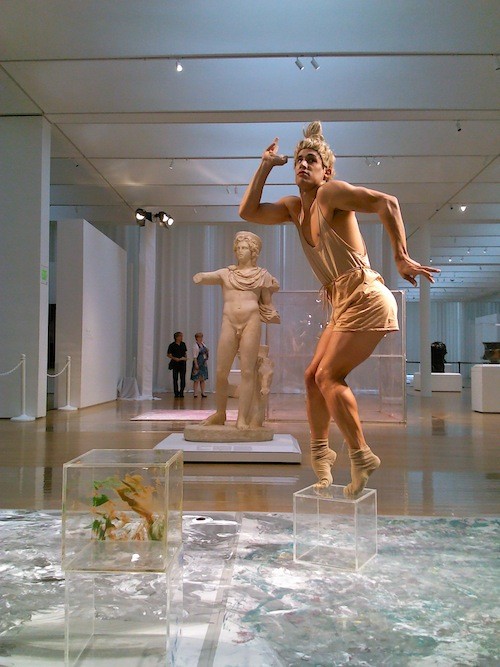 Jordan Isadore of SARA DU JOUR; Photo Kira Blazek
---
The Dance Enthusiast Asks questions and creates conversation.
For more of The Dance Enthusiast Asks, click here.
---
The Dance Enthusiast - News, Reviews, Interviews and an Open Invitation for YOU to join the Dance Conversation.