Related Features
Contribute
Your support helps us cover dance in New York City and beyond! Donate now.
The Dance Enthusiast Asks: Keigwin + Co's Ashley Browne
Dancing with a Commmunity of Movers and Shakers
as Keigwin + Co Prepare  Their Joyce Theater Season
June 12th-17th, 2012
Artistic Director: Larry Keigwin
Associate Director: Nicole Wolcott
Performers: Matthew Baker, Ashley Browne, Aaron Carr, Brandon Cournay, Justin Dominic, Ariel Freedman, Kile Hotchkiss, Kit McDaniel, Emily Oldak, Gary Schaufeld, Emily Schoen, and Jaclyn Walsh.
For times and  tickets click here.
---
Tara Sheena for The Dance Enthusiast
June 11, 2012
Sitting with Ashley Browne, the spunky, sassy, compact mover of Keigwin + Company, in a midtown café last week, I was struck most by her opening statement. "I always say it," she said, "modern dance takes itself way too seriously."
And, thus, I plunged into the zany (
and humane
) world of Larry Keigwin. That is, the world as told through the singular voice of Browne, a member of the New York-based company since 2007. Browne is uninhibited about her devotion to Keigwin + Co and its repertoire.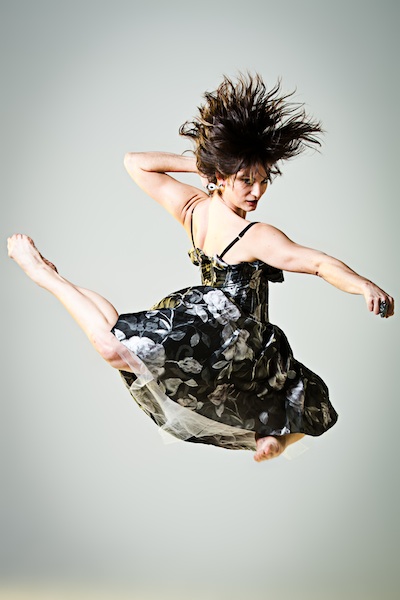 Ashley Browne of Keigwin +Co ; Photo by Matthew Murphy
Of first dancing with the company during her senior year at New York University, she remembers feeling at home with the work right away. It was the communal spirit Keigwin encouraged, that completely collaborative way of  putting a piece together, that grabbed her. Fast forward five years, and those feelings remain. "There is nothing like the creative process with Larry Keigwin. I know anything is possible. If we could fly people in, we probably would."
And, human airplanes are probably the only things missing from this year's Joyce Theater Season, beginning June 12th. Four works share the bill, including two New York premieres: Twelve Chairs, a work for the entire company with a score by Jonathan Pratt, and Contact Sports, a men's quartet. Crowd favorites Megalopolis and Trio (formerly Balloon Dance) round out the program.
 
Browne notes the creative period for
Twelve Chairs
marked the first time all twelve dancers worked together in the studio with Keigwin and Associate Director, Nicole Wolcott. "Everyone comes ready to make the best work we can make. Everyone has great ideas." The ideas here come together in a full ensemble piece that Browne could only describe as "driving."   
Ashley Browne (in the foreground) in rehearsal with Keigwin +Co ; Photo by Whitney Browne
Oddly enough for a piece that drives
,Twelve Chairs
evolved out of a major setback in Keigwin's life: foot surgery, a handicap that required the choreographer to be somewhat stationary.  Even when confined by a medical boot and bound to his chair, creative possibilities emerged for Keigwin. With the help of his eager and talented company,
Twelve Chairs
morphed from a perspective on being physically handicapped to a relentless game - basically, the most complex game of musical chairs you've ever seen.
"It always surprises me as to what inspires Larry," Browne admits.  In Contact Sports, a quartet for four male powerhouse dancers: Aaron Carr, Matthew Baker, Brandon Cournay, and Gary Schaufeld. Browne explains that the real-life relationship between Keigwin and his three brothers is reflected. After speaking with Browne, this seems to be the case for most of Keigwin's works. The distinct personal relationships of the company members are candidly revealed through onstage performance.
"Nicole (Wolcott) talks about  tapping into the entire company even if you're not dancing with them," Browne explains. She makes clear there is always a community dynamic at play no matter who is onstage. Each company member is embedded into the work.
"I don't know how to put it in words," Browne reveals, "but I am inspired everyday by these people."
And, "these people" are ready to inspire their Joyce audiences all this week.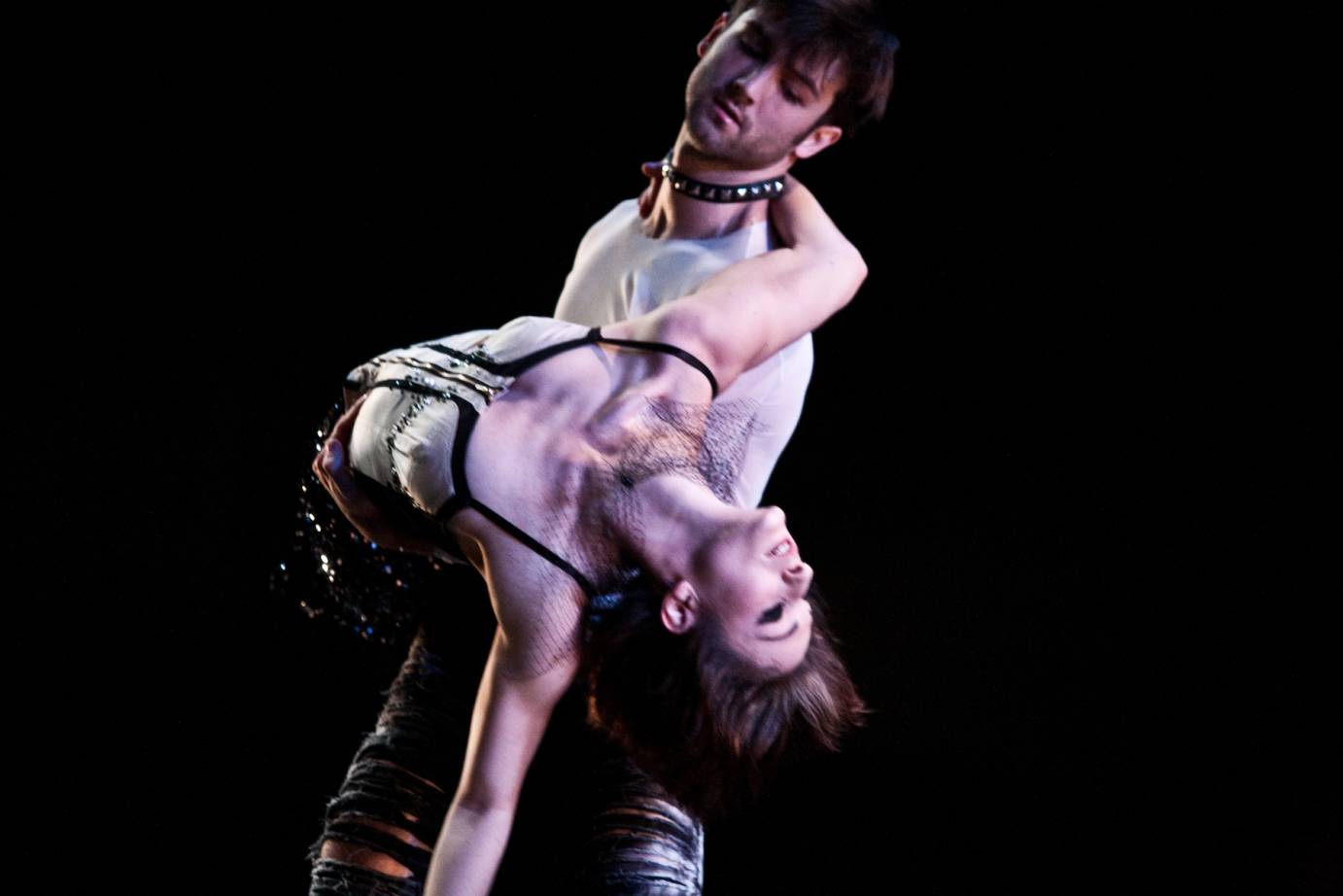 Ashley Browne and Aaron Carr in EXIT, Choreography by Larry Keigwin for 2011 Joyce Season; Photo by Christopher Duggan
For Dance Enthusiast Video Flashbacks of  Keigwin + Co's Last Season Featuring Ashley Browne click
here
---
The Dance Enthusiast Asks questions and creates conversation.
For more of The Dance Enthusiast Asks, click here.
---
The Dance Enthusiast - News, Reviews, Interviews and an Open Invitation for YOU to join the Dance Conversation.