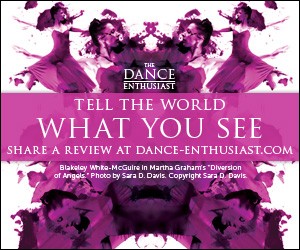 Related Features
The Dance Enthusiast Asks Liss Fain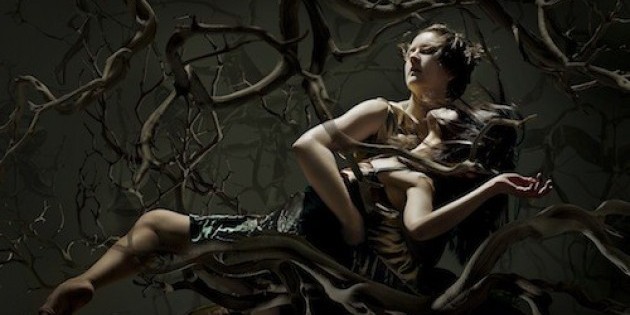 Liss Fain: Leaping off the Page and into a New York Space
March 4, 2013
---
Trina Mannino for The Dance Enthusiast

Liss Fain Dance arrives in New York with the site specific work The Water is Water and Still at DUMBO's Powerhouse Arena on March 7 and 8. Audience members will be able to roam freely in the fairy tale-looking forest set, watch the performers up close and feel the score and narration reverberate around them. "This process really brought out the voices of everyone involved and that's what has made the project so gratifying for me," says choreographer, Liss Fain.

For ticket information, click here.
---
Trina Mannino for The Dance Enthusiast: How have your performance experiences with Twyla Tharp and Battery Dance Company and your early training informed your company's aesthetic?
Liss Fain: My work with Twyla was really helpful. Observing the way she worked with the dancers- her emphasis on strong ballet training - had a lasting effect on me. My work with Battery Dance Company was instrumental, because Jonathan [Hollander] demonstrated (and still does) what it took to be a good, patient director while still demanding a lot from his dancers. Both choreographers influenced me on prioritizing training and interacting with people.
TDE: What do you look for in a dancer and performer?
Fain: I look for people who have a very strong base in ballet and modern dance. Beyond that, I look for people who think creatively in a rehearsal situation while collaborating with other people. My work is grounded in literature. When I began using spoken text in my pieces, it was important to me that people understood the texts, but more significantly that they wanted to explore them through movement.
Liss Fain Dance's Megan Kurashige and Katharine Hawthorne in The Water is Wide and Still;
Photo RJ Muna

TDE: Your company is based in San Francisco. Why did you decide to bring your latest work The Water is Clear and Still to New York?
Fain: I feel really strongly about this work. I want to show it to presenters, performing arts curators and agents while introducing a new audience to my work on the east coast. We would ultimately like to get touring work from this experience. I also want to attract a cross-over audience as the Powerhouse Arena has a tie to the publishing and literary worlds. I want a literary audience to see that literature can inspire performance art while showing how art illuminates literature.
TDE: Prior to The Water is Clear and Still, you choreographed a number of works that were inspired by pieces of writing. Why do you often use prose and poetry as a source of inspiration for your work?

Fain: I really like to read so I guess that is where it all started. Literature is about the healing conditions and exploring who we are as people and what drives us. Those issues are important to me. It is also a springboard for my ideas. When I was doing proscenium work, I was never trying to interpret the story word for word; the narrative, instead, was and is part of my internal process.

TDE: The Water is Clear and Still incorporates Caribbean novelist Jamaica Kincaid's collection of short stories At the Bottom of the River. When you initially read Kincaid's stories, did you immediately want to make a dance about them? What drew you to her work?

Fain: When I was looking for writing that would work for this particular piece, I read Kincaid's Girl. I initially thought it would be great. I bought the collection of stories that Girl appears in, At the Bottom of the River. The stories have real musical rhythms to them which lend themselves well to dance. Then I felt the stories were too intensely personal to use for something like this.

I had a meeting with my designers and shared the stories with them to get their opinions. The costume designer, Mary Domenico, felt it was perfect and very "me". Following this, I contacted Jamaica Kincaid to get permission to use the stories for the project, and she told me to go for it. When I started to work with her stories and the dance, the process became so natural, because the writing is so fluid and the images are so strong. The dance didn't feel tied down due to the text, and it didn't feel like you were sitting someone down for a story.
Liss Fain Dance's Megan Kurashige in The Water is Wide and Still
TDE: The piece has six dancers and one actor, Val Sinckler, who also has a dance background. How did you choreograph the six dancers' movement to correspond with Sinckler's speaking and her own movement?

Fain: That is a big part of the rehearsal process, and it's really fun to do. I often say, "why don't we try this phrase with this story?" and then we see if it works or not. It feels very intuitive to work this way. The dancers and Val also contribute by sharing their thoughts on a run, and they give suggestions how to improve it the next time.

TDE: The Water is Clear and Still includes a large vivid set, video that projects onto the floor, an original score, costumes, in addition to the performers. How do you rehearse a work that is so large in scope?

Fain: The composer , Dan Wool, came in right away to rehearsal and started to compose a score from the get go, which changed constantly during the process. Mary Domenico also collaborated with me early on in the process. We worked together by asking ourselves how fantastical or realistic did we want to go. I felt that the set had to look like a river and a forest. It had to be curvilinear, which was a directive for the set designer, Matthew Antaky, from the very beginning. It was a very slow process as we all of us had to fine tune several ideas and check in with one another often.

TDE: Do you have a favorite piece of writing? If so, what is it and have or will you create a dance based on it?

Fain: I love William Faulkner's The Sound and The Fury but I don't think I will ever create a piece based on it. I don't think I could, and also because I don't want to create a piece that is a plot-driven narrative with several characters. However, I do love this book for its language, images and the different speaking voices .
Liss Fain Dance's Shannon Kurashige in The Water is Wide and Still; Photo RJ Muna
After the March 7 performance, Jamaica Kincaid will will be signing copies of See Now Then and other titles at Powerhouse Arena.
---
The Dance Enthusiast Asks questions and creates conversation.
For more of The Dance Enthusiast Asks, click here.
---
The Dance Enthusiast - News, Reviews, Interviews and an Open Invitation for YOU to join the Dance Conversation.