The Dance Enthusiast Asks Maurizio Nardi about his Summer Dance Program in Key West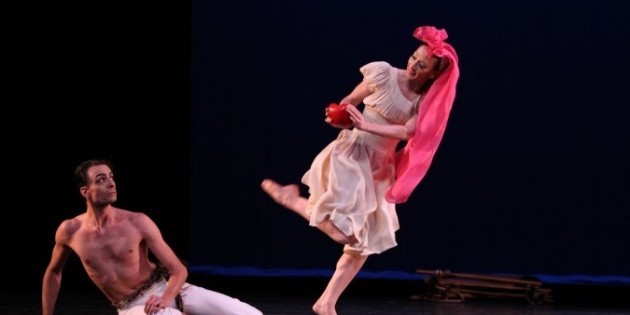 His Key West Summer Dance Program is Three Years Old and Maurizio Nardi is "Enthusiastic"
The Key West Modern Dance Summer Program Takes Place on May 18th through May 22, 2011
---
The Dance Enthusiast: What do you like about teaching?
 
Nardi: Teaching is a great way of learning. As an artist I'm always trying to find my true way of moving. You know, in most cases, at the beginning, you learn a routine of exercises, to train the body; to shape the tool you will create art with. Eventually with time comes an appreciation and deeper understanding of "how" the body moves and "why" dance is necessary, if in fact is. There is also the great reward of seeing students learning, empowering themselves with tools that will allow them to free the spirit. Dance movements are just the frame, real dance leaves within.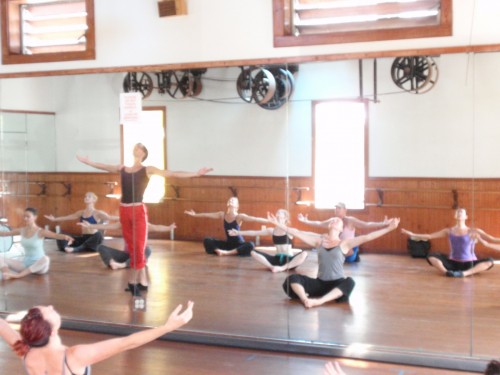 Maurizio Nardi Leading Class in Key West
Who are some of your favorite teachers?
Nardi:  I love and respect many of my teachers: Pearl Lang, Christine Dakin, Yuriko, Terese Capucilli, and Donlin Foreman. They are all very different, but what they have in common is an understanding of the discipline of dance, and the idea that in dance there is no compromise.It IS or is not.
 What qualities don't you like in a teacher?
Nardi: A teacher has always something to give and I always have something to learn. When I don't like the way a person teaches, I learn that I don't want to go back to that class. And I don't. I don't like self –indulgent teachers who make class into a stage for themselves.
What do you most enjoy about being a dancer?
Nardi: One thing I enjoy now is the opportunity to share my work, in my case, Martha's work, with audiences from many countries. I love the opportunity to explore exotic locations and most of all to try different food. I love good food!!!
And tell us about  your recent New York City Season.
Nardi: This past season in NYC was particularly exciting because it highlighted the many important collaborations The Martha Graham Company has been a part of as well as the great talent the company attracts: Robert Wilson, Donna Karan, Halston, Isamu Noguchi etc. One of my favorite pieces was the new work Chasing by Bulareyaung Pagarlava, a whimsical piece that reminds us what we have in common- dreams we share, sadness, solitude, happy moments and pride. I loved it.
Tell us about the highlights of your summer program in the Keys.
Nardi: Well, with support from the Florida Keys Council of the Arts, the "Key West Modern Dance" program is in its third year in Key West. I am very excited that we are initiating our artist residence program this year, exclusively commissioned by Geoff Fallon and Patricia Harmon. My colleague from the Martha Graham Company, Blakeley White McGuire, will be our artist in residence. I have had the pleasure of dancing with her and dancing in one of her pieces. She is growing as a creator, finding her voice, and is the perfect recipient for our new Artist- In- Residence Grant.
Each year, Merging Ideas Developing Arts Corp. or MIDA (my new non-for-profit that sponsors the Key West program) raises money to invite talented choreographers to be part of our faculty and then to stay on after our teaching program concludes to create a new work. We provide studio space and accommodations for the artist and try to facilitate connections with musicians. It is a small opportunity for an already established choreographer and a great opportunity for someone just starting out.
And, I love the studio where we give classes. It used to be a coffee mill so it is called The Coffee Mill Dance Studio. It is in the heart of old town Key West and has a perfect island feel.Another thing, I am very excited about is that at the end of the session our faculty will award one talented student, with a one week scholarship at the Martha Graham School's Winter Intensive.
Maurizio Nardi leading his class in floor exercises at The Coffee Mill Dance Studio
What are your aspirations for your summer program?
Nardi: I would like Key West Modern Dance to become, not only a great place for summer study, but also a place that provides opportunity for up and coming choreographers.
Good Times Dancing in Key West
 What does a day of study with Key West Modern Dance look like?
Nardi: Well, we wake up to warm sunshine, then enjoy caf con leche at one of many lovely Cuban spots in the island, then off to 10:30 am Graham class, which I teach. There is a short break after which Kate Skarpetwoska, from the Lar Lubovitch Company, teaches at 12 pm.Then, time for lunch and we go off to the beach or to the nearby wharf to grab a sandwich. Choreographic composition class starts at 2:30pm and ends at 4pm.
After 4 pm, it's free time for the students. One can take any of the classes on schedule at The Coffee Mill (yoga, pilates, zumba), or just head back to the beach. Key West's popular attraction is the sunset celebration in the main square, with live music, handcrafted souvenirs and many street artists. Students can enjoy that, or hop on one of many sunset cruises, or if they feel like continuing on with dance-related activities, Key West Modern Dance has teamed up with the Tropic Cinema of Key West to show two dance documentaries throughout our week-- one about the life and work of Martha Graham- Martha Graham,The Dancer Revealed and the other about the acclaimed choreographer and former Graham dancer, Paul Taylor- Paul Taylor: The Dancemaker. There will be also an informal studio showing at the end of the week where the faculty will perform.
 How did you choose to work in Key West?
Nardi: I have always liked Key West as a vacation spot, the warm and crystal clear water, the people, and the easy pace of island life appeals to me. Key West also has a rich heritage in art and history; many musicians, writers, painters call this home. You can always find music concerts here and wonderful art galleries. There is always something fun to do, and I'm not talking about the many places you can go to get a margarita.
Dance, however is something that is not quite developed here. I thought the idea of using the natural beauty of the island as a starting point for a dance program was great. Students attracted to the tropical appeal of the island and a professional faculty can enjoy a unique summer study.I love the Keys so much that my partner and I actually bought a home there 4 years ago.
To Learn More About The Key West Summer Program
Click
here
---
The Dance Enthusiast Asks questions and creates conversation.
For more of The Dance Enthusiast Asks, click here.
---
The Dance Enthusiast - News, Reviews, Interviews and an Open Invitation for YOU to join the Dance Conversation.