The Dance Enthusiast Asks Peggy Choy Dance About Afro-Asian Synergy and Cuba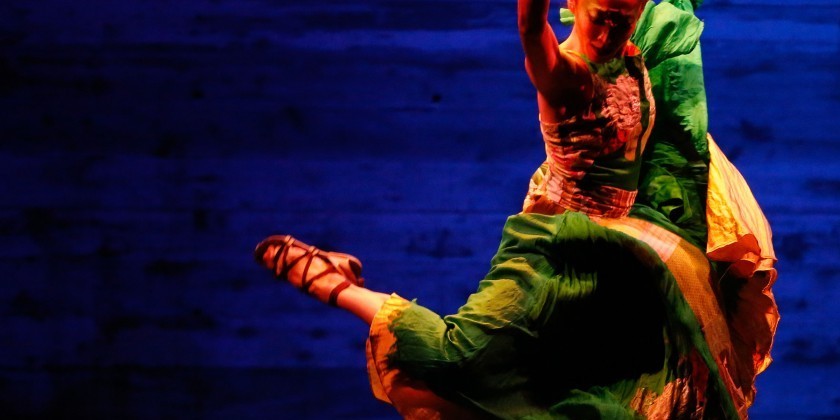 In anticipation of her newest work "KI-ACHÉ: BEYOND WALLS"
Performance Details:
DATE: Saturday, February 21st 2015 at 8PM.
VENUE: Alvin Ailey Studios, The Joan Weill Center, 405 W 55th Street, New York, NY
The performance is FREE OF CHARGE though donations are welcomed.

Sammi Lim for The Dance Enthusiast: Hey, Peggy! The last time we spoke was at a performance of THE GREATEST. It was a really unconventional date night, watching a dance performance at a boxing gym.
It seems you've been traveling a fair bit since. Tell me about your trip to Cuba in 2013. As the birthplace of Danzón, Bolero, Cha-cha, Mambo, Rumba, and Salsa among others, I can only imagine how exciting it must have been, especially for a dance enthusiast as yourself.
Peggy Choy: There were a number of foci for my trip.
Firstly, I was inspired to go to Cuba because of environmental issues about water sustainability. I have been creating dances about water including Like Water — an homage to Bruce Lee and his Taoist quote: "…be like water, my friend." I wanted to see what was going on for myself, visit the protected wetlands of Ciénaga de Zapata, and learn about urban projects to clean up the local rivers.
Because of my own dance work, I was interested in finding out more about Afro-Asian connections in Cuba. Asian groups have long lived on the island and I wanted to see how yoga and martial arts were practiced.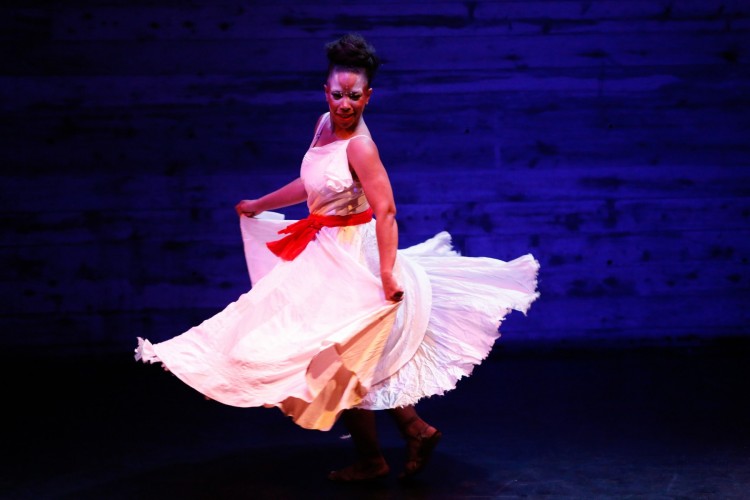 Photo © JP Yim
TDE: What can audiences expect from KI-ACHÉ: BEYOND WALLS? Are your water dances included in the program?
PC: The program will include Ocean Women (from THIRST), Instantly From Far Away (a solo inspired by Fidel Castro quote on yoga), Cup of Water (from THIRST), Beyond Walls (inspired by the Cuban 5 & their release), and Ki-Aché (inspired by the orishas-- gods & goddesses - of the Afro-Cuban santeria tradition). Dances 1 and 3 are inspired by water.
TDE: What does 'Ki-aché' mean and how does it sum up your dance?
PC: "Ki-aché" is a word I coined almost 20 years ago which reflects the focus of my explorations in dance. Ki (Korean or Japanese) or qi (Chinese) is the inner life-force that at the root of Asian dance, martial arts and meditation. "Aché" can mean "life energy," "blessing" or "growth."  The hyphen between these two words signifies that they are interconnected.
My dance process is searching for intersections and creative moments of Afro-Asian synergy.
TDE: What is the most valuable thing you took away from your trip to Cuba? Why do you think dancers should make it a point to travel for their art?
PC: The most valuable thing I absorbed was the vitality – the ki and ache – of the people I met. The artists there are very serious about their practices and the quest for excellence. I was inspired by the Cuban people's ability to laugh, to survive, to create, and to relate. Traveling across national boundaries to share one's art can be a deeply empowering act on both sides. One needs to be cognizant and aware of the existing political, economic and power differentials, and come with a humble and open heart.

Photo © JP Yim
TDE: I noted that Lacouir Yancey will be performing in the piece. I thought he was exceptional in THE GREATEST. How did you meet most of the dancers who present your choreography? What do you deem unique about a choreographer-dancer relationship?
PC: Lacouir Yancey was born and raised in Madison, Wisconsin, where I teach dance. Katrina Flores and Jarius King (wonderful B-girl and B-boy innovators) introduced him to me not only as a great B-boy, but also as someone knowledgeable in health; he is a massage therapist. I asked him to be in THE GREATEST, and that is when we began working together.
What do I deem unique about a choreographer-dancer relationship? This is a wonderful question. Each dancer whom I work with enters a creative interchange.  The dancer brings his or her gifts and training, and I offer my knowledge and guidance to create a skeleton (a fake book in jazz) or a pliable, changeable structure within which the dancer can hopefully grow into his or her greater self while still being able to breath.
TDE: Were you surprised by the recent announcement that the U.S. and Cuba plan to restore their international relations? Do you think this will benefit each country's art communities?
PC: Yes, I was surprised, but delighted that when I traveled to Cuba in July 2013, Obama was initiating talks to normalize relations with Cuba. The art of a nation is affected by cultural factors, but also by economic and political dynamics. The respectful exchange of artistic expression can be beneficial across political boundaries. The challenge is to communicate openly, boldly and with risks as opposed to controlled and conservative exchange that avoids the provocative and controversial.

More about Peggy Choy Dance: www.peggychoydance.com