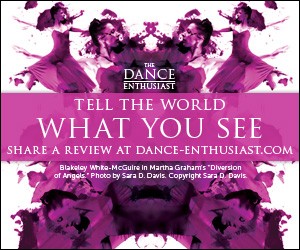 Related Features
The Dance Enthusiast Asks The Guys and Dolls of Dance Now/NYC...
Veteran Artists of DanceNow/NYC on the Challenge of Creating a Work in Five Minutes or Less (and more)

Seventeen years ago, Robin Staff, had a vision of supporting dancers and challenging creativity. So, she created a festival.

DanceNow (now DanceNow/NYC) has presented work in gyms, recreation centers, empty swimming pools, firehouses, Soho Galleries, churches, oh, and traditional theaters too. Along the way, artists and audiences have been encouraged to lighten up, let loose and discover what they really love. This has led to unexpected ,wonderful results. Robin speaks of Kyle Abraham, who concocted the evening Heart Breaks and Homies based on material from a seven minute solo he performed at DanceNow three years ago. David Parker, artistic director of The Bang Group, cites Staff as the creator of a new genre of dance, "re-imagined" musicals. He has been in three so far: Doug Elkins' Fraulein Maria, his own ShowDown and Nicholas Leichter's The Whiz.

The Fall of 2011 marks the season that Staff has decided to commit to one dance venue inNYC, the newly renovated Joe's Pub, (where she has produced shows for 9 years). As DanceNow/NYC prepares to launch another season of fantastic, fearless, frolicking-in five minutes or less-we have some questions for the veteran artists who ,with Staff, have made this festival happen.

The DanceNow NYC Festival Runs Oct 19th - Oct 22nd, 2011 , don't miss it (click here for info and tickets)

The Dance Enthusiast Asks: The Guys and Dolls of DanceNow NYC:
John Heginbotham, David Parker, Sidra Bell, Ellis Wood and Claire Porter
---
1. How many seasons have you been involved with Dance Now/NYC?
John Heginbotham: I have been involved in nine seasons of the Festival. My first time was in 1996, and the performance took place at the David Barton Gym on Broadway near Houston (I think it is now a Crate and Barrel).
David Parker : I have been involved in one way or another since 1995, before it was called DanceNow/NYC when Robin Staff was putting dance in galleries in Soho as part of the Soho Arts Festival. She's always been a presenter who sees opportunity where others don't.
Sidra Bell
: This will be my third time presenting as a choreographer with DanceNOW. In 2006 and 2009 I was at DTW with the festival. I had the privilege of spending two weeks at
SILO
in 2010 a wonderful retreat and haven for artists hosted and provided by DanceNOW. I really enjoyed the time spent there bonding with my company members and creating
Ellis Wood:I have been involved with dance now for about seven years or so -- not even sure how long. Did shows in the Carmine swimming pool, the fire house, DTW, the pub, etc.
Claire Porter: I toohave been involved with this festival in one way or another since 1995, before it was called DanceNow/NYC when Robin Staff was putting dance in galleries in Soho as part of the Soho Arts Festival. Sheloves the challenge of finding new opportunities in new spaces.
---
2. What do you enjoy most about the experience of the Dance Now Festival /Joe's Pub?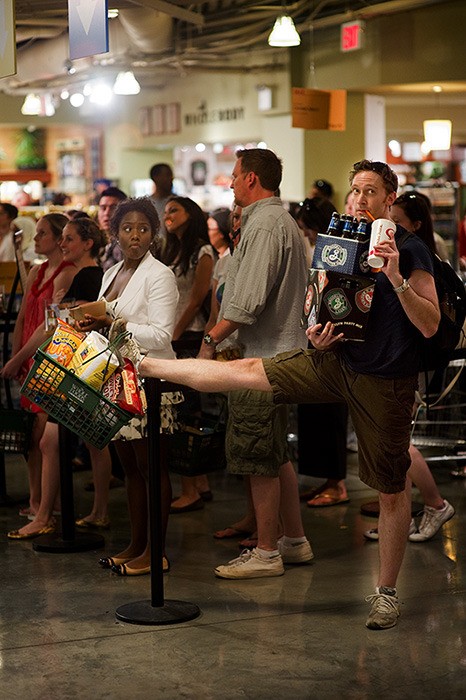 John Heginbotham Photo Jordan Matter
John:I love having the opportunity to create a new dance. Since 1996, the Festival has given me the impetus to choreograph eight short pieces. Two of them were terrible, but I'm proud of the other six.
One of the great things about presenting work at Joe's Pub is that you are able to participate in the historic life of The Public Theater - HAIR,A Chorus Line,For Colored Girls..., Bring in 'da Noise, Bring in 'da Funk, Passing Strange were all premieredat The Public Theater. Shakespeare in the Park.
David: I did two full-length shows at Joe's Pub and I would not have made either of them if I hadn't been commissioned by Robin to do these shows specifically for the venue. ShowDown, the first, was a reckoning of sorts for me.
Sidra
: I
have enjoyed the experience of being presented alongside other New York City artists that I admire and getting to see dance works in short form. It is always a fun challenge to create work that is made for an intimate format.
Ellis: I enjoy sharing the stage with so many NYC artists. I see a lot of work as well as perform. I love the challenge of the Joe's Pub space and time limit.... leads to clear and concise work.
Claire: I love the people involved. I love how thoroughly and with great care Robin plans the events, and how much care she gives to the performers. In addition she loves the work presented!
---
3. How has your work benefited from your experience participating?
John
: Having some funding as well as a venue for which to create a new dance is a huge benefit. A specific personal example of this benefit is the creation of
One-Man Show, an evening-length work which premiered at Joe's Pub in 2010. The Festival's directors, Robin Staff, Tamara Greenfield, and Sydney Skybetter, provided the opportunity to create the piece, and they allowed me to use the Festival as a testing ground for one of its segments. At the time, that was the most ambitious project I'd taken on as a choreographer, and I learned a great deal about making a long-form piece.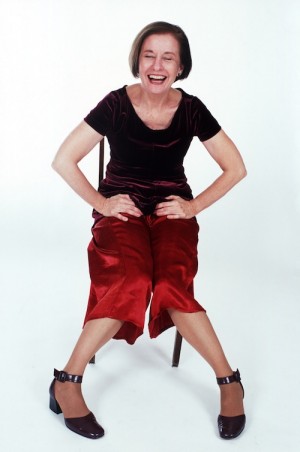 Claire Porter Photo Eleanora Alberto
David: I learned that my voice resonates with the sounds of my artistic forbearers who include Irving Berlin, Rodgers and Hammerstein and the great vaudeville, Hollywood and musical-theater performers who inspired me. In making the piece ,ShowDown, which restates and reanimates Annie Get Your Gun in contemporary choreographic terms, I learned that my voice is not just personal, but has many voices behind and within it. Then when I made Misters and Sisters this past spring, I delved directly into the joy and intelligence of these forms without any interest in subverting them, only the wish to do them justice in my own language and sensibility.
Sidra: DanceNOW has given me the opportunity to present works for large audiences on beautiful stages and that has certainly been wonderful exposure.
Ellis: Started back performing after my third child inspired by the dancenownyc festival challenge- the space grant, money, residency...it all jump started me into creating my latest solo MOM.
Claire: These performances have moved the piecesforward because of the challenge of the time constraint and the challenge of performing it for great spaces, full houses and involved audiences.
---
4. Do you think the challenge of the small space helped you think differently? The cabaret atmosphere?
John: The cabaret atmosphere is a huge pleasure. Speaking as an audience member, it is so nice to be able to drink during the show; if you hate the piece you're watching, at least you can have a cocktail, and if you like what you're seeing, you like it even more!
David: The small space means that your work can't speak in spatial terms, it speaks most eloquently through dynamics, rhythm, juxtaposition, image and sheer invention. These are things I like.
Sidra
:
I'm really looking forward seeing how it will inform my work. This work has been performed at both traditional and nontraditional venues and each space has given the piece a unique twist.
Ellis:Love doing my solos in intimate spaces -- feels like where it is supposed to be performed.I also like seeing how much I can move/dance in a big way in a small space.
Claire: The performance aspect rather than the movement/dance aspect is what is so important in Joe's Pub. Love the feel of the intimate house.
---
5. What are we going to see you do this year? Will it be premiere? World premiere or Joe's Pub premiere?
Choreography by Sidra Bell,PhotoJohn Altdorfer
John
: I'm reviving a piece created for the Festival(
throwaway, 2010), and presenting a world premiere called Oh! Carol. Both are very brief duets performed by Allysen Hooks and Evan Teitelbaum.
David: We are doing "Conga Suite" which is essentially the dream ballet from Misters and Sisters. It is a prcis of my twenties.
Sidra
:
An excerpt of the full-length piece ReVUE that premiered at the Kelly Strayhorn Theater (Pittsburgh, PA) in 2010 as part of a residency and commission. "One Hit" will be a Joe's Pub premiere. This will be my first time at Joe's Pub both as a performer and spectator.
Ellis: a different section of my piece MOM than I showed last year.
Claire: I am premiering a brand new piece, Lady Lamp. Performing it will be Jen Katz. It is spoken text and movement.
---
6. Can you say everything you need to say in 5 minutes on stage? Did you stick to the time limit? Is less more, or enough, or is there never enough time?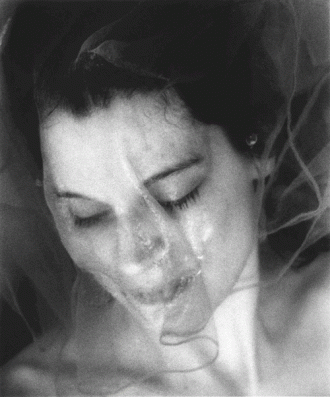 Ellis Wood , PhotoSteven J. Gelberg
John: I think I run 4 seconds over. Don't tell. Can I say everything I need to say in 5 minutes? Yes, but I knew going in that I had a limited amount of time, so I chose a 5 minute topic.
David: Yes, short forms are like poems, they thrive on compression.
Sidra: As an artist that likes to create long works it is definitely a challenge but a very good exercise in being concise.
Ellis: It is hard to show an excerpted piece and have it stand alone. But I have tried to choose a section that can be a piece in itself in just 5 min.
Claire: Honing it to less than 5 minutes is a challenge for me. The time for Lady Lamp is 4:20. But the live performance may change that
6. Final Thoughts?
David Parker: Robin Staff is a visionary; she's single handedly created a new genre through her commissioning of the re-imagined musicals beginning with Doug Elkins' Fraulein Maria, then my own ShowDown and then Nicholas Leichter's The Whiz. I appeared in all three and am proud and delighted to be a part of this new movement. I can add, because I'm a dance composition teacher in universities, that this sort of mixture of assimilation, restatement and innovation is highly absorbing to young adults.
Sidra: Many thanks to Robin for her generosity and vision!
Ellis: Robin knows...I am forever grateful for the opportunities the festival has offered me – I really needed something to get me started again after my kids were born, and as hard as it felt at times, dancing is still possible for me because of Robin and her festival.
---
---
The Dance Enthusiast's DAY IN THE LIFE covers the stories behind dance/performance and creates conversation. For more behind-the-scenes stories from NYC and beyond, click here.
---
The Dance Enthusiast - News, Reviews, Interviews and an Open Invitation for YOU to join the Dance Conversation.