The Dance Enthusiast Asks The New York Baroque Dance Company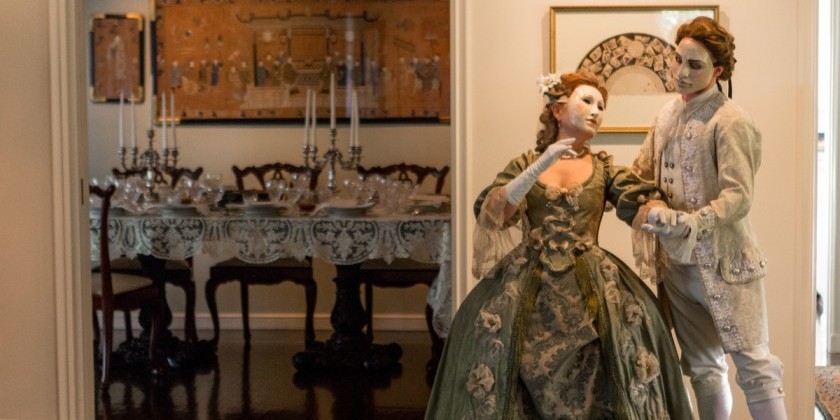 In Conjunction with "FRANCE DANCE REVOLUTION" at Dixon Place
The Dance Enthusiast chatted with New York Baroque Dance Company's founder and artistic director, Catherine Turocy as well as on of the company's associate directors, Caroline Copeland leading up to 'France Dance Revolution," a collaboration with instrumental chamber ensemble Cantata Profana this month.
 
About the Performance :
Who: Choreographer and performer: Catherine Turocy. Musicians: Cantata Profana
When: Saturday November 21st; Sunday, November 22, 2015 @ 8pm
Where:  Saturday's Show: Mainstage 2, Off Broadway Theatre, New Haven, CT. / Sunday's show  Dixon Place, 161A Chrystie Street, between Rivington & Delancey, New York, NY
What: From the frou-frou of Poulenc's raucous and irreverant Le Bal Masqué to the tristesse of Louis-Nicolas Clerambault's savagely dramatic solo cantata Médée, Cantata Profana takes to its feet for a rousing celebration of the great French esprit, joined by the uniquely stunning baroque and modern dance soloist Caroline Copeland.
Saturday November 21, 2015 Tickets for Mainstage 2, Off Broadway Theatre, New Havent CT here.
---
Sammi Lim for The Dance Enthusiast: Pleasure to chat, Catherine. I'm fond of artists who keep tradition going in a world where everyone can't wait for the next big thing. Do you remember how you fell in love with 17-18th century period performances?
Catherine Turocy, artistic director of New York Baroque Dance Company: I was in college at Ohio State University and studying dance history with Shirley Wynne. She asked me to be a dancer in a Rameau opera-ballet to be performed in UC Berkeley in the spring with music director Alan Curtis and his student orchestra and chorus. The music was enchanting. The dance steps were beautiful - familiar yet strange, techniquely challenging and expressive. I had never seen Baroque dance. My first exposure to the style was learning the ballet in rehearsal and being guided by Shirley Wynne in her interpretation of the period style used on the stage. The costumes were complex and made of rich fabric and because of the design of the corset, the hoops, and the many layers of fabric, they became a part of the dance and something to enhance the visual arc of the movement. I was thrown into a world of living history and a dance form from the past being re-imagined in the present, which deeply affected the emotions of the performers and the audience. From the beginning of my studies of Baroque dance, I felt it held a mystery and a treasure that could shift the future of dance. Indeed, looking at new choreographies of Lucinda Childs and David Bintley, Baroque dance is influencing new works today. Caroline's work and experiments with mixing historic and contemporary styles delves even more deeply into this new branch of dance.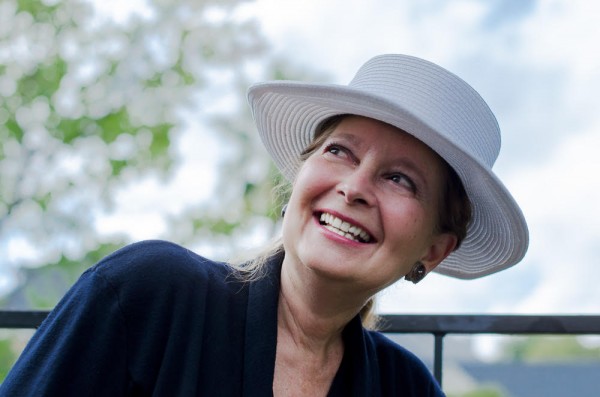 Catherine Turocy, Founder and Artistic Director of New York Baroque Dance Company. Photograph by Catherine Andrako.

TDE: Tell me about founding New York Baroque Dance Co. in 1976. Has the company changed much with regards to the size of your team, technique and its doctrine?
CT: The artistic team has grown with Caroline Copeland and Sarah Edgar taking on the role of Associate Directors. With the three of us working together, we are intending to expand the NYBDC work in Chicago, Dallas and NYC. This will be a gradual grass roots expansion.  We would like to offer free or subsidized training for dancers who are curious to know more about 17th and 18th century dance styles. We would also like to develop educational events for the general public. Currently the NYBDC acts as a resource for information, dancers, directors, choreographers and teachers to anyone interested in hiring us for performances or in collaborating in period productions. Since 1976, we have increased our costume collection and repertoire and we have mentored many artists working in the field of historical dance in the United States today. In the next few years, we will strengthen our administrative team and board of directors beyond the basic structure of our beginning years. 
TDE: And Caroline, how long have worked alongside Catherine at New York Baroque Dance Co.?
Caroline Copeland, Associate Director of New York Baroque Dance Company: I joined the NYBDC in the fall of 1996, shortly after graduating from Goucher College. I attended Catherine's workshop in Napa California and was immediately drawn to her approach of creating/re-interpreting choreographies of the baroque period. There is something very personal but also lofty and a bit mystical about her manner of communicating ideas and she is able to connect the performance process with all of the sister arts. In a field of dance where we are constantly fighting to be recognized, unearthed really, Catherine's perseverance and optimism are a marvel and her incredible artistry is an inspiration to me.
Caroline Copeland, Associate Director of New York Baroque Dance Company. Photographer: Paula Court.

TDE: Have you or the company collaborated with Cantata Profana prior? What kind of choreography did the vocal and instrumental chamber ensemble request of you?
CC: This is the first time we have worked with Cantata Profana and it is their first collaboration with a dancer. Artistic Director Jacob Ashworth shared his ideas for musical repertoire and in some cases I offered up counter musical repertoire that I thought would be more pleasurable to listen to or create dances for. We then sat around my dinner table and batted around ideas of how to weave dance throughout the program, both modern and baroque. I have been working on solo choreographies that juxtapose baroque movement and contemporary dance but in this program I created work in which I seamlessly flow from style to style.
TDE: Baroque dance calls for period costuming including corsets. Are bodices something you get used to? Or does one simply weather through the performance holding one's breath?
CT: With an enclosed torso, it is not possible to hold one's breath over several measures and then grab a large inhalation of air. The corset requires steady and even breathing, which supports musical phrasing in movement. Oddly, the corseted dancer is more physically informed. Yes, it does take time to adjust to a corset and to learn how the costume frees the body to express itself. Please know that the design of the corset is not an iron vertical cage, but an incredible structure with the stays placed on the diagonal in harmony with the slant of the ribs.
CC: I have corsets that are more or less boned and flexible, but containment is part of the joy and challenge of wearing them. The corset deepens my theoretical and practical understanding of the 17th and 18th century aesthetic. In my own baroque influenced work, the corset was and is not just as a physical reality for women, but a social metaphor to revel in and rebel against.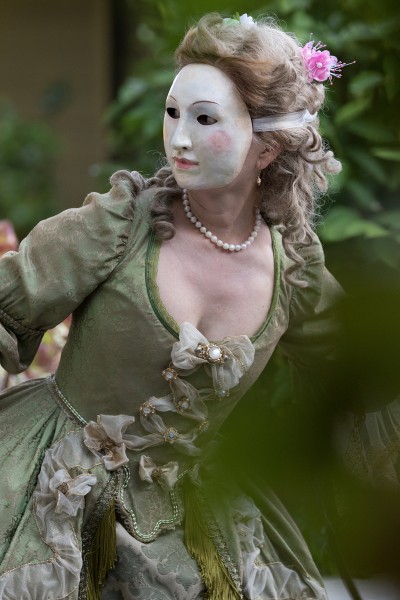 Catherine Turocy in full baroque costume and mask. Photographer: Mark Gillespie.

TDE: Where do you shop for your beautiful costumes and masks? Venice? Knowing New York, there might be a hidden gem in the East Village that I don't know about. Or is everything specially tailored?
CC: I am always on the hunt for special items and New York has tons of places to buy wigs and fans, but in order to have a beautifully tailored corset or costume, we must have them made especially for us.
CT: Our costumes are commissioned from designers. Marie Anne Chiment has designed the majority of our collection. Marilyn Skow and Mary Meyers have also contributed their talents. Commedia masks are made by Stanley Alan Sherman, a very talented, NYC-based mask maker working with period techniques to craft our leather masks. Jane Stein, also in NYC, has not only designed our noble masks, but she also has made complicated and special costumes for us such as the ostrich who danced at Lincoln Center last year. We have collected some masks on our travels in Venice and New Orleans.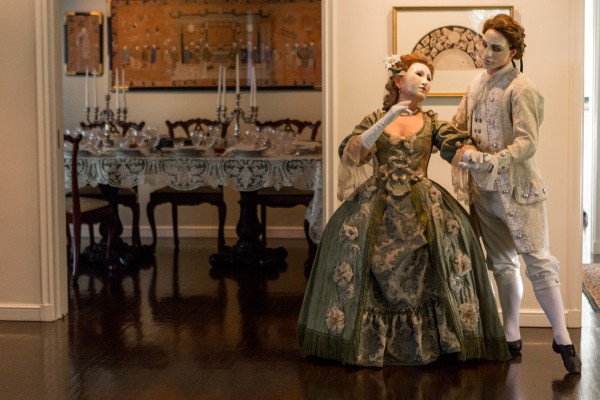 Photographer: Mark Gillespie.

TDE: Would you agree with me in saying that timelessness reigns over novelty?
CT: Something timeless was novel at one point... And can become novel again as it is re-imagined. Novelty shakes us up and gives us a fresh appreciation for timelessness. Yes, I confess I am a Pisces and this is my final answer!
CC: I think the public's passion for novelty is timeless. The 17th and 18th century theatre crowd were interested in an experience that spoke both to the sublime and novel and Cantata Profana's upcoming program is looking to offer this same experience by presenting musical and dance compositions of the deeply passionate Marin Marais to the absurdly colorful Francis Poulenc.
---