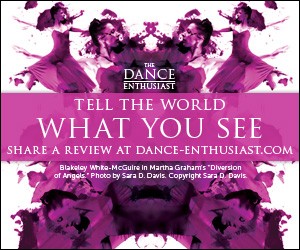 Related Features
The Dance Enthusiast Meets the Bessies Nominees...(Part 2)
Marty Beller (OUTSTANDING MUSIC COMPOSITION/SOUND DESIGN) nominee Chats with The Dance Enthusiast
A. Nia Austin-Edwards Asks for The Dance Enthusiast
---
A History of The Bessies : The Evolution of The Dance and Performance Awards

Established in 1983 by David R. White and originally produced by Dance Theater Workshop, the Bessies, named after the dance educator and mentor Bessie Schonberg, were geared mainly toward experimental, non-commercial work and were in dire need of a makeover." These were the words of Gia Kourlas in her 2010 New York Times Article "Bessies Are Back After a Hiatus, Primed for a Major Makeover." See Article Here

The Bessies have a rich history of honoring the best and brightest in the field of dance. In the three years since its return under the direction of Lucy Sexton and in collaboration with Dance/NYC, the Bessies has announced new venues, new committees, and new categories all with the goal of "making the world care about dance."

It is what Elizabeth Streb was quoted saying in 2010: "I want to have the entire United States care about this field...The award ceremonies have to reach another set of ears and eyes." See Article Here It is what Kourlas questioned in 2012: "But I also get the sense that Ms. Sexton's struggle is about something more profound than handing out awards. How do you make the world care about dance?" See Article Here It is that fierce caring about dance that brings each body, finely adorned, to a seat to witness and honor the best of dance each year.

Whether or not we agree on category names or selection committee members, we recognize the achievement of a Bessie award. The expansion of this achievement has also allowed us to question what makes a dance. Growing committees and ever developing categories investigate the collaborative elements and invigorate the multiplicity of the art form. In the coming weeks, The Dance Enthusiast will offer you interviews with choreographic collaborators: composers, designers, and performers.

Choreographers indeed make dances, but what else (and who else) does it take to create a comprehensive artistic experience worthy of an illustrious New York Dance and Performance Award?
---
Meet Marty Beller (OUTSTANDING MUSIC COMPOSITION/SOUND DESIGN nominee for A Single Rideby Ephrat Asherie at Dixon Place)

Marty Beller received a 2009 Grammy Award for "Here Come the 123s" by TheyMight Be Giants and is the drummer for the alternative band. He has composed numerous works for dance, including those forJennifer Muller/The Works, Sean Curran, Heidi Latsky, Ephrat Asherie Dance and Ann Marie DeAngelo. Additionally his scores have appeared in television and film, such as "In Treatment" (HBO), "Biography of Groucho Marx"(A&E) and "Korengal", to name a few.
Marty Beller playing the drums. Photo by Johnathan Reale.
---

A. Nia Austin-Edwards for The Dance Enthusiast: When did you begin composing?

Marty Beller: My first composing job was scoring a student film by Todd Stephens in 1989. I loved collaborating with a director and creating music to support the action of the film (in this case a short horrormovie called "Grandpa's Twisted Hand"). Todd became one of my closest friends and I have scored his last three feature films.

TDE: Have you always known you would be working with music?

MB: Being a drummer and composer is all I ever wanted to do. I started drum lessons when I was seven and started playing in a rock band when I was ten.

TDE: If you had to describe your creative process in only 5 words . . .

MB: Let it come to you.

TDE: How would you describe the relationship between movement and sound?

MB: There is no fixed boundary or set of rules in this relationship. So when you are creating music for dance you (and the choreographer) get to decide. Do you want to aggressively, directly drive the dance? Create an atmosphere that movement can swirl around and within? Accent the emotion with beautiful melodies or
dissonant sounds?
Marty Beller playing the drums. Photo byJon Uleis.

TDE: Can one exist without the other?

MB: Well, I think they always exist. And it depends what you mean by sound. There can certainly be movement without music and vice versa but I think all of your senses are still affected (maybe even more so) when there is silence or stillness.

TDE: Does one inform the other?

MB: Absolutely.

TDE: Are they simply lucky to exist in the same space and time?

MB: No, not lucky at all. I think there is so much movement and sound that go together in our everyday lives. The evolution of it and our experience of it is so natural. I think we explored this a lot in A Single Ride. Movement and sound and music were created for the piece but they were inspired by the movement andsound and rhythms of Subways and people in the Subway, on the platform, on their way to the Subway. We incorporated the sounds/rhythm of Subway trains and P.A. announcements into the score along with trains moving, people moving, dancers moving, it's all happening together.

TDE: What has been your biggest challenge in your artistic journey?

MB: At the beginning of every project, in many fundamental ways, I feel like I am starting from scratch creatively. Nothing you've done before really matters or helps. There is no dictionary or map. Half of the battle can be trying to get out of your own way and not censoring any ideas that come into your head.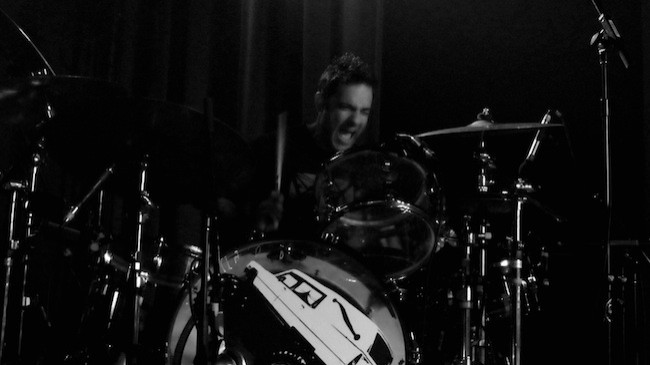 Marty Beller playing the drums. Photo byJon Uleis.

TDE: How did you and Ephrat Asherie come to work together?

MB: Ephrat and I met in the spring of 2012 through Ann Marie DeAngelo. She brought us together to perform at the 125th Anniversary Gala for Capezio at New York City Center. Ann Marie produced an incredible evening of dance that night that included a really fun piece about shoes that she conceived and choreographed, and that Ephrat and I performed in together. (For the performance, we put together a "drum set" made entirely from equipment used to make hand made shoes.) In the dressing room I overheard Ephrat talking to someone about her upcoming season; so after the show I asked her about it and told her if she was looking for a composer, I would love to work with her. Soon after that she got in touch to talk about working on A Single Ride.

TDE: How would you describe your collaborative process for A Single Ride?

MB: Working on A Single Ride with Ephrat was really a dream collaboration. There is no other way I can describe it. She had many really well thought out ideas about what she wanted the overall piece to be, and was very clear and direct about what she wanted for music. But she was also very open minded and gave me a ton of space to put forward my own ideas. For example, when we first agreed to work together, Ephrat and I met at a cafe and she told me about herconcept for A Single Ride. We had a great meeting, and I was really excited. I spent the next few days in my studio and composed about five minutes of music, which went in several different directions, inspired by what she told me about the piece. When she heard the music she was really positive, and that music ended up being the final section called "Sleep." It was clear we were on the same wave length from the start and that there was a lot of trust established immediately.Over the next three months we went about creating the music in many different ways. She would record rehearsals and send me sections to compose to, and we would talk in both musical and non musical terms about what she was going for in each section: what emotions were being expressed, if there was any kind of story and characters, and specific musical ideas as well. We also had "jam sessions" in my studio where I would play the drums and Ephrat would dance various movements from the piece. We recorded everything and would then find the best grooves to use within the score. All the way through to the final stages of working on the piece there was such a wonderful feeling of partnership with Ephrat in the creation of the music for A Single Ride.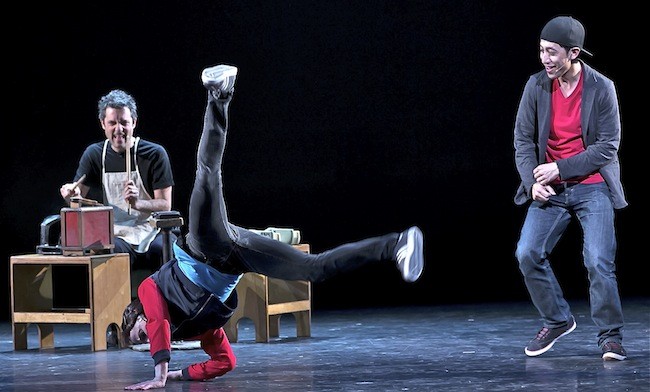 Marty Beller with Ephrat "Bounce" Asherie and Dax Valdes in the Capezio 125th Anniversary Gala at New York City Center. Photo by Richard Termine.

TDE: What's next for you and for A Single Ride?

MB: I most recently finished scoring two soon to be released documentaries that I am thrilled to be a part of, "Emptying the Skies" by Doug and Roger Kass and "Korengal" by Sebastian Junger. And in the fall, as drummer for the band They Might Be Giants, I will be touring in the U.S. and Europe. Ephrat's company will be
performing an excerpt of A Single Ride at the Dumbo Dance Festival on Saturday September 28th at 2pm. The piece has been submitted for festivals in the U.S. and abroad and this past June an excerpt was presented at the Apollo Theater as part of the Breakin' Convention.

TDE: What do you do when you're not making music?

MB: When I'm not making music, most of my time is spent raising my two wonderful, super high energy young kids, who are 8 and 5 1/2, with my amazing and at times heroic wife. I also have a podcast called "The Drummer and The Professor." And I love playing poker but sadly I am terrible at it.

TDE: Do you have a favorite song and/or composer at the moment?

MB: My favorite song at the moment is "Brave" by Sara Bareilles. My favorite composer is Max Richter.