The Dance Enthusiast's Mercian Questionnaire
Carolyn Dorfman on Working Women
Inspired by the genius of  Merce Cunningham. Ruled by Curiosity, Chance and a Love of Dance.
Supervised by Christine Jowers, Founding Editor of The Dance Enthusiast

The Mercian Questionnaire
an explanation of methods:
We write open, simple questions on pieces of paper and throw them into The Dance Enthusiast's fedora. I ask someone in the office to choose questions. With shut eyes, they randomly pick pieces of paper, then read the chosen questions aloud, so I can type them up for our participants. That's how it goes. This time we chose 18 out of 35 options. There was no rhyme or reason to that number: it just felt right. My son Teddy, home sick from school, did the honors. The Enthusiast's mascot, a paper-chewing cat, Gracie, looked on, hungrily. Thank You Carolyn Dorfman for graciously answering our Mercian Questionnaire. — Christine Jowers,editor.
---
Who We Are Asking:
Carolyn Dorfman, the  Artistic Director and Choreographer of the Carolyn Dorfman Dance Company, is known as a creator of provocative dances that reflect her concerns about the human condition. Dorfman is interested in creating "worlds" into which the audience can enter. CDDC's high energy and technically demanding repertory uses movement as metaphor to take audiences on what one reviewer described as "intellectual and emotional journeys." Hailed as the consummate storyteller, Dorfman a child of survivors of the Holocaust, has also created a celebrated body of work that honors her Jewish legacy; its trials and triumphs, its treasured uniqueness and, most importantly, its universal connections.

Since founding her Company, she has created more than 60 works for her 10 member ensemble, which appears at major theaters, dance festivals, universities and schools regionally, nationally and internationally and is lauded for its artistry and exceptional arts education and community programming. The Company, described by critics as "ingenious" (The Star-Ledger) and "emotionally resonant" (The New York Times), presents new and repertory works by Ms. Dorfman and regularly commissions original scores and artistic collaborations.

Dorfman's choreography appears as part of Gotham Dance Festival's (One Night Only) Working Women Celebration on June 5th, 2012 at The Joyce Theater. The concert features : Dorfman,Pam Tanowitz, Kate Weare, Loni Landon,Jodie Gates, Jane Comfort, Camille Brown and Monica Bill Barnes. Click here for tickets
---
Carolyn Dorfman, Choreographer and Artistic Director of Carolyn Dorfman Dance Company,
Photo © Tom Caravaglia
TDE - Right now I am:
Carolyn Dorfman - Watching waves at the beach.

I would hope that the audience notices these interests in my work:
I would like them to notice the honest, visceral, physical connectivity of my work as well as content that speaks to our common experiences. I would like the audience to notice that my work speaks to life and the heart.
Choose a word or phrase to describe these Working Women of Dance Fame:

 Martha Graham
  Power of the subconscious:fierce
 
 Isadora Duncan
  Boundless
 
 Trisha Brown
  Breaking Ground
 
 Carmen de Lavallade
  Quiet, powerful, magestic, ever-striving
 
 Elizabeth Streb
  Pushing physical boundaries
 
 Yourself
  Driven to create,impact and, with hope,
  effect change.
 
The greatest influence on my life:
Was my family's history in the Holocaust and then coming to America. It shaped every aspect of who I am and shaped my art and process regardless of its content. I learned lessons, perspective, compassion and justice. I learned perseverance. All have sustained me as an artist and person.
---

The most expressive part of the body:
The Hands.
The things most necessary to my life are:
Family, dance, people, and making a difference in the world I touch.

If I were not a dance artist I would be:
A psychologist.

My favorite food is:
Thai

I am present a piece concerning _______ for this concert:
I am presenting a piece, Keystone, concerning the endurance of relationships.

A woman's work is:
Complex, multi-dimensional and reflective of all the sphere's in which she participates.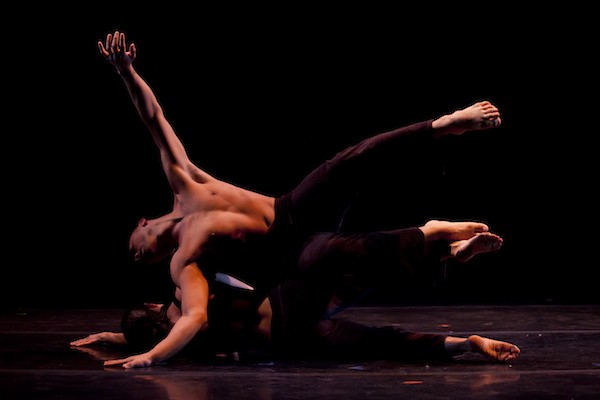 Photo of Keystone; choreography by Carolyn Dorfman; Photography © Whitney Browne
After this show I am:
Embarking on multiple teaching residencies; preparing for tour to Brandeis University and working with collaborators on a new piece.

My greatest challenge is:
Not being able to be in more than one place at the same time. If I could do this, I could be a "10" in all the areas of my life! Since I can't, accepting being less than a "10" is the ultimate definite challenge.

A perfect day starts with:
Irish Breakfast tea with skim milk. I love my tea and I appreciate it everyday. If I get to talk to Ken Maldonado(producer of the Gotham Arts Festival) at 8am while I am drinking my tea, it is even a more perfect day!
---

I question:
Why the "Golden Rule" isn't universally accepted. Why is mutual respect and peaceful co-existence so hard? How can intelligent people hate?

I love:
How, through dance, we can bring people closer together in real ways. Dance can build community!

The woman I most admire:
There are so many women that I admire for different reasons: my mother- navigating war at age fifteen, losing her entire family, yet being able to come to a new land and build  a new life including family, love, and community. I admire Mary Robinson, a significant woman in my life, who taught me about justice, injustice and the power of one person to make a difference in it all. I admire all women, famous or otherwise, who teach, advise, create, and impact. I did not truly like women until I was thirty. Then I understood.
Working Women , A One Night Only, Celebration of American Women Choreographers at The Joyce Theater, part of Gotham Dance Festival 2012.
Tuesday June 5th at 7:30 pm
(click day for for ticket info)
---
The Dance Enthusiast Asks questions and creates conversation.
For more of The Dance Enthusiast Asks, click here.
---
The Dance Enthusiast - News, Reviews, Interviews and an Open Invitation for YOU to join the Dance Conversation.