Related Features
Contribute
Your support helps us cover dance in New York City and beyond! Donate now.
Throwback Thursday: Okwui Okpokwasili, Bessie Winner 2014, Talks Process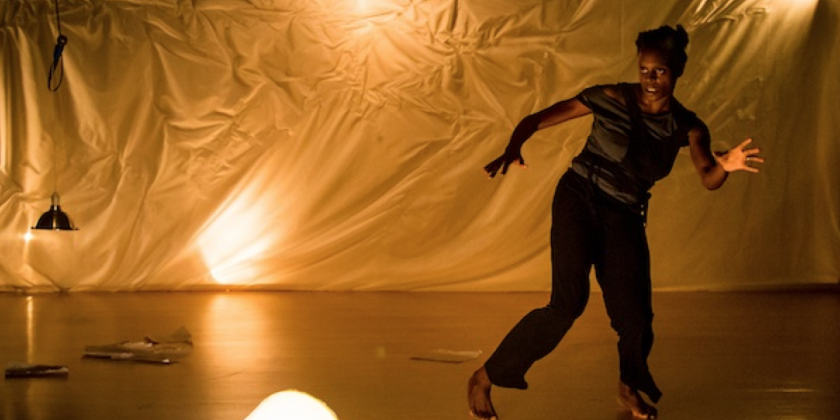 Looking Forward to Okpokwasili's "Bronx Gothic" Returning to New York Live Arts This October
Okwui Okpokwasili's acclaimed, New York Dance and Performance "Bessie" Award winning piece has been hailed as a breakthrough work, and is envisioned for Live Arts' stage as part of a multi-year collaboration with the artist.
For more information and to purchase tickets click New York Live Arts' Website.
Bronx Gothic
Oct 21-24 at 7:30pm
Tickets start at $15
---
Originally Published on October 5, 2014
A.Nia Austin-Edwards of The Dance Enthusiast: When and where does your artistic story begin? Have you always known you would dance?
Okwui Okpokwasili: I've always known I wanted to make things. I've always been overwhelmed by powerful story telling – in the body, in song, in spoken and written language – and dancing was always a part of my life. Not only did I always dance, everyone around me danced. My parents, brothers, friends, uncles, everyone had a vocabulary of how they moved. So now, I move. Movement is a critical piece of any kind of shared telling, of any kind of "being" in performance. 
TDE: What has been your biggest challenge in your artistic journey?
OO: Not being defined by other people's perceptions of who I am or what I can and cannot do. Also surviving, and being healthy.
---
TDE: Can you tell us about the process of building Bronx Gothic? What inspired you? What were your challenges? How did this work grow from idea to performance?
OO: The Bronx Gothic began with research, writing text, finding the character, and building movement around the specific conditions of the character. It was built through a number of residencies and performance opportunities at the Park Avenue Armory, MANCC, Lower Manhattan Cultural Council, Baryshnikov Arts Center, and New York Live Arts. It has lived at Danspace in an early iteration through the Platform series that Ishmael Houston-Jones curates, and later through Food for Thought at Danspace Project, a curated series by Christine Shan Shan Hou. I've also had a number of opportunities to work out what Bronx Gothic was with my indispensable director/design partner Peter Born. 
TDE: What do you do when you're not creating?
OO: Witness my growing child, Ume, in wonder and amazement. Go to parks, see family and friends, see shows and exhibits. I hope to encounter something new and strange every day.
TDE: This Fall we'll be hosting an Enthusiastic Event highlighting the relationship between Dance and Fashion? Any ideas what your fashion look might be for Bessies night?
OO: No. No ideas. But I'll be looking at Ogbitse Omagbemi and Nora Chipaumire for inspiration. Those ladies have style! Peter Born's got a bit of a sartorial streak. I'll be looking at his socks.
TDE: Describe your creative style and process in only 5 words . . .
OO: I don't know...what if?
About the Artist : Okwui Okpokwasili
Okwui Okpokwasili is a New York-based writer, performer and choreographer. In partnership with collaborator Peter Born, Okpokwasili creates multidisciplinary projects that are raw, intimate experiences. Their first New York production, 
Pent-Up: A Revenge Dance
 premiered at Performance Space 122 and received a 2010 New York Dance and Performance "Bessie" Award for Outstanding Production; an immersive installation version was featured in the 2008 Prelude Festival. Their second collaboration,
 Bronx Gothic
, won a 2014 New York Dance and Performance "Bessie" Award for Outstanding Production and continues to tour nationally and internationally. In June of 2014, they presented an installation version entitled Bronx Gothic: The Oval as part of the Lower Manhattan Cultural Council's River to River Festival. Their current project in development is Poor People's TV Room, an early iteration of which was presented by Lincoln Center in the David Rubinstein Atrium in June 2014. (for more biographical information and to purchase tickets for
Bronx Gothic
go to
New York Live Arts' Website