THE DANCE ENTHUSIAST ASKS: Tiffany Rea-Fisher on the Adirondack Diversity Initiative, Her Purchase Conservatory Education, EMERGE125, and Dancers' Transferable Skills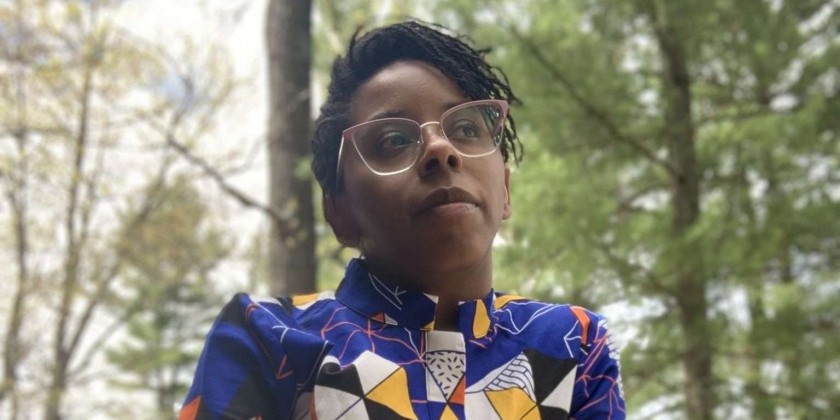 After our initial interview with Tiffany Rea-Fisher, we realized that all she had to say couldn't be contained in one Q+A. So, here's Tiffany Rea- Fisher 2.0. We talk more about her educational background , and how she is leveraging what she's learned throughout her robust dance career to support her important work in diversity, equity and inclusion as the Executive Director of the Adirondack Diversity Initiative —Theodora Bogusewski
---
Theo Boguszewski for The Dance Enthusiast: What are some of your first goals for your role as Executive Director of the Adirondack Diversity Initiative.  I'm interested to hear how you are bringing your arts lens to this work.

Tiffany Rea-Fisher: One of the big initiatives is cultural sensitivity training for police and park rangers. When you enter the Adirondack Park, the first person you're most likely to meet will be a park ranger. So it's important for the park rangers to understand why the person they're encountering is where they are.  We talk a lot about belonging, understanding that this person is ALLOWED to be here, and, we're also working with the police and park rangers on body awareness — understanding what their body language is communicating.

During one of our trainings, one police officer had his hand on his gun the whole time. He didn't even realize it because that's a posture that's acceptable in his line of work.  But when in a closed room with people of color, well, we are freaking out. So being able to bring body awareness into the cultural training is really important.
The Adirondacks; Photo: NYC.gov
I'm also really working with a bilateral exchange, to get people in the cities up to experience the health benefits of being in the Adirondacks. Because of the rules and protections around it, this area is a more pristine environment, which is so important as we look at climate change and climate justice. It  is known that communities of color have more extreme experiences with climate change. We are working with the tourism board, so as you get further from the city, people of color can start to see billboards with people who look like us.  We're  also trying to give soil loans to farmers of color. The DEI work should be integrated into everything.

One of the many reasons I'm excited for this job is I talk about dancers having transferable skills. While the Adirondack Diversity Initiative has nothing to do with dance in any way shape or form, I was very clear that  I'm an artist and I'm approaching this from an art and culture lens.At the end of the day, who we are is our art and our art makes up our culture. So, this work will hopefully allow people of color in this area to live a little more out loud.

It's a big job and not one that will be solved by any one action from any one person but it also speaks to that collective action, which is what we do as dance artists.
Tiffany Rea-Fisher with her daughter in the Adirondacks: Photo: Courtesy of Rea-Fisher
I love that you point out  dancers' have transferable skills! So often we are told  that we don't.
Absolutely! My dance career has taken me around the world.  I've had to figure out what that non-verbal communication is when I don't speak the language. And, then there's the  discipline of simply being able to show up on time, or  to take a note and not have it wreck your day. We are fortified with steel!! I truly believe dancers can do anything because our training hits so many different sectors and areas, whether you're aware of it or not.
Do you feel  that you'll have to make sacrifices in regards to your dance-making career as you take on this full time "non-dance"role?
They're sacrifices that I've been wanting to make, and that I'm excited about. EMERGE125, is in the process of right sizing our company, so we're looking for an executive director. When we find our  executive director, that will no longer be a title that I have, and I'm excited and ready for that.

There will be significant changes in my day-to-day with EMERGE..., but ultimately these will allow me to be artistic director full stop, which has always been the dream. I'm very proud of the work environment that we've cultivated here, and I'm excited to bring new people into that, because this is a place where they will be heard and valued. We're a work-hard-play-hard place.
 Tiffany Rea-Fisher's Steps class as part of Black Voices in Dance:  Video Still by @christianwhanphotos - Steps on Broadway
I see that you are a graduate of the Conservatory of Dance at SUNY Purchase. What was your experience there, and how did your education inform your trajectory?
I rep Purchase hard!! I loved it. It was an absolute game-changing, life-altering experience for me. I came from the West Coast as a competition kid, so when I tell you I did not know anything about modern dance… I didn't know who Martha Graham was.

I blew out my knee the first day of freshman year, and was out the whole first semester. But it allowed me to go into the library and read up on all of these people, these names I kept hearing. As a Black woman I have not always felt terribly patriotic, just because my experiences often felt like, well, I'm clearly not wanted here. But what modern dance did for me, I was like "oh this is an American art form," and it made me very proud to be part of that legacy and that lineage.

My professors were very supportive. I'd never had a Black teacher, professor, or a boss, and I had TWO at Purchase. It was very freeing. Purchase was where I fell in love with modern dance.  I feel like I can point to that moment in time and say "that was where everything changed for me." It gave me this life that I love.


 
---
The Dance Enthusiast Asks questions and creates conversation.
For more of The Dance Enthusiast Asks, click here.
---
The Dance Enthusiast - News, Reviews, Interviews and an Open Invitation for YOU to join the Dance Conversation.