Related Features
Contribute
Your support helps us cover dance in New York City and beyond! Donate now.
The Dance Enthusiast Meets the 2014 Bessie Award Nominee Tiler Peck (Part 5)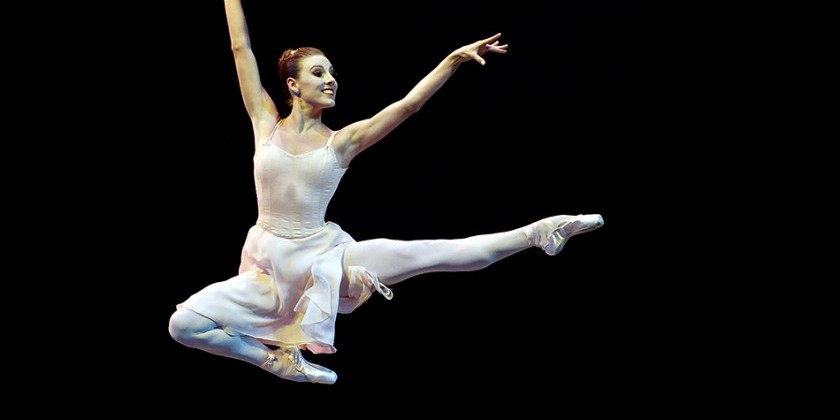 New York City Ballet Principal and Outstanding Performance Nominee Chats with the Dance Enthusiast
In the three years since the New York Dance and Performance Awards ("Bessies") have returned from their brief hiatus we have seen diversity abound through an expanse of categories and a range of exciting nominees.
In this season's Bessie Awards Interview Series, The Dance Enthusiast seeks to represent that diversity. There is so much greatness in this year's pool of artists – the beautiful movement of Mimulus Cia de Dança's Dolores, the sociopolitical commentary of Camille A. Brown's Mr. TOL E. RAncE, the cultural celebration of Asase Yaa's Djembe in the New Millenium – and those are just some of the nominees for Outstanding Production. Add to that revivals that range from Twlya Tharp to Nora Chipaumire, performers from across the globe, and designers who seem to know no bounds, and you truly see the best of what New York Dance and Performance has to offer.
So how does one become a Bessie nominee? What kind of training, practice, process, and narrative defines such an artist? There may be no singular answer, but each of the creators in our Dance Enthusiast Bessie series generously offers a glimpse of their experience along with some fun anecdotes in the fashion of dance enthusiasm.
Enjoy getting to know these nominees and we hope to see you on the red carpet outside the Apollo Theater in Harlem on October 20!
---
Meet 2014 Bessie Nominee for Outstanding Performer – Tiler Peck of New York City Ballet:
Tiler Peck, a Bakersfield, California native, began her dance training at her mother's studio at the age of two. She entered the School of American Ballet, the official school of New York City Ballet, full-time at 14. She went on to become an apprentice with the New York City Ballet, join the company in February 2005, be promoted to Soloist in December 2006 and Principal Dancer in October 2009. She is currently enjoying her 4th year as a Principal Dancer with the New York City Ballet.
Peck made her Broadway debut as Gracie Shinn in Meredith Wilson's The Music Man at the age of 11. She has been seen as a guest star on Dancing With The Stars for two seasons and had the pleasure of being a guest on Bravo's TV show "Rocco's Dinner Party". Peck is currently preparing to play the title role in Susan Stroman's newest musical, Little Dancer, which will premier at the Kennedy Center in October 25, 2014.
A winner of many awards, Peck had the honor of performing for President Obama at the 2012 Kennedy Center Honors and in 2013, she was named in Forbes "30 under 30."
---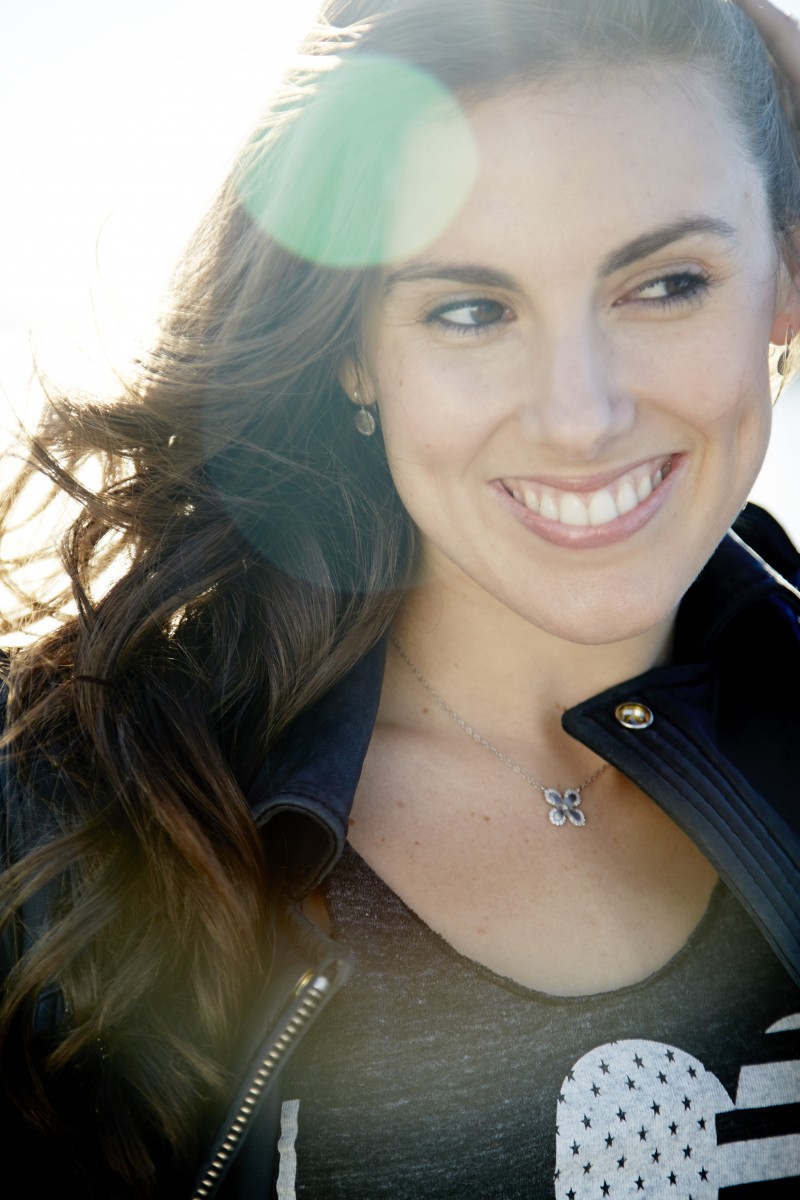 Tiler Peck, Photo: Benny Haddad
A. Nia Austin-Edwards of The Dance Enthusiast: When and where does your artistic story begin? Have you always known you would be a dancer, particularly a ballet dancer?
Tiler Peck: I started dancing when I was two years old because my mom owned a dance studio. Basically, I was babysat at her studio, so as soon as I could walk I was taking classes. It was a natural thing for me, and I loved it from the very beginning. She was my teacher until I was around eight or nine. I think she didn't want to mix being a mom and being my teacher, which I'm so thankful for.
I was very into jazz, modern, and hip-hop. In California you get all styles of dance. Auditioning for "The Music Man" on Broadway first led me to New York when I was 11. My mom suggested we make a trip out of it and make it fun. We had no expectations, and she thought it would be a good experience. Then I got it! I had never really thought about living in New York before. I always wanted to dance, but I didn't know that my career would end up being a dancer in New York.
Eventually my mom said to me, "You're so talented, I would hate for you to lose your technique at such a young age by doing the same show eight times a week. I think you should really find somewhere to take class." That's when I first went to the School of American Ballet. I would take class during the day and do the show at night. Ballet was never a true passion, and it wasn't until I went to the School of American Ballet that I said, "Oh my gosh, I love ballet. It's finally exciting." I think I enjoyed the Balanchine style of New York City Ballet. It's very quick, always pushing to extremes, very musical, and I found some similarities with my jazz background. It wasn't until I got to SAB that I thought I wanted to be a ballerina.
What I love about SAB and New York City Ballet is the fact that we get so much variety. I get to work with so many choreographers. It's special that I'm able to do all types of dance and still be in this amazing classical ballet company.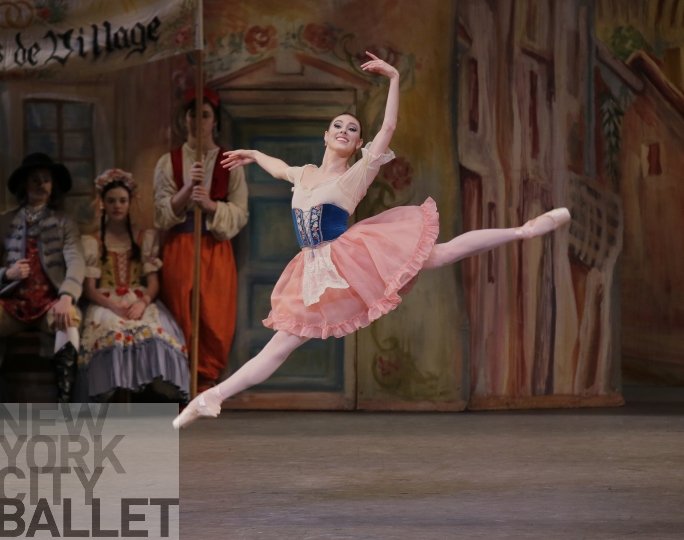 Photo: Paul Kolnik
TDE: Tell us more about your time with New York City Ballet. Do you have any favorite performances, fondest memories, or best lessons?
TP: I've been with the company for ten years, and I got a lot of great opportunities early on. I was chosen from the corps de ballet when I was really young - I think 17 - to dance with Damian Woetzel, a senior principal who was about to retire. I had this amazing experience at such a young age to do three or four ballets with him during his last season. I learned so much. Being able to dance with him at the beginning of my career was priceless.
When I was 18, I had a serious back injury. One of my favorite moments was my first show after being injured. I did Christopher Wheeldon's Carousel with Damian. It was so emotional because I didn't know if I would be able to dance the same again. Am I going to be able to lift my leg to the back? There were so many unknowns, but once I got on the stage it was like no one was in the audience. It felt like I was in a movie. Thinking of it still brings a tear to my eye. I was so happy to be back on stage and so thankful to be able to do what I do. I just thought, "This is the best job ever. I get to go out on stage and have fun every night, how lucky I am."
TDE: What has been your biggest challenge in your artistic journey?
TP: I think in the beginning the challenge for me was to really feel like a ballet dancer since I didn't grow up just doing ballet. I felt like an intruder, a jazz dancer trying to do ballet. I found it really challenging which is why I locked onto it. Eventually I realized these different techniques are all attributes, and I began embracing the fact that I studied other styles. I understood it to be something that I can bring to the table that others can't. It was just about finding the balance and trusting myself. I don't have to be a cookie cutter kind of ballerina.
TDE: What do you do when you're not dancing?
TP: I just got married, and we have two really cute little doggies. I love hanging out with them. Also, we just got an accepted offer for a new apartment! So while we're in the process of doing New York City Ballet, we're also both rehearsing for Broadway musicals, and we might be moving! We have got a lot going on.
TDE: This Fall we'll be hosting an Enthusiastic Event! highlighting the relationship between Dance and Fashion? Any ideas what your fashion look will be for Bessies night
TP: I don't know. I just got to wear this Alexander McQueen dress in a ballet. Our fall gala is always fashion based. Every new choreographer collaborates with a different designer, and that costume was done by Alexander McQueen and Sarah Burton. That was such a beautiful dress, but I haven't even had a night or day off to think about The Bessies. I might pick something out the night before.
TDE: Describe your creative style and process in only five words . . .
TP: Spontaneous, free, exciting, challenging, and onward or moving forward
TDE: Is there any upcoming work you'd like to share?
TP: Yes! I'm getting ready to play the title role in a new musical, Little Dancer. It's directed and choreographed by Susan Stroman. The book and lyrics are by Lynn Ahrens with musical composition by Stephen Flaherty, the people who wrote "Ragtime." I play Marie, the little dancer modeled after that Degas sculpture where she's standing in fourth position. We leave for DC October 16th, and I'm there until December 6. I'm so excited!
TDE: But you're coming back for The Bessies right?
TP: Yes!