THE DANCE ENTHUSIAST ASKS: Tiler Peck about Collaborating with William Forsythe's for "The Barre Project," Teaching over Instagram, and Curating "The New Stage" for Marquee TV
New York City Ballet principal Tiler Peck was coming off an injury when the pandemic hit. She could have used the time to rest further, develop other interests. But she didn't. Instead, she threw herself into dancing, sharing her love of it with colleagues and enthusiasts alike. From her childhood home in California, she taught ballet via Instagram, and she coordinated well-received projects with choreographer William Forsythe and Marquee TV. She spoke to The Dance Enthusiast about her strategies for maximizing her time away from live performance and what lies ahead for her post-pandemic.
---
Erin Bomboy for The Dance Enthusiast: First, how are you, Tiler, a year-plus into the pandemic: physically, mentally, and emotionally? 
Tiler Peck: Surprisingly, I am actually feeling invigorated. I have always been the type of person to look forward and try to find the positive, and the pandemic has actually given me so much. It gave me unexpected quality time with my family, connected me to so many through my #turnitoutwithtiler classes, and also allowed me to have the time to work on passion projects like working with Bill Forsythe on The Barre Project and curating performances like A New Stage. Now I am just so excited to get back to dancing with an audience. I will never take that privilege for granted again.
As we ease into normalcy, what positive habits did you develop during the pandemic that you hope to maintain as restrictions loosen? Which parts of your pre-pandemic life do you look forward to resuming?
TP: I have realized more than ever how precious and short life is and that we all need to make sure we don't take things for granted. I am hopeful that this feeling of gratitude will translate over into my dancing when I step back onstage. As for what I am looking forward to most, definitely human connection. It was wonderful to keep dancing throughout the pandemic, but there is something special and priceless about getting to dance next to colleagues and share the stage with other artists.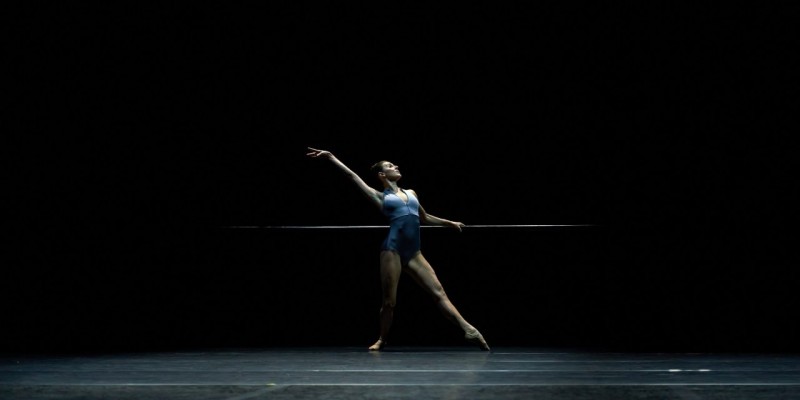 Tiler Peck in The Barre Project; Photo courtesy CLI Studios 
Your collaboration with choreographer William Forsythe — The Barre Project, Blake Works II — for Marquee TV brought the unassuming equipment that rings ballet studios everywhere to the center stage. What did it mean to you to display the work you and all the other dancers perform every day?
TP: Working with Bill was my ultimate bucket list goal, and the fact that we were able to share this project with so many people has been very rewarding. We hoped to make people want to dance and see all of the possibilities of what ballet can be, and I couldn't be more proud of the outcome. 
In a way, the barre highlights the contributions of teachers, the unsung heroes of the dance world who choreograph multiple combinations day in and day out for little to no glory. As someone who regularly taught an open class via Instagram throughout the pandemic, did taking on the role of teacher change how you perceive and execute movement?
TP: I will admit that I have a new appreciation for teachers and the preparation that goes into each class. I also think that teaching helps enhance the way one dances. You learn a lot about your own dancing when you have to dissect it and explain it so that students taking your class will understand. 
Photos from Tiler Peck's Instagram
Using a barre often positions the dancer in profile rather than frontally since other dancers are ahead of or behind you. How does the body in profile "read" differently to a teacher in even a simple sequence of tendus and accompanying port de bras? How about to an audience?  
TP: No matter if I am dancing in profile or frontal, I am always thinking of what the audience is seeing. I think it is very important for a dancer to know what angles work best for their body and keep the audience's perspective in mind.
You're known as a musical dancer. How does your body "hear" James Blake's compositions (the score to The Barre Project)?
TP: I grew up dancing to music with lyrics instead of classical music, so this felt like home to me. Bill and I quickly realized that much of what I found musical to dance to was within his voice and not necessarily counting like usual. 
Tell us about the trifecta of men — Lex Ishimoto, Brooklyn Mack, and Roman Mejia — who join you for The Barre Project, two of whom (Mack and Mejia) also appear in your curated production, A New Stage? What qualities does each possess that you admire?
TP: I felt like I was sharing the stage with the A-team. Lex has this ethereal quality that makes him seem almost like a creature that is so unique. Brooklyn Mack is a powerhouse; he is grounded and dances with so much beauty and strength. Roman is a complete virtuosic dancer, so dynamic and charismatic. 
From L to R: Brooklyn Mack, Tiler Peck, Lex Ishimoto, and Roman Mejia in The Barre Project; Photo courtesy CLI Studios 
Speaking of A New Stage — which presents a premiere by Christopher Wheeldon, sung by Broadway star Sierra Boggess; an encore of Jennifer Weber's PetrushkaReimagined; and a montage from tap phenom, The Syncopated Ladies, all selected by you for Marquee TV —how did this program come together? What drew you to curation initially?
TP: I have always loved collaborating with other dancers and artists, and I have realized how much it has taught me and pushed my own creative boundaries. The opportunity to choose artists I respect to come together for projects like A New Stage is energizing and invigorating. A New Stage came together because I talked to so many amazing artists who were so eager to perform and so many fans who wanted to watch something new and special. So I called some friends, and we got to work!
Congratulations on your new partnership with Marquee TV! What upcoming program on Marquee TV are you tuning in to?
TP: I am so happy to be working with Marquee TV. I love that they bring the arts to everyone. Every time I log on to Marquee TV, there is so much I want to watch. I have really been missing theater, so aside from checking out lots of dance, I have been watching and loving plays.
Give us something to put on our calendars — where can audiences see you dance, live and/or virtual in 2021?
TP: So much is coming up that I am excited about this year! I have my dance intensive workshop in California in late June, then I will be collaborating with Alonzo King and LINES for a program at the Los Angeles Music Center in their "Dance at Dusk" series.

Brooklyn Mack and Tiler Peck in  PetrushkaReimagined; Photo courtesy Marquee TV
---
The Dance Enthusiast Asks questions and creates conversation.
For more of The Dance Enthusiast Asks, click here.
---
The Dance Enthusiast - News, Reviews, Interviews and an Open Invitation for YOU to join the Dance Conversation.