Related Features
Contribute
Your support helps us cover dance in New York City and beyond! Donate now.
The Dance Enthusiast Asks Urban Bush Women About Coming Back and Moving Forward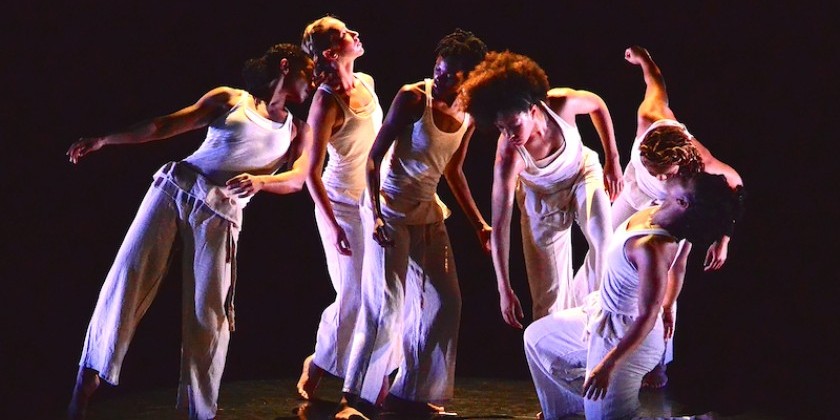 Urban Bush Women Begin Celebrating Their 30th Anniversary Dancing in the FOCUS Dance Festival at The Joyce Theater
30 Years of Women Who Don't Back Down
The Urban Bush Women are back! After a two year sabbatical, an intense audition process, and a great deal of excitement and hard work in between, Jawole Willa Jo Zollar's internationally acclaimed company is coming back to the stage to celebrate their 30th anniversary season. The company will be touring across the U.S., but first they'll share one of many new works - former company member and Associate Artistic Director Nora Chipaumire's dark swan - at the home of New York dance, the Joyce Theater.
As the company prepares to strut their stuff, The Dance Enthusiast had the pleasure of sitting down with Founder and Chief Visioning Officer Jawola Willa Jo Zollar and Associate Artistic Director, Maria Bauman to talk about this 30 year journey, the rehearsal process, and what we can expect from the new generation of Urban Bush Women in this milestone season.
Urban Bush Women (UBW) burst onto the dance scene in 1984, with bold, innovative, demanding and exciting works that bring under-told stories to life through the art and vision of its award-winning founder Jawole Willa Jo Zollar. The company weaves contemporary dance, music, and text with the history, culture, and spiritual traditions of the African Diaspora. As UBW celebrates its 30th Anniversary year, it continues to use dance to bring together audiences through innovative choreography, community engagement and artistic leadership development.
---
A. Nia Austin-Edwards for The Dance Enthusiast: So how does it feel to be back?
Jawole Willa Jo Zollar: It feels great!
Maria Bauman: We have a season of all new works. We have been working on community engagement in the interim period while we haven't been touring. Jawole has taken a nice moment to breathe, and out of that moment to breathe came an explosion! Jawole's got Hep Hep Sweet Sweet which is a brand new work, Walking with 'Trane, Chapter 2 which will actually be a suite - it has more parts to come for the touring season. We've got a new work called Being Bushified. And Nora has revamped and shaped dark swan specifically for us. So the percolating ended in a big outpour of creativity.
Urban Bush Women in Hep Hep Sweet Sweet  Photo © Rick McCullough
TDE: And you're celebrating 30 years, that's amazing! Can you share some highlights and some lessons you've experienced along this journey?
JZ: It's a constant journey, and it's always unpredictable. It's also just full of really wonderful experiences along the way. I think the lesson is to keep one foot in front of the other. Keep moving forward.
TDE: True indeed. Now you've got some old and new faces in the space. How has the rehearsal process been with this new company?
JZ: It's been great. It's a really wonderful Urban Bush Women circle. Paloma (McGregor) came in and did character development work with us. Bennalldra (Williams) did conditioning with us. Samantha (Spies) and Maria have been doing company class in alternation with me. So I feel like everybody was able to get prepared and ready. We've had creative process time with Talvin (Wilks), as well as having time in residence in Tallahassee to really focus. And we had our rehearsal period in June just for creative process.
Urban Bush Women Photo © Bridget Williams
MB: The crew is great. George Caldwell is another collaborator working with us. He's a pianist. Everybody has really gelled; old folks, new folks, and the Bush family that Jawole has pulled in.
TDE: Got to love nation building. And what has become your sustainable practice, both for the company and for yourself?
JZ: I think maintaining myself is probably where I've gotten the strongest over the years. In the early years that was something I didn't do well with the stress of everything. But over the years I've learned to just breathe. In terms of sustaining the organization, it's challenging. It's really challenging. Meredith Monk gave a talk one time that I was really impressed by. She said sometimes people will say, "Oh it's Meredith Monk." or "Ah! MEREDITH MONK!" or "eh...Meredith." I would say to anyone who wants to do this that you have to understand all those responses and just know they are part of the cycle.
MB: There's a lot of leadership development within the family of Urban Bush Women. And right now we're working on shared leadership to kind of flatten the hierarchy which I think is not unheard of. Other people are doing it. We've looked to other models. I do think it's a step in the right direction towards saying "Let's not be tied to an old model just because it exists." Let's think about in order to sustain ourselves, does everybody need to take a piece if the pie? How do we partner together? And how do we draw upon the resources of all the talented women and men that have come through the company over 30 years; rather than think of our organization as one person in charge who is doing it alone.
Urban Bush Women in Walking with 'Trane, Chapter 2 Photo © Rick McCullough
TDE: Last but certainly not least, what can audiences look forward to this season?
JZ: If you've known Urban Bush Women for any length of time, I think you'll see in some ways a return to using the voice, a return to speaking, because that's been gone for a little bit of time. But I think you'll also see something different; work that is new, fresh. I think that it's relevant.
And if you've never seen Urban Bush Women, I think you'll see a part of our legacy of strong powerful women on stage who don't back down from their strength, their femininity, sensuality, sexuality, and their power and their voice.
---

You can see Urban Bush Women kick off their 30th Anniversary Season at The Joyce Theater as part of FOCUS Dance Festival Thursday, January 9 at 8pm and Sunday January 12th at 2pm.
To Purchase Tickets Click Focus Dance Festival