The Dance Enthusiast Asks Company Wang Ramirez about "Monchichi" at BAM's Next Wave Festival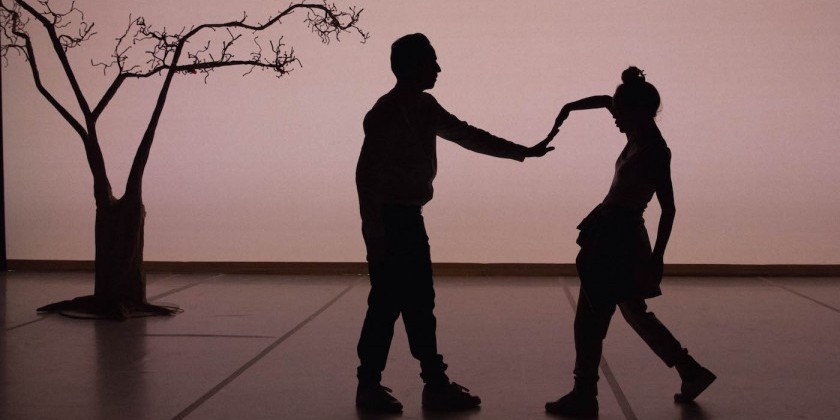 Intercultural identities are the bread and butter of Wang Ramirez, the polyglot performance duo comprising Korean-German dancer Honji Wang and French-Spanish dancer Sébastien Ramirez.
Company Bio (bam.org):
Honji Wang and Sébastien Ramirez partners in life and performance since they met dancing in Berlin, communicate the complexity of human relationships through their signature dance-theater aesthetic.
Visit Company Wang Ramirez's official website
More about Monchichi
Part of the 2016 Next Wave Festival
---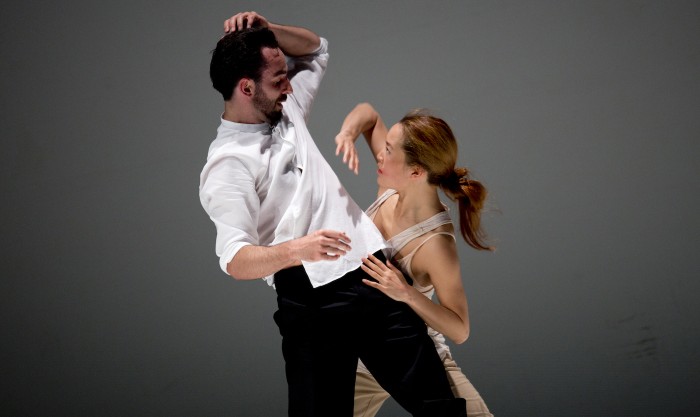 Image courtesy of Company Wang Ramirez.
Sammi Lim for The Dance Enthusiast: Salut, vous deux! I've long dreamed of interviewing you two and am glad that BAM's Next Wave Festival has opened the door.
When I hear the title 'Monchichi,' I immediately think of the Japanese cartoon character – an round-headed monkey created in the 1970s. Is it because the dance involves monkeying around? Company Wang Ramirez's movements are often integrated with humor.
Honji Wang: You're right about the Japanese monkey character, but it was not named after any style of dance, but a background story related to from where I come from. I grew up in a neighborhood in Frankfurt, Germany that was populated with immigrants. There were only a few German families living in this area and one of these neighbors used to call me 'Monchichi' instead of my real name, which was too exotic and complicated. He thought it was cute, but it was also disrespectful.
TDE: Despite being disrespectful, it obviously left some sort of impression on you. What is Monchichi about?
HW: The story is inspired by and based on our cultural origins – the way we grew up and how our environments made us who we are today. Cultural differences are an enriching part of our life. We love the way we grew up, even with all the friction and confrontations with characters such as the "Monchichi man." Growing up in a multicultural society provides development and opportunities for reflection to a young person.
My first friends where Turkish, Arabs, Albanian, Jewish and Rumanians; at the beginning, we had conflicts while defending our own cultures. Of course, I couldn't avoid my "Bruce Lee / Chinese girl" look and was always teased with questions like "Do you see enough with your sliced eyes?" But I learned to deal with it with humor – until today.
But like I said, it's all based and inspired. We want to share our universe rather than tell a clear story.
Image courtesy of Company Wang Ramirez.
 
TDE: Aesthetic movements aside, you're a well-dressed duo. Honji, you're in charge of costuming for Monchichi in addition to choreographing the dance. What items of apparel have you lined up for the performance wardrobe?
HW: For the wardrobe, I tried to stick to something more neutral and casual, away from the hip hop image. Dressing up and getting undressed is part of the piece. Trying to be something that we are maybe not, clothes that change something about your image. We found that interesting as we are used to wearing sneakers and jogging outfits most of the time. 
TDE: Do you also dress Séb in day-to-day life?
HW: I like to give him some suggestions, more as opinions rather than dressing him up, especially if he asks. He is quite easy about that. Depending on our moods we like to dress up or just stay in training clothes for days so we're ready to train wherever and whenever. 
Image courtesy of Company Wang Ramirez.
 
TDE: Monchichi is described as 'choreography of near-missed connection.' Was there a high possibility of you two never meeting each other?
Sébastien Ramirez: I think we would have met each other somewhere; maybe not at that initial performance, but later for sure. The hip-hop world is very connected and we had common friends. But we were happy to meet at that time, the right time. 
TDE: If you've ever browsed our online publication, you'll know that The Dance Enthusiast is a huge proponent of Audience Reviews. What are your thoughts on feedback from spectators?
Both: We are always ready for all kinds of feedback. People are free to think whatever they want to, as long as they don't hurt you personally for nothing. Constructive critics are always better to hear. This was our first creation together - neither of us have studied theatre, production or dance, so it was a learning-by-doing process, eye-opening experience, and hard work. But every one has their own tastes. Some might like it and some might not, but that's the beauty of the arts and entertainment: everybody has something to say, which makes us alive and communicative. 
Performance Details
WHO: Company Wang Ramirez
WHAT:
Monchichi
as part of BAM's 2016 Next Wave Festival
WHEN: October 12-15, 2016
WHERE: BAM Fisher
More info:
http://www.bam.org/dance/2016/monchichi
The Dance Enthusiast Creating Conversation/ See More  The Dance Enthusiast Asks
Share Your #AudienceReview of Monchichi for a chance to win a Foodies Delight, Gourmet Olive Oil