Related Features
Contribute
Your support helps us cover dance in New York City and beyond! Donate now.
The Dance Enthusiast Asks Wendell Cooper About His Adventures in "Counterculture"
Wendell Cooper Talks Inspiration, Meditation, Hip-hop, and Skateboarding as he Prepares for Kyle Abraham's "Counterculture"
---
Counterculture: A night of LGBTQ of Live Music and A Dance Party
Curated by Kyle Abraham
Featuring: DJ Edgar Um, Le1f, Wendell Cooper, Javier Ninja and Will Sheridan
Harlem Stage Gatehouse: 150 Convent Avenue (at W. 135th Street), New York City
Friday, May 23 at 7PM
Tickets: $20, available by calling 212-281-9240, x 19 or 20, in person or click on Harlem Stage website
---
Wendell Tyler Cooper, founder of Complex Stability™, is a dance artist and audio/video designer with a focus in consciousness studies. His multimedia performances, installations, and videos explore the power of presence and the dynamic nature of identity.
Originally from Pittsburgh, he is a graduate of George Washington University where he studied dance and religion. A certified yoga instructor and practitioner of Thai Yoga Massage, Cooper is also trained in various forms of energy healing. He is currently in the midst of an Integrated Media Arts MFA at Hunter College where he also teaches in the Dance Program and the Film & Media Department. Cooper is also the Director of Educational Programming at Pentacle [Danceworks], and adjunct faculty at the Fashion Institute of Technology.
---
A. Nia Austin-Edwards for The Dance Enthusiast : How and why did you come to be a part of Counterculture?
Wendell Cooper: Kyle and I have crossed paths over the years. Both of us being from Pittsburgh, working in the dance field, and exploring contemporary urban dance hybridity, made it highly probable that we would eventually connect.
In 2010, he invited me into the creation process as guest artist for Ramp To Paradise, a tribute to the inclusive culture that developed at the Paradise Garage in the late 70's and early/mid 80's. I made a bit of choreography for the company and performed a solo section as a part of the piece. Kyle gave me a few different pieces of music to choose from, I picked one and went from there.
We haven't talked extensively, but I am guessing that I am a part of this show because of the influences that are present in my work. Alongside Le1f, Will Sheridan, and Javier Ninja, some qualities may resonate while other juxtapose.
---
TDE: What are you bringing to/performing for Counterculture?
Wendell C: I am bringing a stunt trio, fitted with spandex, twirling to electro dub. Stunting is a contemporary urban style of dance I have been developing that is a riotous amalgamation of references. Costumes of all manner are welcome. The stunting community is not afraid of complexity, whether in the domains of identity, interpersonal relationships, or choreography, and generally encourages an unleashing of our soul-infused, improvisational selves. I do not know of an actual stunting community per se, but since I have been putting the pieces together for the last ten years, the concept of multiple discovery suggests that there are other stunts our there  (indeed, there are, those brave souls in dimly lit underground sanctuaries, doing barrel turns into the splits…in stilettos).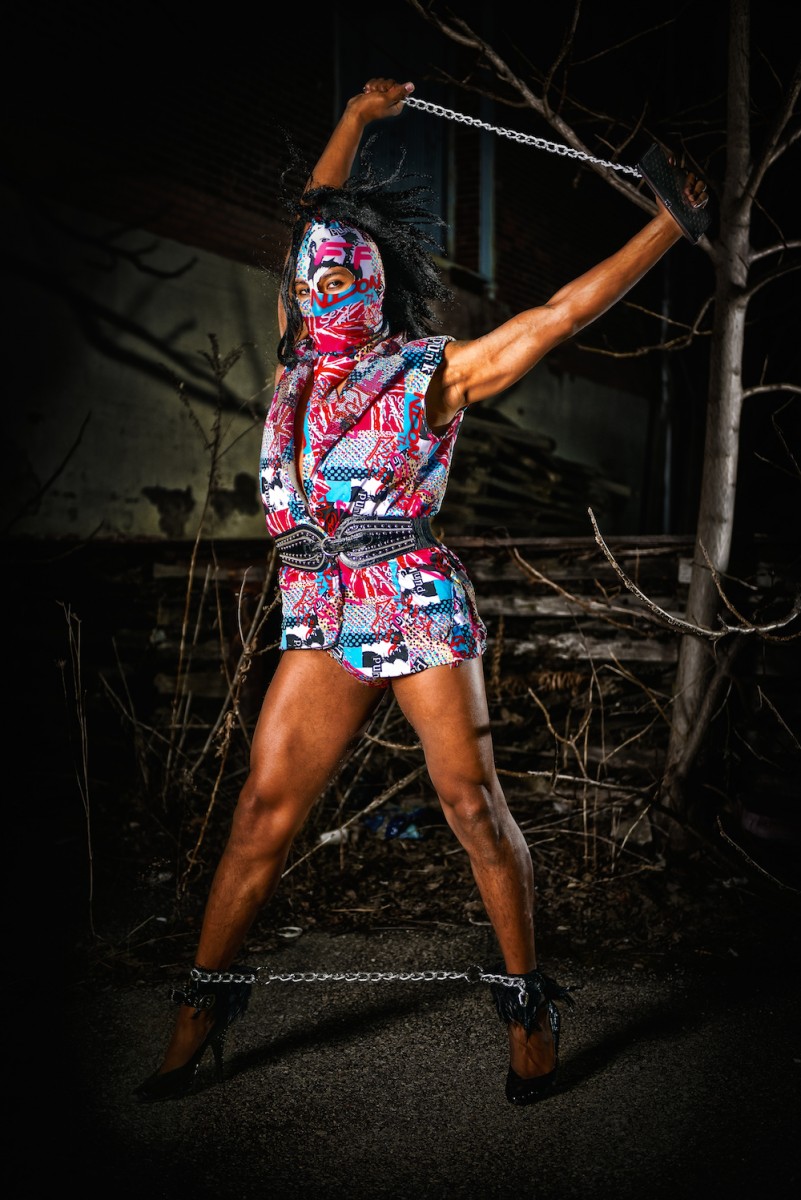 Photo Courtesy of Wendell Cooper
While stunts may appear in any number of looks, on Friday we will be perched in patterned wrestling-esque onesies, sneakers and baseball caps…for all the reasons that come to mind when you think about wrestling onesies.
---
TDE: What are you most looking forward to in Counterculture?
Wendell C: I am most looking forward to the energy that will be in the room, and experiencing Le1f, Will Sheridan, and Javier Ninja's work. Each artist has a lot going on in the lush, welcoming worlds they inhabit.
---
TDE: Kyle Abraham calls Counterculture a night of music and dancing that celebrates street, club and LGBTQ cultures. How do these cultures fit into your identity?
Wendell C: My older brother is a DJ, so I grew up listening to him spin records for hours on end. By tagging along to hip-hop shows, I met a group of dancers, the Jedi Monks, and practiced a lot with them.  There was also a lively bboy scene in Pittsburgh at the time, perhaps there still is, I haven't been so directly engaged with that world lately. He ( my brother)  is also a skateboarder, and we skated a lot together when I was young. Skateboarding creates a intimate connection with an urban landscape. You literally become intimate with the street as you kiss it, having plummeted down a flight of stairs.
Photo Courtesy of Wendell Cooper
Skateboarding, when approached as a creative domain, is an endless journey to of learning new tricks through disciplined practice. The physicality, expressiveness, and technical dimensions of skateboarding were attractive, but I eventually focused on dancing, because there was more space for movement exploration (and it hurt slightly less).
I remember choosing between joining the soccer team (that met five days a week after school) and skateboarding and breakin', and it was clear that the creative space provided by street forms was where its at. In terms of the club,I am inspired by the space for people to re-imagine themselves.  I experienced clubs in Washington D.C. when I was in college, and was part of a resident dance group at, now defunked, Nation nightclub. It was a massive warehouse-type space with drum and bass, house, and special guests DJs. There were so many great dancers working on a wide variety of styles. This was where I came to appreciate the sheer variety of expression on the dance floor. Then I moved to Baltimore, home of Baltimore club music, and a fierce vogue scene. The southern energy of that town, combined with the ruggedness of the beats and whole manner of throwing down took me by surprise. Eventually I made my way to New York, and that is when the international traveling picked up. Experiencing clubs in China, Kenya, the Netherlands, Russia, and Thailand, makes me ponder how much freedom a space implicitly 'allows' for self-expression. Sampling urban dance forms, in those various cultural contexts, makes me want to create modes of [removed]ie stunting) that enable maximum authenticity.
Photo Courtesy of Wendell Cooper
My mother, an alternative medicine specialist, after being with my father for nearly two decades started to date women, and has been with her current partner for over a decade. Her nonchalant transition (…in terms of her sexual identity, not necessarily the relationship transitions) was supportive model as a pubescent teenager sorting out my own 70/30 dynamic. Even before I came out as non- heteronormative, I had a lot of opportunity to observe her process. When I graduated high school we started studying a lot of meditation together with a few different teachers, and later co-taught meditation seminars. This spiritual context put my perspective on issues of gender queerness into a larger frame.
 
TDE:  To curate Counterculture, Abraham is channeling the various subcultures that have inspired him throughout his life as a black, gay, hip-hop-loving male who grew up working in record stores and spent much of his nightlife in dance clubs. What memories inspire your performance experience?
Wendell C: I remember performing for Nation nightclub's closing party, then driving through the night to teach a two day meditation workshop at my mother's healing retreat center. Those spaces, the club community and the meditation community, have been side by side in my life for a long time. This balance pushes me to integrate the worlds more and more completely.
I am of mixed heritage, Cherokee and African, with some British mixed in there. The combination of my ancestral heterogeneity, fluidity of gender identity, and international traveling have added up to a tendency toward a multiple perspective approach to ideas, performance, and composition.
Beyond the more culturally based experiences, I have had transformative spiritual experiences as a result of my meditation practice. These include vivid dreams of flying through a celestial forest, feeling my whole being explode into a field of radiant, spiraling stardust, and other sundry shamanic escapades. These brief moments, along with the more slow and steady transforming nature of spiritual practice, affirm the transcendent potential in each and every one of us. This inspires me to try to make work that draws that nature to the surface, facilitating the birth of light in the world.