The Dance Enthusiast Hits The Streets to Ask: What's Up at 280 Broadway?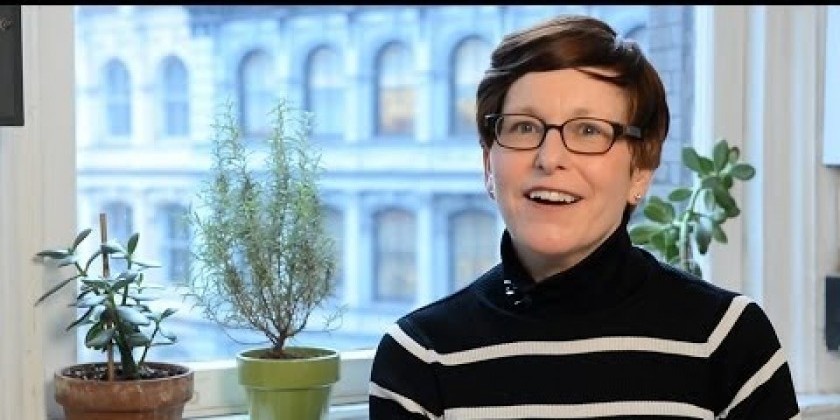 Gina Gibney, CEO and Artistic Director of Gibney Dance and the Gibney Dance Center, Fills Us In...
There are two things you need to know right now about the new Gibney Dance Center at 280 Broadway. 1.Even though it is under construction, classes and rehearsals are happening as we speak. So go! (Log on to Gibney Dance to get the full scoop) 2. Once the Center opens fully in September it is going to be great for the dance community and New York City as a whole. For the full details, check out my recent conversation with Gina Gibney.
*Go Directly to Information About Community Action
---
Christine Jowers for The Dance Enthusiast: I was under the impression that construction is all that's happening now at Gibney Dance Center at 280 Broadway, but I see filled classes and rehearsals. Can you tell us more about what is going on, and your plans?
Gina Gibney: We have a plan that I am very excited about. We are going to bring these spaces back to life. The spaces are beautiful with skylights and gorgeous windows. Really, it's about giving everything a fresh coat of paint, doing some repairs, patching little cracks in the plaster, replacing some mirrors--giving 280 Broadway a little love.
Another part of the plan is recapturing space in corners and in rooms that hasn't been fully utilized.  One thing I learned at 890 Broadway in our first expansion was that we had to use every square inch. Anything that was big enough to be a studio was a studio. The room we are sitting in right now (editors note it is  too small to  be a studio, the size of a large closet) is going to be a digital recording room. (There will be a media lab adjacent.)
Gibney Dance Downtown 280 Broadway -The Renovation- Photo by Whitney Browne
We are going about this in a very step wise process. The end goal, that we are working towards, will be the grand opening in September. Then, everything will be operating full force. Between now and then we are building momentum. As spaces become availabe we put them to use.
We rent space for rehearsals. My company has rehearsed here. Chase Brock was here for a whole week. The classes are building and building and building. Our own Contemporary Forms Program that was housed at 890 Broadway has moved here. These classes go on daily at 10am, 12pm and 2pm with a great roster of teachers.  People should check out our website because this is ongoing.
A Sign of Progress at 280 Broadway -Photo by Whitney Browne
TDE: Besides the Grand Opening in September are there any other milestones we should keep our eyes open for?
GB: As of March 24th, we will experience a milestone in class growth - many many more classes. It will be the largest leap of offerings because our studio hub, the main hallway of dance rooms, will be mostly completed. Loni Landon and Gregory Dolbashian's the Playground has some very excting work in store for dancers. Simonson Technique classes will be return. Kendra Portier, Xan Burley, Alex Springer and other popular teachers will be here.
On March 31st The Perri Institute for Mind and Body Training program, led by TaraMarie Perri, and known for training dancers and others to be yoga teachers, will come in.
In April, we will continue to build. Hilary Easton, our Director of Training, Education and Research, is helping create a class program that will be outstanding. And, we are developing offerings that will be magnets for the community at large - beginner classes in yoga, dance, and a Simonson beginner track.
A Class at 280 Broadway with Gregory Dolbashian -The Playground- Photo by Whitney Browne
TDE: What will be the distinguishing features of Gibney Dance at 280 Broadway, besides the rich class offerings for professional and non-professional students?
GB: The Space at 280 Broadway will be the public face of Gibney Dance Center. At 890 Broadway we can't do public performances because its such an old building. At 280 Broadway we will have three theater facilities.
TDE: Three theaters... fantastic! Where?
GB: First, the ground floor. It is so exciting to have a ground floor, a dance space that is open and accessible to the public with large windows that look out onto the street. We always wanted to create something special down there, and so we are going to build a beautiful state-of-the-art performance lab -- small, but well equipped. Artists will be able to conduct rehearsals, have performances, hold film screenings and even cater public events there. (There will be a catering galley adjacent.) It's going to enliven the whole ground floor.
The original theater (that was part of Dance New Amsterdam) is a beautiful theater and was very well cared for. That theater will be open as the stunning 130 seat venue that it was.
Lastly, we will have a studio performing theater, a permanent space, again with state-of-the-art equipment. Two studios will be combined into one very large room that will become the theater.  It is designed to be flexible and site specific. Different seatings and configurations are possible, along-the-lines of the Cunningham Studio ( now Martha Graham Studio) where classes are held during the day and at four o'clock in the afternoon the room transforms into a performance space. It is going to  be gorgeous, one of those architecturally memorable spaces, that makes you think, "Where did I see that beautiful performance underneath those two skylights?" Of course, you will be able to black them out, but if you want to you can also perform under streams of natural light.
Dancers Working in a Renovated Studio at 280 Broadway - Photo by Whitney Browne
TDE: What excites you about Gibney Dance expanding to 280 Broadway?
GB: I think we've lost a lot of performing venues both in-terms- of them changing their availiblity or their curatorial processes, or just outright going out of business. After living through a decade where so many studios and performance spaces have closed, we can start to reverse that trend.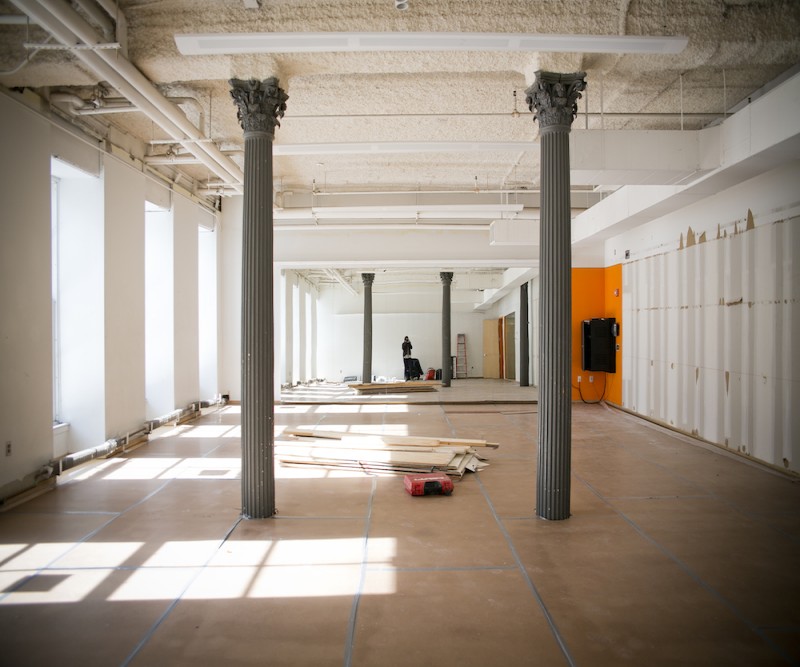 Expanding the Spaces at 280 Broadway - Photo by Whitney Browne
Many performance places  now are quite informal. We are hoping to use these ( 280 Broadway's  three performance areas) as formal, well equipped, well presented spaces. I am excited that we are going to have very high tech studios and a media lab. You will be able to rehearse and film yourself very easily. You can then send your footage up to a cloud and come upstairs to the digital technology workshop to edit it or send it to  your composer. If artists don't work in well-equipped spaces they don't learn how to do it; so, when one has the opportunity to work in larger venues they might not be prepared. We've been used to drive by tech rehearsals that are about 20 minutes long. We need to have more time and resources to dig in and bring out the best in our work.  
TDE: Community work has been a big part of Gibney Dance, certainly your work on behalf of victims of domestic violence. Will your community action be part of the expansion?
We are currently dividing up what used to be the DNA office space into thirds. One third of it will be our office, another third will be a new studio, and the other third will be a combination of a community action center and a leadership center. Those are two separate spaces. The community action center will be a space where people who are interested in using their artistry to reach special populations or to address social problems, can learn, train, get ideas, work, exchange with other people, and make connections with social service organizations.
Not everybody wants to do this type of social service work. That's fine and good, not everybody should. It's difficult enought to be an artist.  We shouldn't be required to go out and do more, but if artists are motivated and feel the calling we will have the mechanisms that enable them to do so.
To Find Out More About Gibney Dance's Community Action Work Click Gibney Dance's Website
The Light Shines in -280 Broadway- Photo by Whitney Browne