Related Features
Contribute
Your support helps us cover dance in New York City and beyond! Donate now.
Tony Yazbeck, from YoungArts Alum to Broadway Powerhouse
Talking Shop With Tony Yazbeck
This summer, I fell in love with Broadway again. Why, you ask? First, the show— a revival of the 1944 musical On The Town, music by Leonard Bernstein, book and lyrics by Betty Comden and Adolph Green— secondly the star: Tony Yazbeck.
Honestly, the entire production was dazzling. The songs stirred. The physical comedy zingers were fresh and well, zingy. Every ounce of bubbling energy was perfectly spent in service of the story. What also struck me was the unusually high caliber of artistry from each and every performer, particularly Yazbeck who glided remarkably from goofy acting, to the pathos of a heartbreaking love song, to the exhilarating athleticism of five-star concert dancing without missing a beat. Such stunning turns in live performance deserve our awe.
I am not alone in my admiration. In addition to glowing reviews, Yazbeck, for his work in On The Town, was nominated for the Tony Award and the Outer Critics Circle, and Drama League awards, and he won the Fred Astaire Award. Prior to these hefty accolades, however, as a high school student, in Bethlehem, PA, Yazbeck was recognized for his artistry by the National YoungArts Foundation. Today as an illustrius alum, he continues to be involved with this special group that acknowledges and nurtures artistic talent in our country.
Recently I was invited to a YoungArts Broadway celebration, a special cabaret at 54 Below, and discovered that Yazbeck was on the bill. Starstruck, I couldn't resist the opportunity to speak with this magical performer.
PS. Tony Yazbeck  and The National YoungArts Foundation urge all talented artists age 15 to 18 years old ( that's 10th -12th grade) to apply by October 16th to the National YoungArts Foundation. Click here to apply to be a 2016 YoungArts Artist.
More about YoungArts:
Every year, YoungArts selects approximately 800 young artists in ten different disciplines to participate in National YoungArts Week and/or Regional Programs in Miami, New York or Los Angeles, where—for one intense week—they take Master classes with world-renowned artists, perform and exhibit in the most prestigious venues in the country, and win cash awards of up to $10,000. YoungArts Winners in their senior year of high school also automatically become eligible for nomination as U.S. Presidential Scholars in the Arts, the nation's highest honor for young artists.
---
Christine Jowers for The Dance Enthusiast: Tony, I was thrilled to learn that you were affiliated with YoungArts. But you joked during your set that you didn't actually "win an award" and didn't even realize early on that you were an alum. Tell me about that.
Tony Yazbeck: Back in the day, I received an honorable mention from YoungArts and with the honorable mention came something like a hundred dollars. I was a senior in high school trying to get college money and I thought, "WonderfuI!"  Years later the organization called me up and said, "We see you're on Broadway and you're an alumni, would you mind teaching something for us?"  I was thrilled. I fell in love with the organization, everybody behind the scenes really cares about these kids.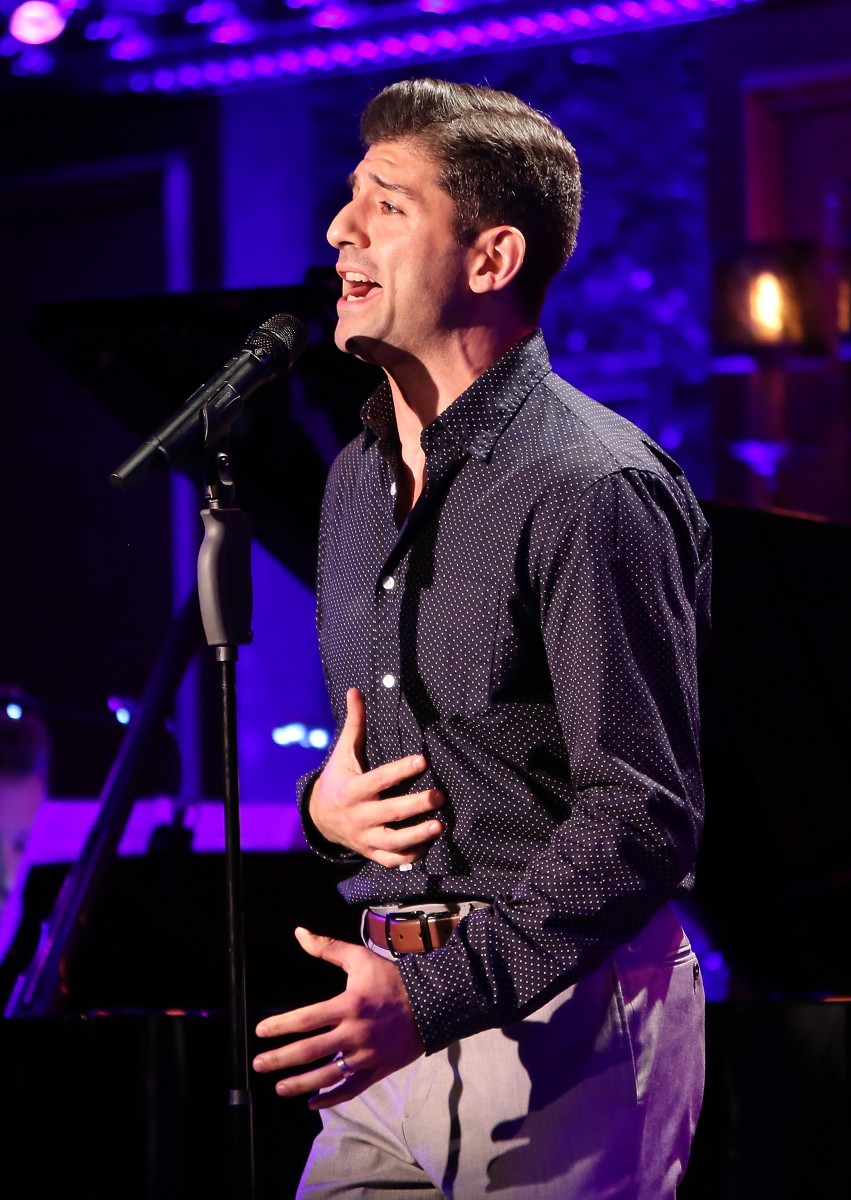 Tony Yazbeck at 54 Below for YoungArts Broadway Cabaret; Photo Getty Images
People don't realize how big the National YoungArts Foundation is and that it gives money and scholarships out at many different levels. It also provides teens with an opportunity to meet incredible artists like Baryshnikov, Placido Domingo, and Bill T. Jones. Then we have alumni like Viola Davis, Kerry Washington, Josh Groban… I tell as many kids as I can to apply. Even if you don't necessarily become a finalist, if you are a merit winner or an honorable mention, you are still  alumni, and being an alum gets you in with this extraordinary group of people for the rest of your life. You are never alone in your art.
---
TDE: There is something very Gene Kellyish about you. He played the Gabey role in the movie On the Town and I noticed you have played the role of Don Lockwood (his role) in Singing in The Rain.
TY: He was always an inspiration. I grew up watching all those MGM classic movies. First, I was a big fan of Fred Astaire , when I was four. That's what started me dancing -- watching Fred on TV. As I got older I started to watch Gene. Those two guys were huge influences. Then I discovered Gregory Hines and putting all those styles together, I  started to create my own. I was a tap dancer first and that's the interesting thing about tap dancers especially, we feel the moves and make them our own.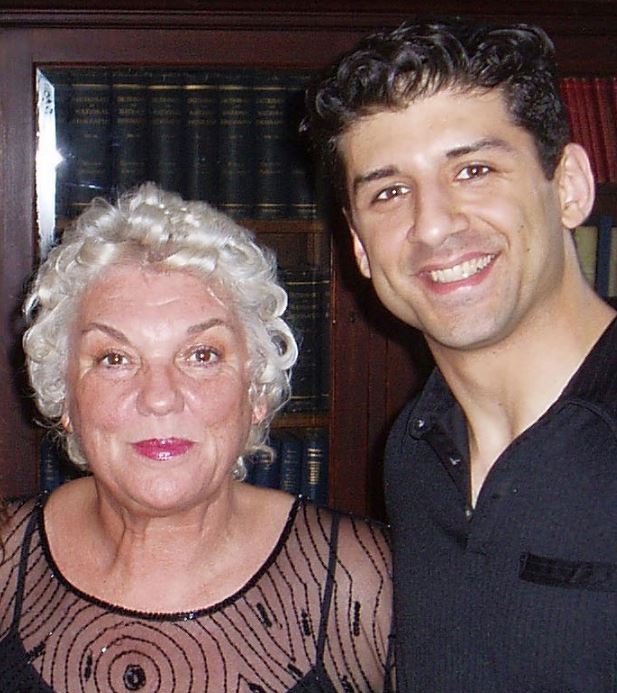 Tyne Daly and Tony Yazbeck: Photo Courtesy of Artist
TDE: When did you first play on Broadway?
TY: At eleven, in 1990, I made my Broadway debut with Tyne Daly in Gypsy. I was living in Bethlehem, Pennsylvania at the time and my mom drove me to the city an hour and forty-five minutes each way, every single day for two years straight. She was a hero. She felt like it was worth it though because that was my introduction to storytelling. I was always a tap dancer, but Gypsy really cemented the fact that I wanted to tell stories through singing, dancing, and acting and just watching those legends—Tyne Daly, Crista Moore and John Hadary—  seeing them do what they do up there was really inspiring.
---
TDE: Speaking of Broadway, I noticed that On The Town started in Great Barrington, Massachusetts. Did you expect to be Broadway bound?
TY: Honestly no. None of us had any idea, we just thought we were going to the Berkshires to have a great time in the summer, to do a show and drink some wine at night around a fire. As soon as we opened and got the reviews that we did, we started realizing, "Oh I guess we have this incredible show that not only Barrington and the Berkshires are thinking is good." I think it was Ben Brantley -- when we saw his review, we all started saying, "Maybe something will happen."
Jay Armstrong Johnson,Tony Yazbeck, and Clyde Alves in Broadway' s ON THE TOWN: Photo Joan Marcus
TDE: And in the show there was such power in your dancing, that dream ballet, for example, would seem enough to wear a person out.
TY: It was  a great role for me. I couldn't have asked for a better project to be associated with, and that kind of a piece is hard to find — a legit role that sings and also dances like that, especially now a days. Originally on Broadway…there always was a "dream Gabey" for the ballet. A guy would come out and switch places with the actor to dance. I never wanted to do that, I wanted everything to be more realistic. That being said, the work then became twice as hard— probably the most physically demanding job I've ever done and it took a toll on my body, but I always felt it was worth it. I would go home beat up every night, ice my legs non-stop before bed, and then do it again the next day. This was something I needed to give to the audience and it was also sort of a send up and thank you to the creators of 1944 as if to say, " You know I hope I am doing you proud."  I felt it was my moment to do that.
Megan Fairchild and Tony Yazbeck in Broadway's ON THE TOWN; Photo Joan Marcus
---
TDE: What advice would you give to YoungArt artists in musical theater?
TY: I came to New York as an adult after college and after my national tour. I must have gone on a hundred auditions and didn't get one, not one. I knew I was talented and I had confidence, but  sometimes that kind of experience takes it away a little bit. If you just keep going and have faith that you're  supposed to be doing this in the first place it kind of works out in the end. You just have to hold on for the ride. I also tell people, "Don't have to have something."
TDE: What does that mean?
TY: In other words if an opportunity comes up, or an audition, or possibility, don't want it desperately.  I just try to do the best work I can. That's all you can do. You walk into an audition room,  give the best performance, be as vulnerable as you can be and as much YOU as possible— the rest of it is out of your hands. Just do your work as an artist.
What I learned when I came to New York was that in an audition, after the first bar or two of music, people  want to know, "What else? What do you have to bring that's surprising and special, what's going to move the room emotionally?" This requires the ability to be courageous and vulnerable which takes a bit of time of time to learn.
TDE: Tyne Daly said she admired you because you always stretched yourself. Is that true?
TY: I am one of those actors— it's great and bad at the same time- that's never satisfied. I want to keep striving to find something deeper, more meaningful,  the deeper version of myself, mentally, spiritually. At the end of the day, what we are asking is,"How do we want to connect as people?  How do I want to connect to the audience?  What do I want to say in a very simple way so at the end of the night so we don't feel alone?" We are all together in this. This happens to be more mature way of thinking instead of, " I just want a job so I can sing and dance." After awhile that becomes dull. I want to say something, and I'd like to know if it is something that someone actually wants to hear.
Betcha Didn't Know :
*Tony Yazbeck
is now working with
Susan Stroman
and
Harold Prince
on
Prince of Broadway
a new musical celebrating Prince's extraordinary six-decade Broadway career as producer-director. The production is set to open in Japan, running from October 23-November 22 this year, and hopefully wil be in New York next year.
*He will soon be celebrating his first year wedding anniversary with actress, Katie Huff. Yazbeck says, "She grounds me."  ( They are still waiting to go on their honeymoon!)
*He just saw Spring Awakening and said, "I love seeing inspired work like that-- something that is such a challenge, which they make look so effortless. It's the work that isn't commercial, that make me excited about Broadway."
*He hopes to continue to  perform his cabaret show The Floor Above Me in February, when he "has some time again."
If you are an artist, 15-18 ( grades 10-12) or know an artist of this age please tell them to APPLY TO YOUNGARTS the deadline is October 16th.. Click here to Apply