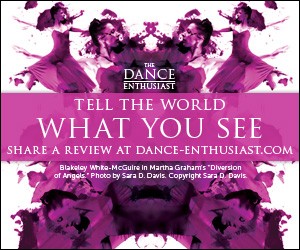 Related Features
Yvonne Montoya on Mothering during a Pandemic, the Power of Stories, and Creating a Multi-Film Project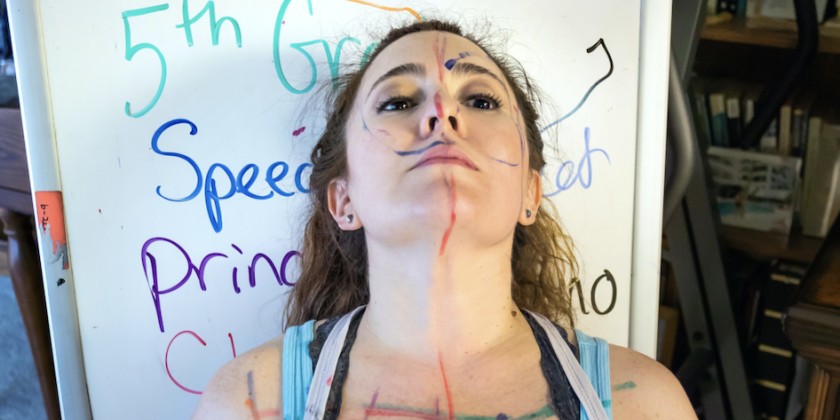 Based in the Southwest, Latinx choreographer Yvonne Montoya has navigated multiple roles through her personal and artistic career. When Covid-19 struck, these roles converged as she was simultaneously homeschooling her son, canceling live engagements, and trying to make new work. She reflects on the obstacles and unexpected marvels of the experience. She also discusses the role of stories in her multi-film project, Stories from Home: Covid-19 Addendum. Catch the weekly premieres on Instagram at @mpaproject1 every Wednesday through September 16th. Films are live for 24 hours.
---
Erin Bomboy for The Dance Enthusiast: On your website, you describe yourself as: Choreographer. Writer. Speaker. Mother. How did you decide on that order? How has Covid-19 affected these roles? Would you describe yourself differently now?
Yvonne Montoya: The order of the descriptors have changed over time, and I anticipate that they will continue to change as I grow as a person. I find listing these descriptors challenging because I am all things at once, and it is hard to tease out an order of importance. That said, I usually lead with Choreographer and end with Mother because my work exists mostly in dance communities that tend to value artwork and other forms of performance and scholarship above motherhood. It is important to me to include Mother in my professional bio because that role is integral to my life, my art, and my work. 
Yes, Covid-19 has most definitely affected these roles! Of all these, mother has shifted the most. During the pandemic, I have had to mother in new ways. I have to facilitate homeschool and speech and occupational therapy for my son. I have also had to find new ways to support him emotionally. My son is an only child, and he has not been with other children since March 12th. The isolation has been hard on him. I think that my mothering has expanded and deepened at this time. 
My work as a choreographer has shifted as well. I have recently embarked on remote rehearsals, something I never thought I would do. I am working with a cast of dancers on a new online dance film/work, titled Stories From Home: Covid-19 Addendum, and have been guiding the cast through the creation of their own stories, remotely. Because each dancer created their piece in isolation from their home, I was more hands off in the creative process, with my role shifting to a combination of artistic director and dramaturg. I stepped back as a choreographer and supported the cast as they took the choreographic lead, which was a new experience for me. I enjoyed working in this new way. I am still writing, although finding time to do so is quite challenging. And I had the opportunity to speak at several different remote conferences early in the pandemic. That said, if I were to re-order the descriptors to reflect where I am dedicating my time at the moment, it would be Mother. Choreographer. Writer. Speaker.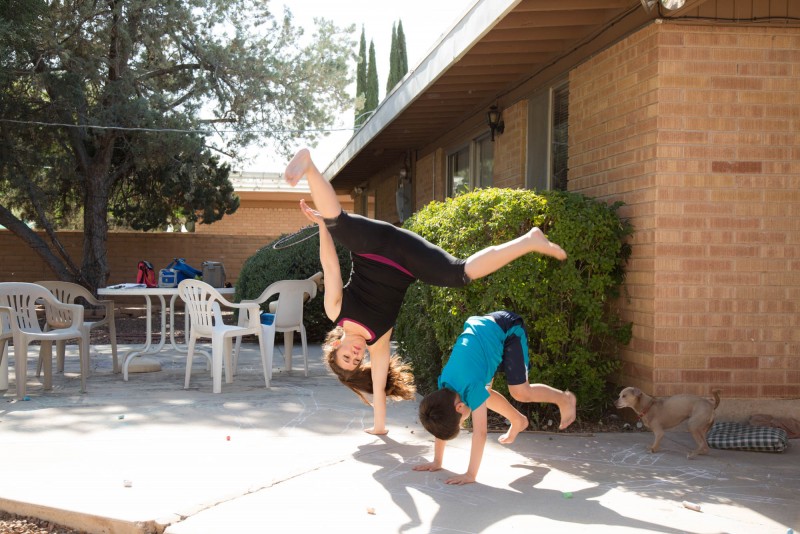 Photo by Dominic AZ Bonuccelli
We speak so rarely about mothers and motherhood in the arts. Why — when its challenges and wonders are so ubiquitous — do you think that's so? How can art comment on and enrich our understanding of being a mom?
YM: Similar to my website, I have listed Mother on my business cards and get many comments from mothers and parents alike, some calling me brave and others commenting on how mothering is a main job. I have also heard many comments about how a fellow mother would never put that on a business card. I think there is this idea that mothering or speaking about the challenges of mothering is somehow unprofessional. Unfortunately, this leaves the needs of mothers and parents unaddressed since there isn't the space to talk about ways to support working artist mothers and parents. For example, I hesitate when organizations ask if I am available for a six-month residency because I am certain the organization does not have the capacity to accommodate my needs as an artist mother, such as childcare stipends or family housing. It is not feasible for me to be away from my child on a solo residency for six months. I recognize that this leads to many missed opportunities, to the detriment of my career. I wish that dance was more accommodating to the needs of working moms; however, I do not think that is unique to dance. I think that is true in many professions. 
I think that it is important for people who are birthing and raising children to contribute to dance. I think that mothers in particular bring different perspectives, experiences, and aesthetics that are currently missing from the field. 
Photo by Dominic AZ Bonuccelli
Everything changed in a nanosecond when Covid-19 struck. What was the hardest part of adapting for you? For your child? What was the unexpected reward of Covid-19? For your child? 
YM: The hardest part of adapting for me was the ever-changing and ever-shifting schedules the first nine weeks of Covid-19. I was in the process of postponing three large in-person events, and I had no idea how much work it was to postpone an event! It required so much administrative work and many hours-long video meetings with dancers, presenters, and collaborators. At the same time, my son's teachers were reaching out to schedule multiple Zoom meetings, and when online school began, classes were not held at a consistent day or time. I was a frazzled mess managing a cacophony of online meetings for both me and Buddy. I was also trying to work while making sure my kiddo was doing his school work and not watching YouTube. It was exhausting!
I asked Buddy what the hardest part of adapting to the pandemic was and he said, "That's hard. At first I liked being home all the time, but then I didn't want to do my school work anymore because there are other fun things to do in the house like social media. But I missed working on school projects, and I missed my 5th grade graduation. And I miss my friends. " 
The unexpected reward was that my son and I have the chance to spend more time together. I am usually on the road traveling for work, and we don't get much down time. Since the pandemic began, Buddy and I have been taking nightly walks around the neighborhood, sometimes at 8 p.m. in 100 degree heat. We also have family movie night every Saturday. I would not have had time for either of these activities on my pre-pandemic schedule. Buddy agrees. In one of the Stories From Home: COVID-19 Addendum dances, titled Walking, he says, "2020 is my favorite year because I get to spend time with you (Mom) and Dad, more than I usually do."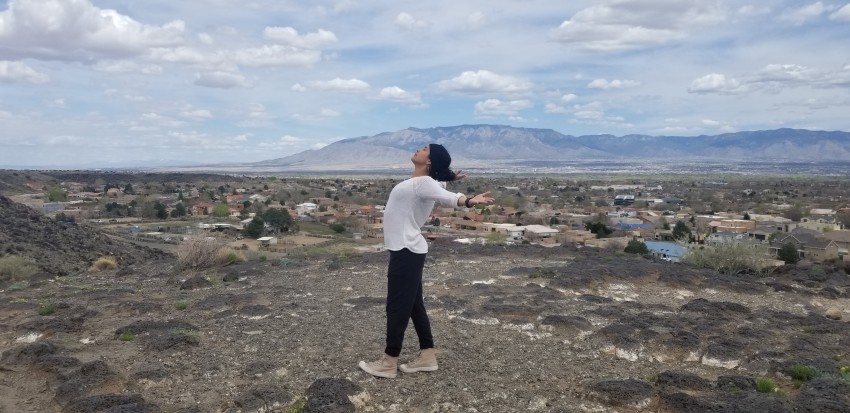 Photo by Dominic AZ Bonuccelli
Tell us about creating

Stories from Home, which involved a pandemic pivot from a live piece at the Kennedy Center to a multi-film project. How did you decide on ten films divided into two acts? How does the first act, which features your Covid-19 experience, contrast with act two, which relates the experiences of your collaborators? Does a common theme emerge even though the lived experiences were different? 

YM: There were two main inspirations for the first act, which focuses on mothering in the time of Covid-19. First, I felt a lot of creative energy surrounding the experiences of working from home and homeschooling, and I wanted to do something with that creative energy. I thought that perhaps choreography could be a creative outlet to process what we were experiencing as a family during the first few months of the pandemic. Second, the original Stories from Home looks at my family's oral histories, especially my great-grandmother and father. It was always my intention to integrate the Motherhood and Performing Arts project, a body of work I created with my son in 2016, into the original Stories from Home. But for some reason, I couldn't make it work. I have struggled since last September with my dramaturg about how to envelope my son's stories into the work in a meaningful way to reflect connections across generations. When the pandemic happened, I saw an opportunity to create contemporary stories from home that center my son and my role as a mother in the larger body of work.

The second act evolved out of a desire to care for my cast of dancers. Prior to the pandemic, I had a slew of in-person rehearsal residencies lined up from April through September in different communities around the Southwest, which are now all canceled or postponed. Dancers committed to these rehearsal residencies and I recognized that they were counting on them for income during the summer months. I wanted to find creative ways to support them financially, although in a smaller capacity than originally envisioned, while providing a creative outlet at the same time.

I chose five dances for each act for logistical reasons. I have a cast of six dancers and I figured that I would commit to five dances in case one of the dancers could not participate due to scheduling. It worked out because indeed there was a dancer who was unable to create a solo work due to an unforeseen scheduling conflict. Once I settled on five dances for Act 2, I matched that number for Act 1. However, as the artistic process unfolded, I felt it necessary to add the dance Postcards to Act 1. I am left with a very uneven 11 dances.

A few common themes emerged including relationships to family, loneliness and isolation, and of course, home.
Photo by Dominic AZ Bonuccelli
Storytelling is an important element in

Stories from Home. What power resides in a story? What stories have shaped your life and your family's life? Your ancestors' lives?

YM: I believe each story, like each dance, has a life force. Oral traditions are strong in northern New Mexico, where my family is from. I grew up listening to incredible stories, which were the histories of my ancestors and the histories of the land. These stories are filled with nuance and complexity.

The stories that have shaped my life the most are those of my great-grandmother María Aurelia Luján Roybal and my father Juan "Johnny" Sebastian Montoya Sena. The stories that shaped the life that I share with Buddy are stories of love, family, deep deep roots in what is now the US Southwest, borders and migration, desert sunsets, endless blue skies, biscochitos, and spicy hot chile. We are the stories of cultures, languages, people interweaving over time. These stories live in our bodies and we share them through English, Spanish, Spanglish, español fronterizo, and dance.

Ironically, I think the stories that most shaped my ancestor's lives are the silent stories, the ones that were left unsaid and unspoken.
Stories from Home highlights a Latinx cast from the southwest—a geographical voice seldom seen on the national stage. What kinds of personal and histories does the piece reveal? 
YM: The original Stories from Home is inspired by the oral histories of my family members including my great-grandmother, grandmother, great-aunts, and father. The personal and the historical intertwine in dances such as Deslenguadas that explores the impact 1940s Americanization programs had on nuevomexicano communities in northern New Mexico and Braceros that highlights my father's time working as a Bracero, migrant farm worker, and child laborer picking watermelon and cantaloupe in Southern AZ and Southern CA in the early 1960s. Dances also touch upon the impact the Spanish Inquisition and Spanish colonization had on my ancestors in centuries past. 
Stories from Home: COVID-19 Addendum focuses on contemporary Latinx stories of the pandemic that reveal intimate experiences of this historical moment.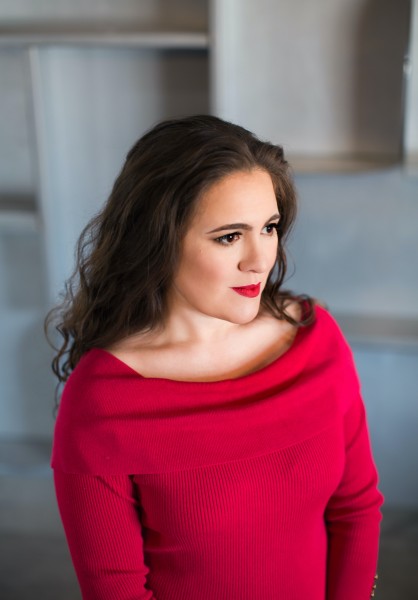 Photo by Dominic AZ Bonuccelli
---
Yvonne Montoya is a mother, dancemaker, bi-national artist, thought leader, writer, speaker, and the founding director of Safos Dance Theatre. Based in Tucson, A.Z. and originally from Albuquerque, N.M., her work is grounded in and inspired by the landscapes, languages, cultures, and aesthetics of the U.S. Southwest. Montoya is a process-based dancemaker who creates low-tech, site-specific and site-adaptive pieces for nontraditional dance spaces. Though most well-known in the U.S. Southwest, her choreography has been staged across the United States and in Guatemala and her dance films screened at Queens University of Charlotte, N.C. and the University of Exeter (U.K.). In addition to being the founding director, Montoya is the lead choreographer for Safos Dance Theatre; under her direction, the company won the Tucson Pima Arts Council's Lumie Award for Emerging Organization (2015). From 2017-2018 Montoya was a Post-Graduate Fellow in Dance at Arizona State University, where she founded and organized the inaugural Dance in the Desert: A Gathering of Latinx Dancemakers. Montoya is a 2019-2020 Kennedy Center Citizen Artist Fellow, a member of the 2019-2020 Dance/USA Fellowships to Artists pilot program, and a recipient of the 2019 National Association of Latino Arts and Cultures (NALAC) POD grant. She continues to work as a thought leader and collaborator on Dance in the Desert. For more information visit yvonnemontoya.co/
---
The Dance Enthusiast Asks questions and creates conversation.
For more of The Dance Enthusiast Asks, click here.
---
The Dance Enthusiast - News, Reviews, Interviews and an Open Invitation for YOU to join the Dance Conversation.