Related Features
Contribute
Your support helps us cover dance in New York City and beyond! Donate now.
Ariel Rivka Dance Turns Twelve! Artistic Director Ariel Grossman On Feminine Energy & More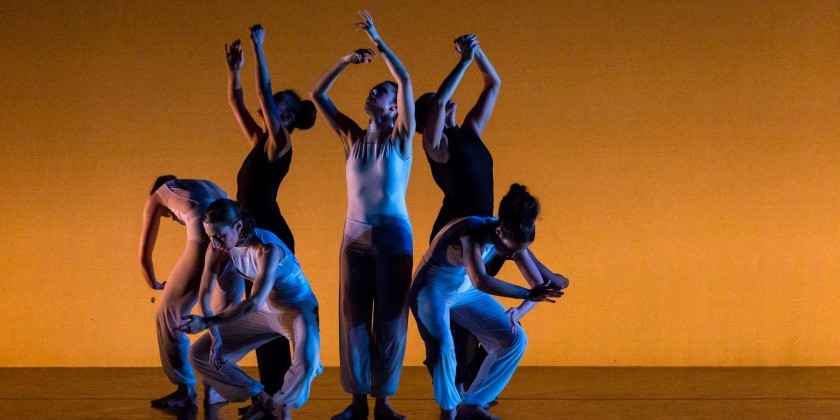 Catch The Company At Baruch Performing Arts Center On March 28-30, 2019
Ariel Rivka Dance's 12th Season at Baruch Performing Arts Center
55 Lexington Street, New York, NY
March 28-30 @ 7.30pm & March 30 @ 11:30am (Family Matinee)
Tickets: baruch.cuny.edu/bpac/
More Info: www.arielrivkadance.com
---
Sammi Lim for The Dance Enthusiast: Happy 12th anniversary to your company!
Ariel Rebecca (Rivka) Grossman, Choreographer & Artistic Director of Ariel Rivka Dance: Thank you!
The Dance Enthusiast: When founding Ariel Rivka Dance in 2008, was it an immediate priority that it would be a full female ensemble? Why?
Ariel Grossman: Nope! I actually included men in some of my earlier works, but it just didn't feel right. My first piece, created at Skidmore College, was inspired by my maternal grandmother and was danced by five female dancers. It was a deeply intimate experience. When I officially began the company I worked with men on two occasions, but it didn't feel as rewarding. I decided to go with my gut and work exclusively with female dancers. I was already collaborating with my then composer boyfriend (now husband), and that seemed like enough male energy to me!
The company has been all-female for so many years now that it has allowed me to dig deeply into the female experience, including those of my dancers, who are at various stages of their lives. Working with women has informed my work on many levels. I'm really proud and inspired by the choice to have an all-female dance company.
Ariel Rivka Dance in "She." Photo courtesy of the company.
The Dance Enthusiast: The women in a woman's life can shape her place (or impressions of her place) in the world. Name the females who helped you establish your foundations. 
Ariel Grossman: My mother comes to mind immediately. She was born in a displaced persons camp in Germany after WWII, where her parents were both Holocaust survivors. They had nothing when they arrived in Brooklyn and she, (Eleanor Goldman my mother), ended up a lawyer with her own practice. My mom had a career she was passionate about and was also a loving mother, an achievement I always feared I couldn't replicate. Seeing her as both a professional and a parent has been really important in helping me navigate the impossible waters of being everywhere for everyone all the time. My mother has always encouraged me to be myself and have faith that everything has a way of working itself out. I find that advice especially helpful when I feel I will never finish a piece! I feel so lucky that both of my parents gave me the freedom and confidence to pursue this career.
The Dance Enthusiast: Motherhood has clearly had an impact on your personal and professional life. Do tell me about your little ones :)
Ariel Grossman: Max will be two at our Family Matinee on March 30th! And Eva will be five in April! They are incredible humans and I say to my husband David all the time, "Can you believe we made these people?" Max is super calm, warm, smiley and has the cutest cheeks. When he isn't getting his way he cries HUGE tears and it's just so sad, but other then that he is a mush!
Eva is up at 5am and ready to run a marathon. She performs a new dance every evening, with feeling and structure and the most interesting moves. She asks things like, "Mommy when is the world going to be over?" and things like, "Max is making my heart hurt, the truth he sees isn't the truth in my heart." What do I do with that? She LOVES Max and their relationship makes me feel the world is okay. Most of the time...
Ariel Rivka Dance in "She." Photo courtesy of the company.
The Dance Enthusiast: I've always wondered if movement artists' children are more able to stay 'in their bodies' as opposed to the digital world. What do you think?
Ariel Grossman: Because Eva wakes up at 5am every morning, we give her the iPad for at least an hour. HOWEVER, she has been going to the Scandinavian School of Jersey City, New Jersey (where we live) and is now in a "forest program" where she is outside for hours every day exploring the world. So, as much as she loves her iPad, its use is balanced with much exposure to the outdoors including TONS of movement and dancing. Just today, as I pushed Max in the stroller on our 20-minute walk home from school, Eva scooted next to us, singing and making up songs the entire way. She was in her own little world, saying things like, "Max, do you want the Pyramid song now? Okay." I think the movement she creates is stunning, and in fact I have used it as inspiration for my newest work, Rhapsody in K – I feel it's that good! Dance is in her body, and I'm sure having a mother who is a dancer had a natural influence. I feel the freedom we've encouraged her to have, using her body movement to a creative extreme. With Max, it's hard to tell what he feels about his body, but he and I are proud that right now he can label a few parts of it! Max hardly watches TV, for now.
The Dance Enthusiast: Your company's program at Baruch Performing Arts Center will see two world premieres: Mossy and Rhapsody in K. What does the 'K' in the latter stand for?
Ariel Grossman: K stands for "Kinder" or Kindergarten. A "rhapsody" is a one-movement work, which has been described as "episodic yet integrated, free-flowing in structure, featuring a range of highly contrasted moods, color and tonality… an air of spontaneous inspiration and a sense of improvisation make it freer in form than a set of variations." 
"Rhapsody in K" is all of these things, but I've thrown this concept into an early childhood classroom!
The Dance Enthusiast:The former, your second collaboration with composer Stefania de Kenessey, is set to a score inspired by Kenessey's own experience as a mother. Who or what do your two dancers embody in the duet?
Ariel Grossman: The dancers represent the mother-child relationship. One dancer is the mother while the other is the child. However... The dancers switch roles throughout the work. The piece reflects the great love I have for my children. It also reflects the fact that they can also drive me crazy! I love them both very much, but at the same time I often feel the need for space from them. The feeling of emotional and physical pressure being forced on you, and the difficulty managing those pressures, is what "Mossy" explores.
I recently spent several days away from my children and really enjoyed the freedom! I felt guilty for a bit, but I also knew I needed that space to fully appreciate them. I think many parents often feel the same way, but are hesitant to admit those feelings. Admitting feelings is something I have always been very good at, and it gets people to open up and share their own experience!
Ariel Rivka Dance in rehearsals. Photo courtesy of the company.
The Dance Enthusiast: Will the family matinee on March 30th differ from the other shows?
Ariel Grossman: The family matinee is an abbreviated performance—about an hour long—and will include some audience participation. I will also give a short talk between the performances to explain the work. This will allow the young audience to physically and mentally take a break during the performance, so they can refocus and get the most out of the experience. 
The Dance Enthusiast: What do guest artists bring to ARD's programming?
Ariel Grossman: Eight of the nine choreographers are female. Woo hoo! Guest artist slowdanger will feature the only male, in a male-female choreographic duo. Each guest choreographer brings a different voice, and sometimes a different style of dance to the program. Every choreographer involved is extremely powerful and dance-focused, but approaches his or her work very differently. A huge part of ARD's mission is to offer emerging choreographers an opportunity to showcase work in a professional venue. We are thrilled to be partnering with so many smart, talented and dedicated artists!
The Dance Enthusiast: Lastly, The Dance Enthusiast is a huge proponent of audience reviews. What is your take on feedback?
 
Ariel Grossman: I have always said that I don't want to make work if I'm the only one who enjoys, understands or gets something from it. The audience is WHY I do this! I want people to feel, and to be affected by what they see. I think feedback is crucial! But I'm also sensitive, so say it nicely.
---
The Dance Enthusiast Asks Questions and Creates Conversation.
For more of The Dance Enthusiast Asks, click here.