THE DANCE ENTHUSIAST ASKS: Podcaster Erika Lantz Investigates Balanchine and Ballet's Complex Culture on "THE TURNING: Room of Mirrors" Season 2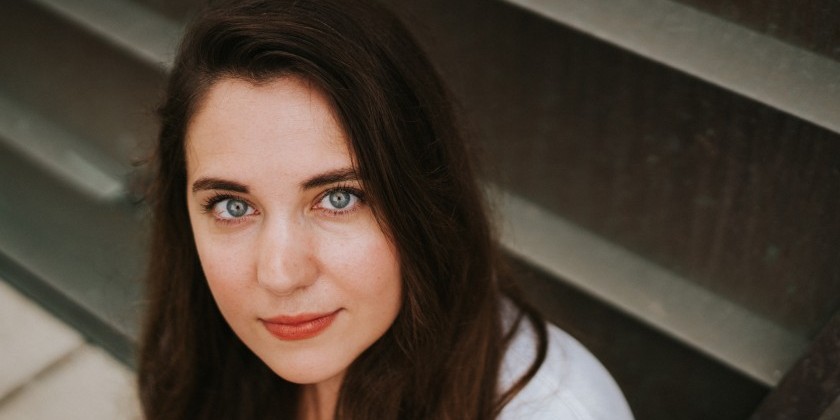 The Award-Winning Investigative Series Shines a Spotlight on Problematic Plays of Power
ABOUT: THE TURNING: Room of Mirrors (Season Two) explores ballet culture in America, George Balanchine's influence, the strict power structure and the origins of the lifestyle, and the complex relationship dancers have with the art form and culture. Despite Balanchine's genius, he also controlled — and, some would argue, abused — a string of very young muses, even marrying several of them. He created a culture where a male choreographer could grow dancers into obedient "vessels" to be molded into whatever the choreographer wanted. What was the cost of bringing these ballets to life? How far does Balanchine's shadow extend beyond himself? 
WHO: Erika Lantz studied ballet for 10 years and weaves in her own experience and unique perspective while hosting THE TURNING, which was produced by independent podcast production company Rococo Punch and leading audio media company iHeartRadio.
---
Sammi Sowerby for The Dance Enthusiast: I love this line on your personal website: "She thinks of stories as songs." Why don't we start here? What is the overlap between both, in your words?
Erika Lantz, creator and host of THE TURNING: Room of Mirrors podcast: Music has deeply influenced my work. Dynamics, rhythm, pacing, tone, slowing or speeding up to a climax. Good stories are catchy the way good songs are. Often when I'm editing audio for a story, a certain phrase that someone I interviewed has said will loop in my mind until it becomes more sound or music than speech.
The Dance Enthusiast: Though we don't know it at the time, many childhood pastimes end up informing our future passions. Yours was playing around with the tape recorder.
Erika Lantz: My parents and grandparents were professional musicians, so inventing silly jingles and songs about nothing were kind of the norm in our household growing up. Any lazy day produced a nonsense song by the end.
Photo by Henry Perks/Unsplash
The Dance Enthusiast: It would be reductive to say that you were in the right place at the right time when podcasts blew up — the quality of your content speaks for itself — and yet there's never been a better time for audio content as now. What are your observations on the intersection of art and audio?
Erika Lantz: There's so much I could say about this, but I think when it comes down to it, I just love being able to work with the sounds of people's voices. I love the layers of meaning we pick up just by a person's tone. I love that you can hear when someone smiles because the shape of their mouth widens and changes the sounds that come out. Audio lets us capture that.
The Dance Enthusiast: We used to have a series titled EMBODIED LIFE, in which we highlighted dancers like yourself who have segued to new ventures. Outside the podcast, how does dance continue to inform your life? 
Erika Lantz: Ballet absolutely taught me discipline and attention to detail. You know that every little factor in how you dance has the power to move the audience. Ballet also requires you to develop multiple sides of yourself — to be rigorous as well as expressive.
Sometimes, though, I've needed to unlearn some of that perfectionism and control. In order to make any art at all, I have to be willing to do it very imperfectly. In those moments, I find myself trying to shed the things that were once useful to me in ballet.
Artwork for THE TURNING podcast's first and second seasons
The Dance Enthusiast: THE TURNING podcast isn't exclusively about dance, but about problematic plays of power, whether in religious convents or dance companies. However, Season Two, which just launched this year, zooms in on the distinguished George Balanchine and his young dancers. When did you realize that Balanchine's story needed to be told?
Erika Lantz: It had occurred to me that elements of the ballet world reminded me of convent life I'd covered in Season I: the levels of devotion and passion, the roles of sacrifice and obedience, even pain. With these projects, I find that entering a community can help us understand our society at large better. This felt like an opportunity to explore important issues through the lens of an art form I love.
Balanchine specifically became a concrete entry point for us to invite listeners into the world of ballet, and as I dug deeper I felt that aspects of his life and legacy are sometimes flattened or simplified, and I think it's important to understand them in a deeper way. 
The Dance Enthusiast: Have you experienced pushback so far? Do you believe you might?
Erika Lantz: Not as much as I expected, so far! Many people are sensitive about how Balanchine is portrayed, and it's understandable to feel protective of someone or something that's important to you. I sometimes find people implying that I've said things I haven't said at all. They assume certain intentions of this project that may not be there and start to read between the lines. People disagree on how Balanchine should be remembered, and so I expect this will continue to be a conversation, which is a good thing.
George Balanchine with his ballerinas Mimi Paul, Violette Verdy, Patricia McBride, and Suzanne Farrell; photo © The George Balanchine Trust
The Dance Enthusiast: For the benefit of those who aren't yet listeners, who are the former, current, and aspiring dancers that you speak to in this season's podcast?
Erika Lantz: We talked to many people, like Allegra Kent, Virginia Johnson, Wilhelmina Frankfurt, Theresa Ruth Howard, Kathryn Morgan, Sophie Flack, Debra Austin, and Stephanie Saland, to name a few.
The Dance Enthusiast: If I had to pick a quote to sum up THE TURNING's mission, it would be philosopher George Santayana's "Those who cannot remember the past are condemned to repeat it."Would you agree or choose a different expression?
Erika Lantz: I agree that it's important to reflect on that past and to do so in a nuanced way. It's easy to "learn lessons from history" without really understanding it, or to reduce history to anecdotes that serve a particular purpose. That's often the problem: not that we don't remember the past at all, but that we simplify what happened; we remember the portions that suit us. We're all guilty of this.
The Dance Enthusiast: Congrats on receiving inquiries about potential TV and film adaptations for your podcast. If asked to break the fourth wall and to star in a program or a movie as yourself (as happens in Steve Martin and John Hoffman's Only Murders in the Building), would you? And if not, who would you cast as yourself, the intrepid podcaster?
Erika Lantz: Ha! I doubt I'd be reflected on the screen. But I'd watch the hell out of a series about either nuns (Season One of THE TURNING) or ballet dancers (Season Two).
---
The Dance Enthusiast Asks questions and creates conversation.
For more of The Dance Enthusiast Asks, click here.
---
The Dance Enthusiast - News, Reviews, Interviews and an Open Invitation for YOU to join the Dance Conversation.