Related Features
Contribute
Your support helps us cover dance in New York City and beyond! Donate now.
The Dance Enthusiast's Social Distance Dance Video Series: Start Your Weekend Right with Dan Safer's World Famous Stupid Warm Up Dance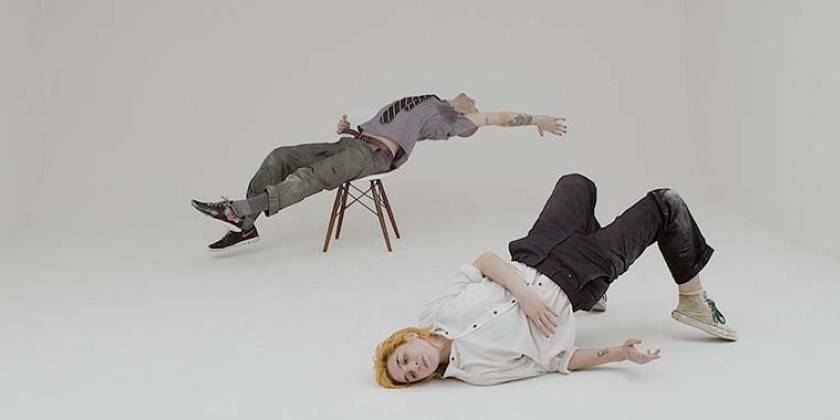 Keep Moving AND Your Sense of Humor with Witness Relocation's Fearless Leader
When I first thought about starting The Dance Enthusiast I chose the companies I wanted to see  by selecting shows with the most  absurd titles. That's  how I discovered the wonderful dancing, acting, playing,  questioning, endlessly inventive group led by Dan Safer called Witness Relocation.
The first show I saw and wrote about was Witness Location's The Rat Experiment. I didn't publish that piece. I don't know where it is. But, that marked the beginning of my interest in anything that Dan Safer does. 
Dan sent this little video out to friends over FB the other day. When? I can't remember. Since #shelteringinplace I have lost some track of time. 
I just watched it today and burst out laughing.  There is form and shape and improvisation and ANYONE can do it.  I am sure that it's ok with Dan if you change some things around to fit your abilities. 
Let's welcome the weekend with Dan Safer's WORLD FAMOUS STUPID WARM UP DANCE.
Christine J.
Editor of The Dance Enthusiast and Witness Relocation /Dan Safer fan
---
We need to write more about Dan Safer on The Dance Enthusiast, I realize, but for now enjoy Sammi Lim's 2019 Q+A with him "Dan Safer Of Witness Relocation On "Surveys the Prairie Of Your Room" at LaMaMa Moves! Festival" 
Interview excerpt:
Sammi Lim: Share a fun fact about yourself with our readers?
Dan Safer: I have over 40 tattoos; I got kicked out of high school but am now faculty at MIT; I once choreographed the Queen of Thailand's birthday party; I used to be a go-go dancer. That's more than one fact. Hopefully I'm fun enough to warrant that.
and my 2012 IMPRESSION OF his show I'm Going to Make A Small Incision Behind Your Ear To Check And See If You're Actually Human
---
Christine Jowers, for The Dance Enthusiast: Can you tell us a bit about the film clip you shared with us? 
Dan Safer: I've been teaching this warm up dance for years. I THINK it started as a dance from a 2007 workshop we did for the English premiere of The Blue Bird, by Mikuni Yanaihara, an amazing Japanese playwright and choreographer.
We did an excerpt at the CUNY Prelude Festival and I think that is where this dance was born. When we did the full production two years later I recall Abigail Browde (now of 600 Highwaymen fame) doing the dance in a crappy  ladybug costume from the halloween store.
But it also might have been from something else I was working on and I used it for Blue Bird. The origins are shrouded in mystery.
I started using it as a warm up when I was teaching pretty much right away. I taught it in my classes at NYU (where it is still taught, just not by me anymore!) and Ive taught it all over the world at different schools and festivals.
Hundreds, if not more, people can do it. The thing is, it is actually a VERY good warm up and way to get people together and moving and in a great frame of mind.
The Dance Enthusiast:  How are you? How is your family? And how are you handling staying at home?
Im okay. I'm in the extremely fortunate position of still having a job. I'm faculty at MIT (I'm basically the entire dance department), so we switched to online classes over Spring Break  now I teach on Zoom, which is very strange.
I also have a really wonderful place in the Catskills so I'm out of the city, although whether the city I'm not in is Cambridge or NYC, I'm never really sure at the moment. My parents are in their mid 80s so I'm concerned about them, but cant go visit them. All in all, I know I am super lucky to be in the position Im in in the midst of all this. ·   
The Dance Enthusiast: How are you communicating with friends /family and those not in your home?
Text messages, mostly?
I haven't done any like Zoom Happy Hours or anything. I've had some friends guest teach my classes, so I got to virtually hang out with Sam Pinkleton last week, which was fun. I've done some drive by visits to folks up where I am, so I've stood on their lawn 10 feet away and had a chat. I think I sent Tony Torn a photo of my butt recently.
The Dance Enthusiast: What are you doing about "moving" and "nutrition"  at home?   How do you stay in physical, mental, spiritual shape?
I do yoga and/or pilates pretty much every day. I fell off the daily routine for a bit, but im back on now. I cook all the time and im able to get stuff from nearby farms, so thats very lucky for me. For the spiritual, I stare at trees a lot, and sometimes get overwhelmingly sad for apparently no reason but there are of course plenty of reasons.   
The Dance Enthusiast:  What keeps your spirit up right now?
My cats. My students doing these strange assignments ive come up with (videotape a one minute dance to a John Cage song, dance on a couch, dance in a hallway, etc). Yoga. 
 The Dance Enthusiast:  What would you like to say to your colleagues, your audiences,  and our readers?
Oh man. I have no idea what is going to happen. I would love to be in a room full of people again, dancing around. I've started a resource for teaching performance virtually www.collisionshop.org - people can find exercises, etc, to do there, and submit them for others to use as well. Its open source and free, please avail yourself of it.
If anyone wants a free yoga class, hit me up for a link, although there are tons of great people teaching online whose class you can take for pretty cheap and I urge anyone who can to do that and support people.
If anyone is having a rough time not drinking, hit me up, it can be really hard under this current circumstance. Stay safe. Get some exercise. This shit is crazy.