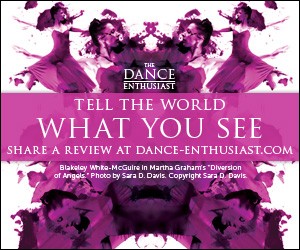 Related Features
SOCIAL DISTANCE DANCE VIDEO: David Fernandez's "Winston Churchill's Boy," Featuring Christopher Grant and Benjamin Clementine
Choreography, Videography, and Editing: David Fernandez
Music: Benjamin Clementine
Dancer: Christopher Grant of New York City Ballet
Sponsor: Robert Schulman
---
Erin Bomboy for The Dance Enthusiast: First, how are you holding up as we round the bend on the one-year anniversary of Covid-19? What practices have kept you sane during this time? Has anything positive come out of this challenging year for you and your friends and family?
David Fernandez: To start, I want to say to everyone, "Welcome to the life of a dancer," where we run out of jobs and learn to live with restrictions like you can't go to restaurants, movies, or travel. Yes, we can't do that because we have no money, or you got cut from a dance company, or the run of your show was cut short. Learn to be something else! You get the picture. As a dancer, teacher, and choreographer, I had to find a way to make things work. Here is a list of what I did in the last year:
Projects 2020
Luckily, my family has found ways to keep moving, too, by doing what they love the most: Cooking.
These circumstances have amplified our powers of survival. I have done things that I was afraid to do, but I had to do it in order to survive. I became bolder. I feel bad saying that last year was very productive for me, but then I discovered that for a lot of artists, too. 
Photo: Screengrab from "Winston Churchill's Boy"
Your film, Winston Churchill's Boy, opens and closes with the luminous Christopher Grant of New York City Ballet at the barre, going through the pliés and port de bras that are standard fare in a ballet class. How does the idea of ritual play a role in your message of maintaining resilience and focus? What are the lessons intrinsic to dance that can be applied to the current landscape where so many are sidelined from doing what they love through no fault of their own? 
DF: The idea of our ritual came when I was teaching in my room a ZOOM class; there, I noticed how, in my room, my mind traveled to the studio or a theater or even outdoors. It was like a time machine or a transporter. The walls did not keep me inside. That way I was free. In other words, doing my class keep me sane. Here is a quote I wrote for the New Jersey Ballet when it presented the piece I did for them via ZOOM.
"Isolating like everyone else, dancers keep training at home. They are limited by small spaces, but they keep moving. Movement turns into a meditation. It allows their minds to dance and feel free."
                                                                                             — David Fernandez
These times are a big challenge, especially for dancers because they have to stay in shape without performing. The ones who are ready after the pandemic will get the jobs, so I keep telling them to stay focused and to keep going. Stay in shape. I remember when I was a freelance dancer, working at restaurants till 4 a.m., and then waking up for a class at 8:30 a.m. with no alarm to take class at 10 a.m. with David Howard. I wasn't even a member of a company, but I knew that I had to be in shape no matter what.
Right now is the time to be creative, to know that you don't need to be following the company's schedule to keep dancing. What is stopping you from going to a studio and making a video of you doing a kick-ass variation? Be your own company; create your own schedule. Take a class with whatever teacher you like on ZOOM, and rehearse, like you are getting ready for a performance. 
Do something!
Photo: Screengrab from "Winston Churchill's Boy"
The film, particularly upon repeated viewing, offers a rich background to contemplate, notably the glowing exit sign, Grant's larger-than-life shadow, and the thin blue light, which exerts an almost hypnotic feel. Did these elements arise spontaneously, or did you plan them in advance? What resonance do you hope viewers take from them?
DF: I planned to use the anamorphic lens because it has that cinematic flair I love in movies. I am almost addicted to it. The exit sign was an accident, but it was a cool practical light, so I used as much as I could. Now that you mention it, the word EXIT adds a little mystery. The shadow came when we did a test and was by accident, but then I planned to have it on the day of the shoot, but this time I used the projector to create the shadow.
We wanted this video to show resilience by example. Here we are, two guys just doing what we love. What limitations? All that we needed to keep dancing was an iPhone, a studio, and the streets of New York City. 
You shot the film on two iPhones, the X, and the 12 Max Pro, which suggests an intimacy in certain shots, such as the close-ups of Grant's face and hands. Did you run into any limits shooting with smartphones? What are the advantages? What advice would you give to budding filmmakers who lack expensive equipment?
DF: I used to hire a film crew, but then the iPhone came, and the game changed. Suddenly, I can film in HD with my phone, and I can do push-ins and get intimate shoots with not much grain and pixelated frames. Then, I realized I was the limitation and discovered YouTube University for film where I was able to learn everything. When you are new, everyone feels a bit limited, but the only way to learn is by trying. I remember when I started to film with the iPhone 5S, I tried every single shooting capability, like slow motion and time-lapse for a dance movie called the CLOCK. As the years went by, the limitations of an iPhone are the person who is doing the shooting. So go on, and graduate from YouTube University!
The advantage that saves time is that I shoot on the phone, I edit on the phone, I color correct on the phone, I do graphics on the phone, I publish on the phone—all of this on the GO!
For beginners, the app MoviePro is good since it has all the specs of a camera, and a cinematic stabilizer included, so you don't need to buy a gimbal. Smooth camera movement makes things more cinematic. The lens I use is by MOMENT; they have a great lens system. The editing app is LumaFusion, which is very close to Final Cut and Adobe Premier but works on a cellphone. Because I commute to Connecticut by train, I got to practice hours 4 hours minimum on these apps. There are no shortcuts; you have to put in the time. Go film yourself, or your pet, your friend, and edit, put music on the background, and publish—then repeat. 
Photo: Screengrab from "Winston Churchill's Boy"
Benjamin Clementine's song of the same name that accompanies the film opens with the lyrics, "Never in the field of human affection/ Had so much been given for so few attention." How did you come to select this song?
DF: I was introduced to Benjamin Clementine by my good friend Ask La Cour. I saw a concert on Tiny Desk Concert on NPR. When you see Benjamin perform, the time stops, the world stops, and you are under his spell. Later, I went to iTunes to hear his music and on came "Winston Churchill's Boy." For me, I identified with Winston going to a new country, and the words, "Nobody is a prophet in his own land, so here I am, embrace me, I am your brother." Chris[topher Grant] and his mother migrated from Jamaica, so he also connected with the song. We all came here looking for a better life. 
We became dancers; now I am a choreographer. Our lives were going on, like everyone else's. But then COVID and social unrest came in, so I called Chris to tell him I have a piece we can share with people. It has a message to keep going forward and to stay focused. We will have our days back: "So you better watch out now, cause that day might be today." Chris, by going back to the barre, says, "Come on, keep going, and we will dance forever and ever."
Photo: Screengrab from "Winston Churchill's Boy"
In what way do the above lyrics, which riff on Churchill's famous quote made in a 1940 wartime speech, "Never was so much owed by so many to so few," have special resonance in 2021? 
DF: A big YES, and we can go on for hours about this. But that is what Benjamin does; every word is so full of meaning set to a beautiful melody. That's why in February 2019, he was named as a Knight of the Order of Arts and Letters by the French government, in recognition of his contribution to the arts. I was not dealing with a simple song, and I told Chris, we have to match this guy's artistry. That made me nervous.
When Covid-19 restrictions lift, what future projects do you hope to pursue? 
DF: I am not waiting for the restrictions to be lifted. With precautions, I am continuing to produce more videos with different dancers, generally solos. But I will release a new project very soon, just getting the cast ready by now. 
I will be doing Shakespeare's King John, a video film, and The Sound of Music, a video musical with Young at Arts. Also, I will be choreographing a new piece commissioned by Ethan Stiefel for the American Repertory Ballet in May.
---
David Fernandez's most acclaimed choreography, Five Variations on a Theme, was created for New York City Ballet Principal Dancer Joaquin De Luz. The work premiered as part of the acclaimed Kings of the Dance tour. It was performed to standing ovations in NYC, LA, London, Paris, Rome, Moscow, Kiev, and Odessa. Other notable choreography commissions include pieces created for leading dancers of the American Ballet Theatre, New York City Ballet, Kings of the Dance Tour, Dance Theatre of Harlem Ensemble, Youth America Grand Prix Gala Concert, and many others.  
David is an award-winning filmmaker: his latest dance-on-film accomplishments include the Los Angeles Olympus Film Festival Award for Best Public Service Announcement. David's award-winning short, Moving Though It — Phases of an Emergency Through Dance, uses a revolutionary approach of making a public service announcement through dance. Ideated and directed by David Fernandez, the project was commissioned and sponsored by the NYC Emergency Management and the Mayor's Fund to Advance New York City. 
---
The Dance Enthusiast's DAY IN THE LIFE covers the stories behind dance/performance and creates conversation. For more behind-the-scenes stories from NYC and beyond, click here.
---
The Dance Enthusiast - News, Reviews, Interviews and an Open Invitation for YOU to join the Dance Conversation.