"This Is Not Just a Body" by Gregory King and Megan Young /Video Excerpt From "Twoness" Choreography Gregory King and Nya McCarthy Brown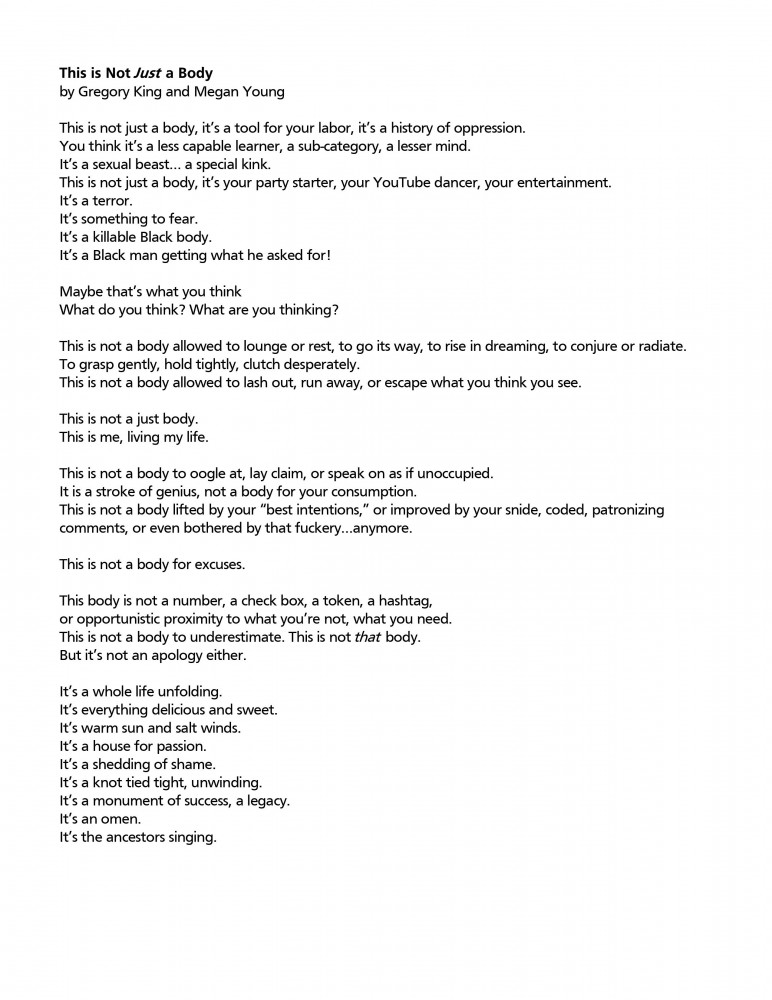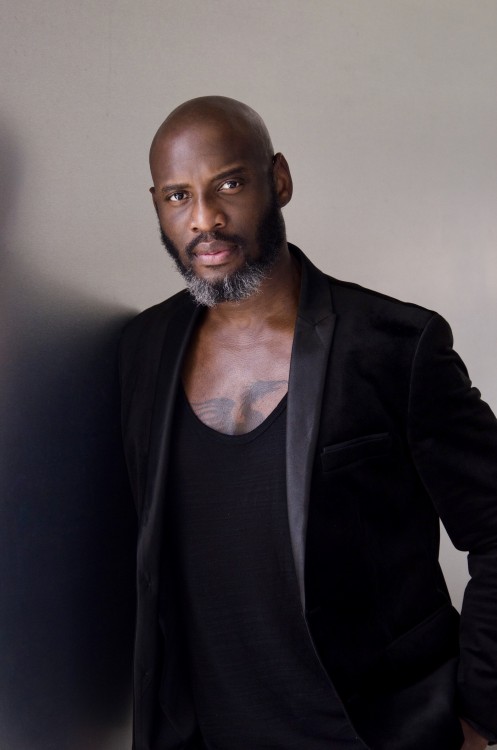 Gregory King
Gregory King is a culturally responsive educator, performance artist, and movement maker who received his MFA in Choreographic Practice and Theory from Southern Methodist University and is certified in Elementary Labanotation from the Dance Notation Bureau.  His dance training began at the Washington Ballet and continued at American University. He has participated in the Horton Project in conjunction with the Library of Congress and has performed with The Washington Ballet, Erick Hawkins Dance Company, New York Theatre Ballet, Donald Byrd /The Group, The Metropolitan Opera Ballet, New York City Opera, and Disney's The Lion King on Broadway.
As a choreographer, his works have been commissioned by Transformer Station (Cleveland, OH), Georgian Court University (Lakewood, NY), Texas Ballet Theatre School (Dallas, TX), Indiana University (Bloomington, IN), The Ammerman Center for Arts and Technology 16th Biennial Symposium (New London, CT), Current Sessions (New York, NY), and SPACES Gallery (Cleveland, OH), and presented at Dixon Place (New York, NY), The Kennedy Center (Washington D.C.), and Playhouse Square (Cleveland, OH). Recently, his ballet "Men Will Disappear," was selected to perform in the Gala concert of the American College Dance Association East Central Regional Conference at Western Michigan University. Adjudicators called it a "masterfully crafted and a carefully constructed contemporary work!"
He has taught master classes, lectures, and workshops nationally and internationally. He has served as dance faculty for Texas Ballet Theatre and Boston Ballet, as well as visiting assistant professor of dance at Temple University, and visiting assistant professor of dance and Consortium on Faculty Diversity Fellow at Swarthmore College.
King is  a dance writer for The Dance Enthusiast, ThINKingDANCE, The Philadelphia Dance Journal, CHOICE Review, and Broad Street Review. Recently, Mr. King's response to the Dancing for Justice Philadelphia event, has been cited in the U. S. Department of Arts and Culture's new resource guide, "Art Became the Oxygen."
In addition to having served as the creative communication coordinator for the International Association of Blacks in Dance, King has served on the dance review board for the National Endowment for the Arts, was nominated for a Governor's Award for the Arts in Ohio, and was recently appointed to the Board of OhioDance. He was the 2018 recipient of the Outstanding Creative Contribution award from the Division of Diversity, Equity, and Inclusion at Kent State University, and will serve as Provost Faculty Associate for the academic year 2019- 2020. He where he is a tenure track professor of dance and served as the artistic director of the Kent Dance Ensemble.