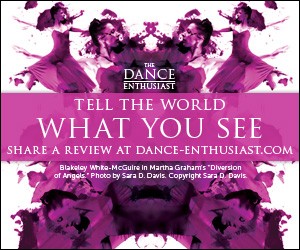 Related Features
SOCIAL DISTANCE DANCE VIDEO: Hunter College MFA Candidate Maiya Redding's "And I Finally See . . ."
Erin Bomboy for The Dance Enthusiast: You're currently pursuing your MFA in Dance at Hunter College. What has the experience been like during the pandemic? Did an unexpected positive occur? What was the biggest challenge, and how did you navigate it?
Maiya Redding: My experience at Hunter College has been amazing so far. There was a huge adjustment that had to be made with taking classes through Zoom; however, it opened my eyes to creating films, and I truly fell in love with it. Before attending Hunter, I worked with a few New York-based professional dance companies; but I didn't have that much experience with creating films. The pandemic forced me to find another way to share my art with the world. I was able to connect with people in a different way and collaborate with artists and friends because of everyone's desperation to create. As artists, we are fortunate to perform in front of audiences, and being an MFA student at Hunter has allowed me to do that and learn more about my craft. The experience has made me realize how much I want to continue to create films and collaborate with other artists.
Your dance film, And I Finally See . . . positions you in a crimson dress against a white background—a painting that's come to life. Then, at the halfway mark, you are in front of or beside Mireka Starr's "Michelle Obama Painting" and Bobb Vann's "Summer," to name a few of the striking visual artworks that appear. What does each of these pieces signify to you? When emulating the artworks, what visceral feeling did they communicate to you?
MR: During the process of creating my work, "And I Finally See . . .," I wanted to speak to women and express how beautiful and powerful we are. The lyrics express that the listener is a work of art, and my intention was to choose artworks that highlight women or figures whom I admire. One of the photos that I presented was of Vice President Kamala Harris, and the day before we filmed, she was officially elected. These paintings and photos show women who defied the odds and are truly the epitome of class and beauty. My intention was to show the utmost respect for them, and I chose poses that reflect how they have inspired and helped me evolve as a woman.
Maiya Redding; photo Niara Seña
Your movement style—a cascade of rippling gestures—is compelling, and although we only catch glimpses of your back, your spine and scapula are so eloquent. How did you develop this unique language? What artists, dead or alive, have influenced you as a creator?
MR: In regards to my choreographic style, I focused on creating movement that was expansive yet personal. My standard process while choreographing consists of me creating my own language with the music. I listen to music over and over again to explore every detail and memorize it. This experience was a little different because the music has lyrics, and I didn't want the movement to be too literal. Whenever I choreograph, the music speaks to me, and this music translates to the evolution of a woman finding her voice. In my work, the character's body is a work of art rather than just a human body. 
The beginning of the song starts in a cappella, and I wanted to highlight the vulnerability of her voice by doing simple movements that highlight the upper body. I knew that I wanted the beginning to show close-ups of my facial expressions, reflecting how raw and vulnerable the singer's voice is. After the photos are shown, my goal was to create movement that was very expansive and also to portray my character evolving and becoming more confident in herself. Toward the end of the song, when it becomes climactic, my character completely lets go. While choreographing the ending section, I didn't want the movement to be too technical because, at this point, the character is letting go of all insecurities and anything that could be holding her back. Standing on the pedestal at the end of my work was significant because it expressed her becoming a work of art but also her claiming that she is one as well. 
One of my favorite choreographers is Crystal Pite. I enjoy using a big cast of dancers in my works, and the images that she creates are incredible. I saw her company Kidd Pivot perform her The Tempest Replica at the Joyce Theater, and it truly changed my life because it drove me to become a choreographer. She is a genius at storytelling, and I wanted to create works that touched audiences like her work did to me. After her show, I became enamored with choreographing and researched other choreographers and their process of creating movement.
Maiya Redding in Dance Lab  NY: Photo by Scott Shaw Photography
The film's score, Jazmine Sullivan's "Masterpiece (Mona Lisa)," contains these self-affirming lyrics:" Every part of me is a vision of a portrait / Of Mona, of Mona Lisa / Every part of me is beautiful / And I finally see I'm a work of art / A masterpiece." Was there a reason they spoke to you now? What special significance do you think this 500-year-old-plus Mona Lisa holds in the popular imagination?
MR: When I heard this song for the first time, I felt like the singer was speaking directly to me, and it made me very emotional. After listening to the lyrics, I was able to see the beauty within myself. I wanted other women to have the same experience because, in society, we can often be overlooked and underestimated. My intention was for women to feel empowered and understand that we are all queens and should be treated as such. The Mona Lisa signifies strength and resilience. The way she is positioned in the painting shows her as the main focus, and her presence isn't hidden or glazed over.
When I was in grad school, we were always cautioned against choreographing to music with lyrics, particularly pop and/or R&B music, a rule that seems reductive and creatively stifling. What are the benefits of using a song with a specific meaning? Is there any advice you'd give to dance-makers who've received the same instruction I did?
MR: I usually don't use music with lyrics because my intention is for the audience to have their own interpretation of what my work is about rather than the lyrics influencing them. With every work that I choreograph, I challenge myself to do something that I've never done before or rarely do, so I started researching music with lyrics. This song spoke to me because of how raw and vulnerable it is. The advice I would give to choreographers who were taught not to choreograph to music with lyrics is that you should use whatever music speaks to you. Lyrics, no lyrics, it doesn't really matter. As a choreographer, you have to trust your instincts, and if your instincts are telling you to use music that has lyrics, you shouldn't go against it. You should explore it no matter what past teachers have advised you to do. It is great to gain knowledge from teachers and mentors; however, it's ultimately your decision because it's your work and your story being told.
Maiya Redding; photo Niara Seña
Tell us about working with Niara Seña, the director. Have you collaborated in the past together?

What was the process like of storyboarding the film and editing the raw footage into the final product? 

MR: Niara Seña and I both attended SUNY Purchase College; however, she graduated with a Bachelor of Fine Arts degree in Acting. During our time at Purchase, we became close friends and formed what we call "a sisterhood," and since then, she has been one of my best friends. 

After graduating, she became interested in directing and formed her own production company called Sunflowersol Productions and the Sunflowersol Collective, which she asked me to be a part of. She created and directed a film called Sweet Sweet, which she asked me to co-choreograph and dance in. It was a great experience working with her, and it inspired me to create my own film that she directed, The Evolution of Wombmanhood, that will be premiering at the end of the summer. Niara is an amazing person to collaborate with because of how organized and professional she is. During the process of creating a film, we had meetings to brainstorm the story and various ideas. Niara is hands-on during the beginning stages and attends many rehearsals so that I have to get a feel of the movement and develop beautiful images for the way the movement should be shot. During the process of shooting the film, Seña makes the dancers and actors feel comfortable and safe in the space. She uses various tactics or exercises to help the performers embody the character and the confidence to take risks. 
What plans are you entertaining post-pandemic this year and post-graduation next year? 
MR: This summer Niara and I will be collaborating and creating two films and also have an event to showcase various films that she's done on her own and others that we've collaborated on together. After I graduate next year, I intend on continuing to choreograph for more professional dance companies and also begin forming my own dance company. 
---
Maiya Redding was raised in Chicago, Illinois; however she currently lives in New York City. She graduated from SUNY Purchase College, receiving a Bachelor of Fine Arts degree in Dance. She graduated high school from The Chicago Academy for the Arts, where she also majored in Dance. In college, she studied abroad at The Korean University of Arts (K-Arts) in Seoul, South Korea, for four months. Within the last year Redding set her work "Breaking through the Generational Curse" on Alessandra Corona Performing Works, and she will be working with the company again early next year to extend her work for their International tour. She also set another work "Chicago Luvin" on Dance Lab NY, and she created and choreographed her own film titled "The Evolution of Womb(man)hood". As the audience views her choreography, she wants them to experience dynamic movement, a story unfolding, and the process of unveiling their own meaning and connection. She wants to make a statement and convey how art is a very powerful way of showing human connections. She's currently a student at Hunter College, and she will receive her Master's in Fine Arts degree in Dance in May 2022.
---
The Dance Enthusiast's DAY IN THE LIFE covers the stories behind dance/performance and creates conversation. For more behind-the-scenes stories from NYC and beyond, click here.
---
The Dance Enthusiast - News, Reviews, Interviews and an Open Invitation for YOU to join the Dance Conversation.