SOCIAL DISTANCE DANCE VIDEO: Kayla Farrish on "On The Sunny Side of the Street" and Dancing in Louis Armstrong's House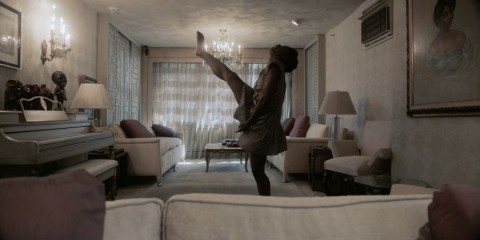 Armstrong NOW
film choreography and characterization by Kayla Farrish
music by Louis Armstrong, Sy Oliver's Orchestra
---
In ARMSTRONG NOW's inaugural season, contemporary Black artists respond to Louis Armstrong in an integrative video series that will roll out from October 5 through December 31, 2020, culminating in a series of live online discussions.
Each night will feature a short film with contemporary artists showcasing new works inspired by Louis Armstrong and constellations of Black making, thinking, and vitality.
***Note on December 10th Kayla Farrish will perform "Inside The Laughing Barrel" a piece worked on with collaborators Melanie Charles and Naomi Extra.*** For more info on the other Armstrong Now Programs click here.
---
Christine Jowers for The Dance Enthusiast: Kayla, I loved this video and your dancing in it — especially during this time of pandemic and strife. It is a joy to see the wonder in your facial expression and feel the optimism resonate in your limbs. And Louis Armstrong's "Sunny Side of the Street," his gravelly voice, his trumpet — so powerful.  I read that Armstrong sometimes played his trumpet with such gusto he would split his lip.
My first question is, what was it like to dance in Louis Armstrong's living room?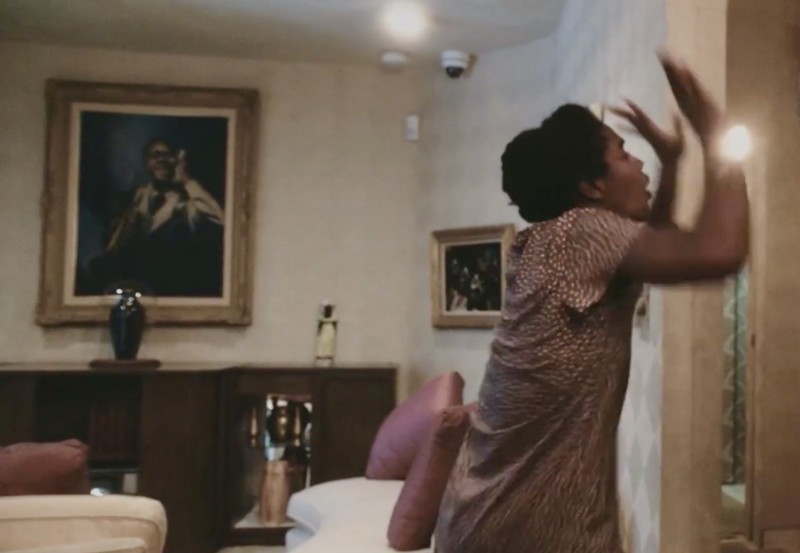 Kayla Farrish Dancing in Louis Armstrong's House with his portrait in the background, Screen shot from film
Kayla Farrish: Because of COVID, we had to alter our live performance plans and capture films of our creations in the Armstrong House. I'm so thankful! I'll never forget that experience.
I watched an online tour of the house in the archives and imagined what it would be to traverse, dance, fly, and reflect throughout the downstairs area. What if he and I built ourselves up from the living room to eventually making it to the front door- finding light in myself, to face the world.
We filmed all of our sections in one day!
Did any particular object in the room speak to you?
KF: The entire space spoke, honestly. I've never seen a house like that. I can picture Lucille Armstrong carefully choosing each element, each detail.  You can tell that every inch was valued and loved.
I know that Louis couldn't believe they could afford their home. The bathroom was full of of mirrors for Louis to look at himself even when using the bathroom, and they  kept materials from everything — all the music, tapes, notes and lyrics, interview recordings, collections from traveling the world (which included racist encounters.)
It was a home of creativity, and of artists who gave their absolute all to their craft.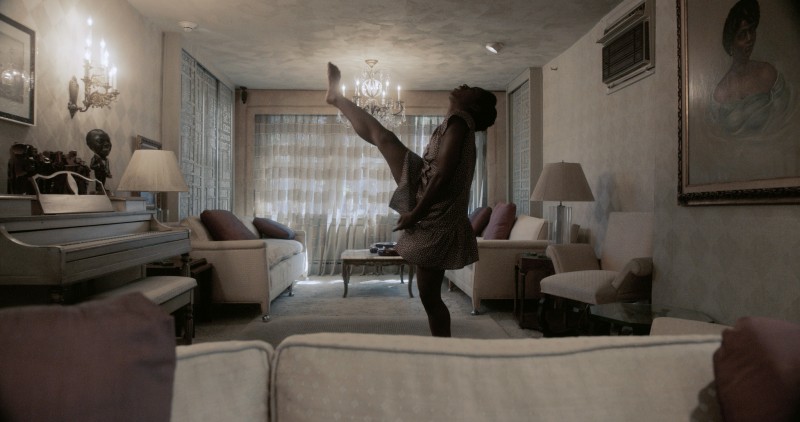 Kayla Farrish Dancing surrounded by Louis Armstrong and a portrait of Lucille Armstrong, Courtesy of the Louis Armstrong House Museum
How did you come to choose On The Sunny Side of the Street; what about that song captured your imagination?
KF: The horns, the swing, the layers, romanticism, the depths of his voice, and the soul that swept through all of it ripped through me. It reminded me of my roots. It reminded me of the flourishing and feeling-filled lives of Black people. It pulled and moved me!
On the Sunny Side of the Street was one of the first songs I was drawn to. Not only could I not get it out of my head, but it said so much. I knew from this song I could create a "character," an embodiment that could build intimacy with the layers of Louis.
I also  understand what it takes to turn your feet towards the "sunny side of the street,"  to know those blues and shadows you've been walking in, and carry on.  I understood that courage.  It resonates in my loved ones and community of BIPOC and Black people. 
Kayla Farrish, Self-Portrait, That's It.
What did you want to share with your audience here?
KF: Grit, honesty, and feeling! I wanted the audience to get closer, and feel with me, feel with Louis, and with the music. 
With my collaborators, writer, Naomi Extra, and musician, Melanie Charles, I spoke about layers of the Black experience in America. History on this loop as we live it, thinking of all those who have paved and continue to pave a way.We wanted to address the depths of these layers. The police brutality, the people who lost their lives including George Floyd, Ahmaud Arberry, and Breonna Taylor, the oppression — but also our wielding powerful craft and resilience.
This piece contains our humanity, what we live and understand, or sometimes get to push against — soul, blues, dancin', laughter, wealth-of-life, grit, burst, fight, seeing ourselves, culture, black joy, spirit, roots and beyond.
I actually wasn't sure about dancing through the end of the film, but the week before finishing, I knew I had to wail with him and those big horns. It felt cathartic, like gospel, like getting it all out….I felt jazz!!
Tell us about how you approached your work and your choice of movement vocabulary.
KF: Honestly, I connected so intimately and deeply with Louis's music, history, and time period, I found vast inspiration. I collected more and more of his music and let "it" move my bones.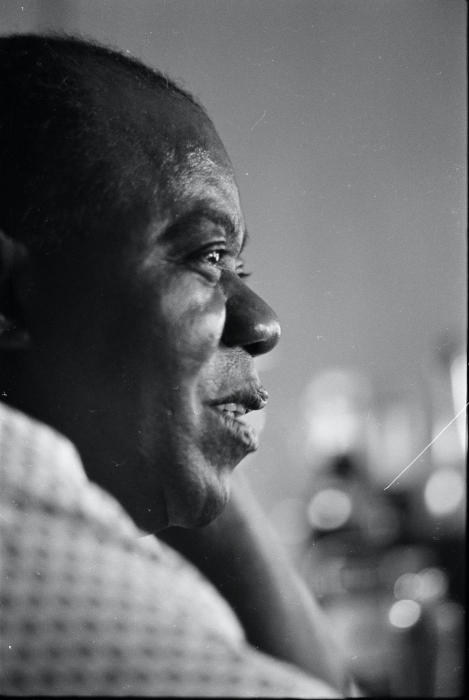 Louis Armstrong - from the collection of pictures Kayla Farrish studied for this project
My research  focused on getting to know Louis as a person, through photographs, portraitures ,and writings -both  his and Lucille's. I looked into how he dealt with racism in his lifetime which led to further research into terms like "Uncle Tom," segregation, Black performers after Vaudeville, the roots of jazz, masks, Martin Luther King's speeches, and our current interpretations of all  this.
When I speak of Louis Armstrong and  masks I am referring to the layers beyond  his famous wide-tooth grin.   My collaborators and I questioned Armstrong's "masks" and the masks Black people use to  survive in America.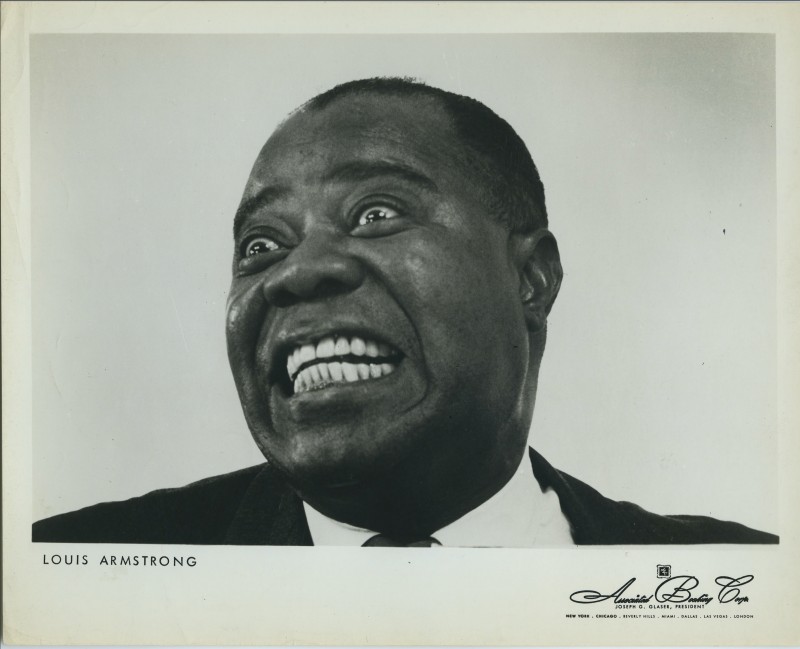 Louis Armstrong- from the collection of pictures Kayla Farrish studied for this project
Armstrong was known for his huge smile and for "clowning" on stage. All his interviews, and records of his personal life feel big, boisterous, and  full of personality. Yet the  smiling mask is haunting. It acknolwedges a horror and the awareness, grit, effort, perseverance, and spirit to overcome that.
My movement was rooted in jazz, my southern heritage, theater, embodiment, Blackness and culture, swing, and contemporary dance. Each section felt like it connected specifically with the content.
On the Sunny Side of the Street was composed through many fully felt improvisations. Some set parts, in the main middle section, were created in my sister's living room! I made the beginning big band section, piece-by-piece, outside in my driveway.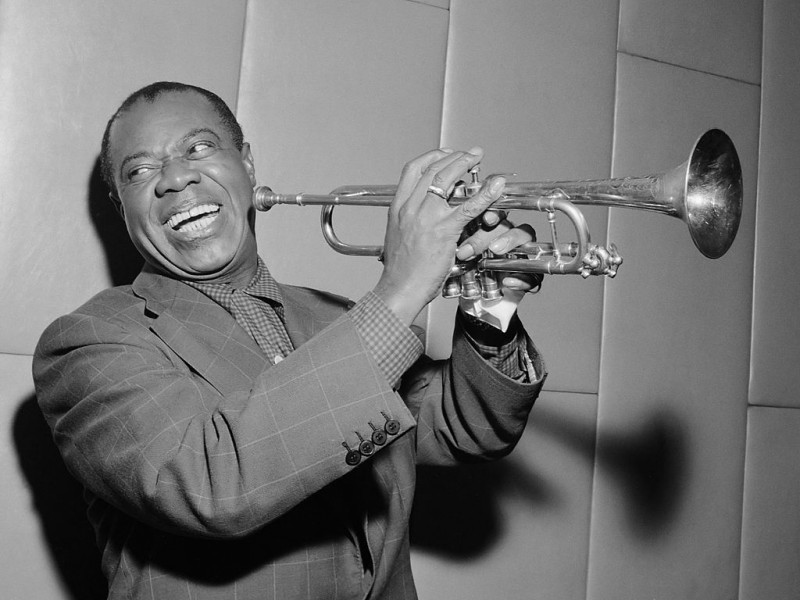 Louis Armstrong National Archive  Amsterdam Photo by Herbert Behrens
So, was Louis Armstrong with you during this experience; did you feel his presence?
KF: I was so nervous before starting the filming, but I could feel Louis's presence around me supporting me. He would tell me to make it jazz and lean into all that came up, to perform and bring my full self. 
I actually lost my fear, my idea of ideal execution, and I just howled, gave in, I danced, and threw myself into the moment bursting and feeling. I felt supported to trust my craft and go there — fly!
Thanksgiving is right around the corner, Kayla; what are you most grateful for at this moment in time?
KF:I am grateful to be alive. I am grateful that we're able to envision a future for us all especially with a change in government. I'm so glad I continue to dream, laugh. I am grateful for all of my influential inspiring collaborators.  Getting to meet and work with Melanie Charles and Naomi Extra for this project was MAJOR. Naomi's words would halt me to a full stop, and also somehow capture these specific experiences, horrors, power, meanings-held, and the fight of Black people. Melanie's music, scores, and voice soared and ripped through me. It was mesmerizing, haunting, and  visceral.
I love all my loved ones and collaborators who help me continue to make and dream each day. We're just rioting and existing in full color…
---
Portrait Courtesy of Kayla Farrish
  Kayla Farrish/Decent Structure Arts is an emerging company combining filmmaking, photography, and dance.  Farrish is a NY based director with a vision for intimate storytelling. With urgency, power, and transparency, the work delves into socio political structures, and the liberation of people.  She co-choreographed Gods and Accepting Darkness with Nik Owens (2015). Studying photography and film with Yara Travesio, Benjamin Heller, and Brooklyn Central, she formed portraiture and improvisation studies Beloved Loveless, and premiered With Delicacy and Permanence live solo and film at B.A.A.D! In Summer 2017,  granted the Chez Bushwick residency, she created 5 short films and a cinema-inspired photograph gallery. These films screened at Bushwick Open Studios, Triskelion Film Festival, Deconstructed:Dance Films Festival, Mouthfull Presents/Of Bones Dance, and Detroit Women in Film Festival.
 In 2018,  With grit From, Grace,  Black Bodies Sonata, and Why I Can't Hold Strangers premiered at Judson Church, Danspace, Pepatian APAP, BAAD!, and beyond. She created Spectacle Film and Live Performance through Pepatian DYF Residency (2018) with Foundation for Contemporary Arts Emergency Grant. In 2019, she created The New Frontier Film at White Sands National Monument and The New Frontier (My Dear America) pt.1 live production. Both developed through Keshet MSE Residency (NM), BAX Summer Space Grant, Petronio Residency Center, NYS Dance Force, and Danspace Project Commission.
Following, Farrish shared  Bojangles' Variations on Liberation at Helen Simoneau Moving Landmarks (NC). New Martyr's Fiction dream landscape forms in Gibney's commission and Baryshnikov Arts Center Space Residency 2020. Beyond, her work was selected for Jacob's Pillow, EDANCO International Festival,  Armstrong Now!, and Joe's Pub DANCE NOW(2020). She continues envisioning work in cinematic landscapes of humanism and rebellion creating film, portraiture, and choreography.
In addition, Farrish has freelanced with various artists and companies including:Punchdrunk Sleep No More NYC, Kyle Abraham/AIM, Kate Weare Company, Helen Simoneau Danse, Company SBB, Dendy/Donovan Projects, Arthur Aviles,  Rashuan Mitchell/Silas Reiner, Nicole Von Arx, Danielle Russo Performance Project, and others.
---
The Dance Enthusiast's DAY IN THE LIFE covers the stories behind dance/performance and creates conversation. For more behind-the-scenes stories from NYC and beyond, click here.
---
The Dance Enthusiast - News, Reviews, Interviews and an Open Invitation for YOU to join the Dance Conversation.