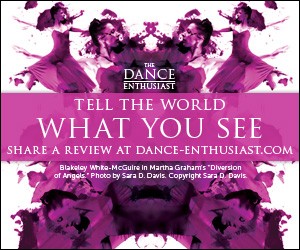 Related Features

SOCIAL DISTANCE DANCE VIDEO: The Dance Enthusiast's Moving Visions Editor, Francesca Harper, Curates Maleek Washington's "Shadow"
Francesca Harper Features Young Artists Whose Work Inspires Her
I met Maleek Washington years ago when I conducted a class for The Playground here in New York City. I remember giving the students a prompt to utilize text and share a personal story. Maleek responded instantly and was brilliant. We bonded immediately.
Fortuitously, we met again working on Sleep No More. I was excited to have more time and proximity to Maleek so I could fully experience his artistry.  I have always been impressed with his personal fortitude and honesty, but when we started working together, I  began to see his sensitivity and humanity more deeply. 
Maleek's artistry is a conversation between that natural fortitude and honesty, and fearless expression. I consider him nimble. He can translate and connect anyone's story to his own.
He is a confidant — one of the first people I call to look over my work when I need advice. It is rare to have a reciprocal artistic relationship with someone, but that's what I experience with Maleek. He's  part of  my artistic family and one of our treasured rising dance stars. I value Maleek not only as a collaborator, but as a lifelong friend.-
 Francesca Harper, The Dance Enthusiast's Moving Visions Editor 2021
---
From THE DANCE ENTHUSIAST ASKS: Maleek Washington, Eriko Iiskaku & Sam Pratt About Francesca Harper As A Friend & An Artist by Sammi Lim
Sammi Lim for The Dance Enthusiast: Francesca Harper cited each of you as someone whom she's worked with and whose body of work she is excited about. How did your artistic paths cross?
Maleek Washington: It's so affirming to have Francesca's vote of confidence as I am a major admirer of her as a person and, of course, as an artist. I first met Francesca when I was a young student at The School of Alvin Ailey American Dance Theater. At the time, her beloved and beautiful mother, Denise Jefferson, was the Director and helped me complete my first audition even though I was not in dance attire (humble beginnings)! Fast forward to 2011: that's when I formally met Fran as a participant in her class during the early developments of what many of us know as "The  Playground," created by Loni Landon and Greg Dolbashian. Her class held special meaning to me thanks to Fran's creative process, which is experimental, physically and technically demanding, and calls for vulnerability — all the elements I needed to hone in on, as I was just starting to professionally work with Kyle Abraham's A.I.M. Fran was the divine feminine artistic mentorship needed to push me to the next stage in my practice, and I will forever be grateful for her friendship and mentorship.
Read the rest HERE
---
From IMPRESSIONS: A Trio of Dance Films Curated by MOVING VISIONS Editor Francesca Harper, Featuring Maleek Washington's "Shadow," Willy Laury's "Aurum I: A Memory Film," and Baye & Asa's "Second Seed" by Cecly Placenti
Maleek Washington stands alone in the dirt under an overpass. His arms reach out to gather the air around him, pulling it close to his heart. Softly, he coils and uncoils his body, moving with the lilting notes of Marcus Gilmore's piano composition.
Images solidify — bound wrists, splayed fingers, undulating shoulders — symbols of police brutality and a man fighting forces outside of his control. The camera rotates around Washington as he melts, heightening a sense of surrender, not to violence or stereotype, but to life's inner beauty and fleeting nature.
Read the rest HERE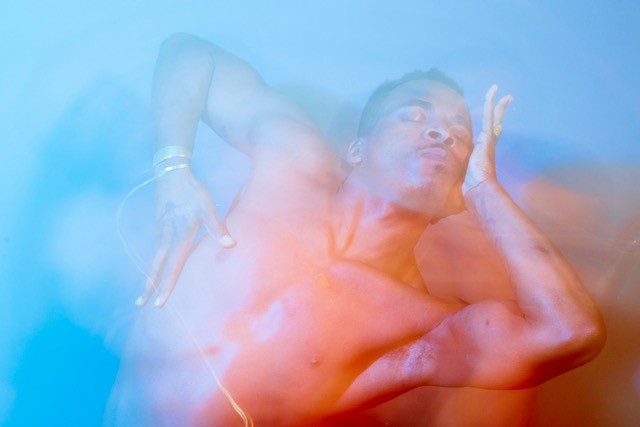 Maleek Washington; photo by Whitney Browne
---
MALEEK WASHINGTON is a native New Yorker from the Bronx. He began his studies at Harlem School of The Arts, Broadway Dance Center and LaGuardia High School for Performing Arts. He received a full scholarship to continue his education at The Boston Conservatory. He danced for CityDance Ensemble (Washington DC), where he worked with Paul Taylor, Kate Weare, and Alex Neoral. He's performed in over 10 countries worldwide and performed at national locations including The White House, the John F. Kennedy Center and Jacob's Pillow. He collaborated with McArthur Genius awardee, Kyle Abraham, and his company Abraham.in.Motion (A.I.M.) for four seasons. Presently, he is the first African American male performing in the immersive show Sleep No More.  He is on faculty at the Joffrey Ballet School's Jazz and Contemporary program, Broadway Dance Center and Gibney Dance, as well as being a guest teacher at Peridance, New York University's Tisch School of the Arts, and CityDance Conservatory (Bethesda, MD). Maleek joined the Francesca Harper Project in 2017.
The 2020 Moving Visions Initiative welcomes artists and enthusiasts to guide The Dance Enthusiast's coverage as guest editors. Our guests share their passion, expertise, and curiosity with us while we celebrate their accomplishments and viewpoints.