Related Features
Contribute
Your support helps us cover dance in New York City and beyond! Donate now.
SOCIAL DISTANCE DANCE VIDEO: Inyoung "Dassy" Lee Performs "4 Elements", A Popping Concert Presented By Red Bull Dance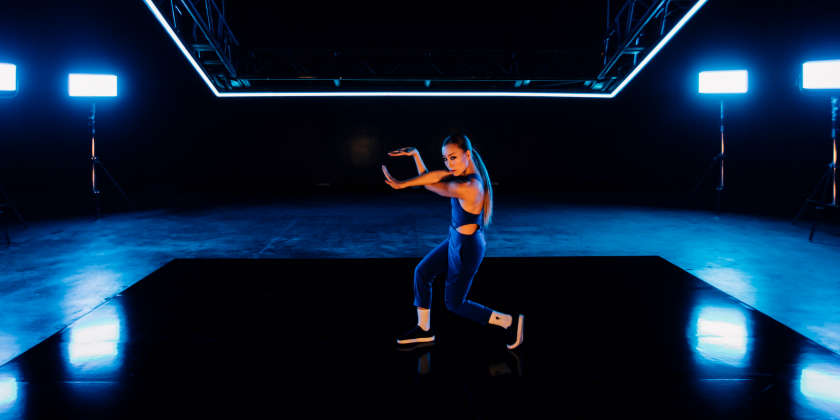 Choreographer & Dancer: Inyoung "Dassy" Lee
Music: CloZee and LiL FiSH
Sponsor: Red Bull Dance
---
About the Artist:
On March 12th 2021, So You Think You Can Dance alum and world-renowned Red Bull popper Inyoung Lee, better known as Dassy, celebrated Women's Heritage Month with a new video that personified the challenges of her past year as the four elements. Dassy pops and locks across earth, water, air, and fire to illustrate the complexities of the human experience set to a score by CloZee and LiL FiSH
To support Dassy in this burgeoning career development, Red Bull gave her the creative reigns on everything from wardrobe to video editing to ensure the piece matched her vision as a part of their series The Floor. She states, "You don't always have that ownership as a dancer, and I think it's important and empowering to master the whole process from storyboarding ideas to final outcome."
Dassy was the first Korean dancer featured on So You Think You Can Dance in 2016, signed to Red Bull's global dance team in 2019, and continues to perform for high-profile entities such as Calvin Harris, PARTYNEXTDOOR, Cirque Du Soleil, and more. 
---
Inyoung Lee, So You Think You Can Dance alum and world-renowned Red Bull popper (Photo: Maria Jose Govea)
Sammi Lim for The Dance Enthusiast: Before talking dance, I'd like to check in by asking: are you doing okay amidst this pandemic?
Inyoung "Dassy" Lee: Thank you for checking in! I am actually doing great. In the beginning, it was pretty hard, because all my jobs got cancelled and I didn't know what to do with my time. But then I found myself taking better care of other essential things in my life: sleeping enough, eating cleaner, training and dancing more consistently. I actually think I needed this break from all my travels over the last couple of years!
My idea of an enjoyable evening is being sat on the sofa watching 1Million Dance Studio clips on Youtube, so I had a bit of a fangirl moment when I learned of your affiliation. Did you instantly get along with Lia Kim (co-founder of 1Million)'s crew? 
Dassy Lee: Lia Kim was my very first dance teacher since I was about 14 years old. She taught me so much more than just dancing. I was such a huge fan of hers and was following her around to get the chance to dance with her. When I turned 16 years old I joined her team—this was way before 1Million was even created—and started dancing with her a lot. 
When I moved to the USA in 2012, I heard her company 1Million was becoming popular around the world. I'm really happy for her, as she's been one of my role models for years.
Inyoung "Dassy" Lee (Photo: Maria Jose Govea)
Where is your head during a freestyle battle? Can you try to convey being in your shoes while on the stage? I've always imagined a 'freeing' sensation.
Dassy Lee: I am still figuring it out. Every single time I dance, whether it's on stage or a battle ground or even on TV, the feeling I get is always different. Especially in a battle; everything is improvised because we never know what music the DJ's going to play. 
So I focus on being as free as possible and letting my body move with music. To be able to do that, I  train as much as possible and really work on my foundation and technique.
"One of my favorite things about freestyling is that I really surprise myself sometimes. I remember a particular battle at "Summer Dance Forever" in Amsterdam: I was battling an opponent in the top 16th round and freestyling to a song I had never listened to before, and I did a move where I went all the way to the ground with split legs, which I had never practiced before. That moment blew everyone's mind in the room and it felt soooo amazing — I was so surprised that it just came out of nowhere! A battle is all about the moments, vibes, people, music, screams... That feeling is what makes me feel so alive.
Inyoung "Dassy" Lee (Photo: Maria Jose Govea)
Many movies about dancers — or artists for that matter — depict the protagonist as born with innate skills before being discovered, but rarely is hard work given due credit. I read that you used to practice until 5am to master the technique of popping. What else have you sacrificed to get to where you are now?
Dassy: Yes, I remember practicing all day and all night long, and then going to school to sleep. Haha. Because of that, I wasn't a good student. I would be sleeping in the classroom and only woke up for English class, as I knew I would be moving to the USA.
I've always had a clear goal to be a dancer since I was young. I knew what I wanted to do and what I was going to do, which is why I went full out on dance classes. Obviously, there were times where I got tired of dancing, or acquired small injuries here and there. But these obstacles didn't stop me, because I was a very ambitious young lady. My vision also taught me to be obsessive about my technique. I knew I had to work harder to be better than others, and growing up without enough financial support made me work for myself instead of relying on others.
When I saw the title of your dance video "4 Elements," I imagined an homage to water, earth, wind and fire instead of what it really stands for: PASSION, FOUNDATION, FLOWS and ELEVATION. Do expound upon the dance film!
Dassy: Great! That's what I wanted to express! 
Before the pandemic, I was working consistently and had no time to really look back at what I had been doing, let alone take some time to really read myself. Since the pandemic, I've gotten to know myself more deeply.  
A lot of the time, I get comments such as, "You are so fiery!" which is nice to hear, but I also really see myself as a fragile and vulnerable human being. I wanted to present what makes me who I am now using elements as a metaphor, and to remind everyone that we are not limited to the one side others see of us.
We are who we are with all of our different sides that come together in harmony.
Inyoung "Dassy" Lee (Photo: Maria Jose Govea)
I too, was raised by a single mom who has been a rock in my life. With Mother's Day 2021 coming up next month, would you like to end this interview with a message to her?
Dassy Lee I am going to make it short, otherwise I'll cry!
Dear my everything, my mom.
I miss you so much every day — every single day! And I always feel guilty about being away from you. You have given and taught me so much about being an independent woman. You always told me not to be afraid of anything — to go for it to win the world. The immeasurable dedication and love you have given me and sis gave us our healthy minds and bodies. I am so thankful that you never gave up on us. I can't imagine how you did this all by yourself, especially after all the things that happened to you. You are the strongest and wisest human being I have ever known. 
I am going to make you proud forever. And I will show those who doubted you and us that they were so wrong!
I respect you so much. You are my everything. I love you forever, mom. 
사랑해 우리 엄마!! 내가 이제는 엄마가 해준만큼보다 더 크게 보답할게. 평생 지켜줄게! <3
---
The Dance Enthusiast Asks questions and creates conversation.
For more of The Dance Enthusiast Asks, click here.
---
The Dance Enthusiast - News, Reviews, Interviews and an Open Invitation for YOU to join the Dance Conversation.