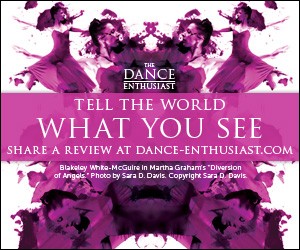 Related Features
The Dance Enthusiast's Social Distance Dance Video Series: Christopher Williams' "Il Giardino d'Amore" (excerpt)
I am moved beyond words to hear from the generous and talented people in our dance community. How wonderful to receive a contribution to our Social Distance Dance Series from Christopher Williams.
---
Christine Jowers for The Dance Enthusiast: Can you tell us a bit about the film clip you shared with us?
Il Giardino d'Amore (excerpt)
VENUS: Christiana Axelsen/Paul Singh
ADONIS: Andrew Champlin/Melissa Toogood
AMORE: Gentry George
A NIGHTINGALE: Caitlin Scranton
TWO BIRDS: Kyle Gerry & Justin Lynch
Choreography: Christopher Williams
Music: Il Giardino di Amore by Alessandro Scarlatti (1660-1725) recorded in 1964 by the Munich Chamber Orchestra with soprano Catherine Gayer and contralto Brigitte Fassbaender conducted by Hans Stadlmair Costume Designs: Andrew Jordan
Lighting Design: Kathy Kaufmann
Video: Peter Richards
Commissioned by Danspace Project for première from May 4th-6th, 2017.
Christopher Williams : Il Giardino d'Amore is a contemporary dance staging of Italian baroque composer Alessandro Scarlatti's eponymous early 18th century serenata based on the myth of Venus and Adonis. Meticulously set to the serenata's lush musical score, choreography for the dancers portraying Venus and Adonis corresponds directly to its vocal lines written for soprano and castrato.
Choreography for the dancers portraying Amore and other avian characters referred to in the work's anonymously-written libretto corresponds to its various instrumental lines. Clad in fantastical prosthetic costumes by longtime costume design collaborator Andrew Jordan, the mythic lovers and their entourage are portrayed as prehistoric beings existing outside the framework of a traditional gender binary.
The Dance Enthusiast:  How are you? How is your family? And how are you handling staying at home?
A hermit by nature in many ways, I imagine I am coping with the situation more easily than many.
My family is luckily safe in their various home locales. I am trying my best to treat sheltering in place as a "home residency" of sorts during which I give myself ample to time to more deeply consider both the upcoming works I had been rehearsing (including New York premières of my own queer versions of Les Sylphides and The Afternoon of a Faun for the Pride Festival at The Joyce Theater) and the broader vision I've had for quite some time of creating a six part dance opera inspired by Insular Celtic mythology.
While the dancer in me cooped up in my apartment struggles like a wild beast in captivity, the creator in me is in awe of the incredible chance this pandemic has given us to reconsider and assess the functionality of longstanding societal and cultural structures that the human race has built globally.
The Dance Enthusiast: How are you communicating with friends /family and those not in your home?
Immediate communication with my loved ones takes place mainly via Zoom sessions, text messages, and phone calls, of course, but I have been noticing that the enforced home sheltering phenomenon has plunged us into a strangely invasive state of instant availability. Even our relationship to time has been drastically altered.
I've noticed that this has rekindled in some a desire to return to former methods of communication in which the elements of surprise and lingering mystery still dwell. I've found myself nostalgically writing more handwritten letters.
The Dance Enthusiast: What are you doing about "moving" and "nutrition"? How do you stay in physical, mental, spiritual shape?
I've been keeping up my core strengthening exercises as well as enjoying the online Cunningham technique warm-ups that the Merce Cunningham Trust has been freely providing. It's been a sentimental journey back to my roots, as I started my dance career here in New York City on scholarship at the Merce Cunningham Dance Studio during my last year of college.
I do enjoy cooking, and I've been devising some delicious soup recipes that use fresh vegetables sooner rather than later and can be frozen.
Keeping in touch with my closest friends and kindred spirits out there has been food for the soul.
The Dance Enthusiast:  What keeps your spirit up right now?
As Joni Mitchell sang: "You don't know what you've got 'till it's gone." As we find ourselves suddenly bereft of live collective cultural experiences, there is an outcry for them.
With the incredible outpouring of art, music, and dance being made available online to answer that call it is clear to me just how much we've always needed them. This global sharing of cultural phenomena that go back hundreds and thousands of years (and even to our very origins as a species) is both heartening and inspiring.
The Dance Enthusiast:  What would you like to say to your colleagues, your audiences,  and our readers?
If you are a fellow maker, keep planning ahead and dreaming up new work. Whether you are a patron, a seasoned aficionado, or new audience member, keep your interest and support of the arts alive and strong. Listen to the planet and to one other. Respond. Act. Allow yourself to adapt and actively participate in this rare chance for collective evolution.