Contribute
Your support helps us cover dance in New York City and beyond! Donate now.
The Dance Enthusiast's Enthusiastic Events! 
Generously sponsored by:
The Mertz Gilmore Foundation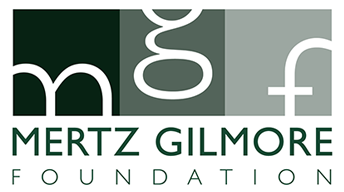 Enthusiastic Events! are made possible in part with public funds from Creative Engagement, supported by the New York City Department of Cultural Affairs in partnership with the City Council and the New York State Council on the Arts with the support of Governor Andrew Cuomo and administered by Lower Manhattan Cultural Council. LMCC.netLower Manhattan Cultural Council empowers artists by providing them with networks, resources, and support, to create vibrant, sustainable communities in Lower Manhattan and beyond.
---
After three successful Enthusiastic Events! in which we celebrated the relationship of dance to other important fields - first, to the world of design and fashion; secondly, to the world of empowering thought and action; and, thirdly to the world of visual art  - we are thrilled to take on Dance: Broadway Stage and Screen on April 12, 2016, save the date!  And ...You are in for a treat.
For more information about Dance: Broadway Stage and Screen on April 12, 2016 click here.!
---
What Is An Enthusiastic Event!?
We asked the question, "How do dance lovers (whether newbies or aficionados) find the time to attend a performance, get together with friends, enjoy food and drinks, and, simultaneously gain a deeper (and unforgettable) understanding of what they saw -- all in one evening?"
We answered the question by creating Enthusiastic Events!
Enthusiastic Events! Unforgettable, Up Close, Artistic Experiences
Enthusiastic Events! provide unforgettable experiences by inviting artists and prime movers from related fields to the same party. A cross between a salon performance, panel discussion, and a gathering at your best friend's home, the masters formally share their history, creations, ideas, and methods, with our audience, and then all are welcomed to converse and mingle over delicious snacks. Our emphasis is to help people feel "at home" with dance; to illustrate dances connection to the larger world, and to cultivate audiences for dance by offering them insider experiences with the form.
PeiJu Chien-Pott, Principal Dancer with The Martha Graham Dance Company, performs excerpts from "Cave of the Heart" for the Enthusiastic Events! audience.
What People Are Saying About Enthusiastic Events!
"It has been my pleasure to attend two dance events put on by The Dance Enthusiast. These events are in my opinion, amazing personal experiences that are some of the most memorable that I have had in the dance world. The Events have allowed me to be in a close and intimate proximity to very fine dance performances. This intimacy allows for a personal visceral connection that is not possible sitting in an auditorium. In addition, I have found the discussions afterward both enjoyable and informative. As someone with no personal dance experience, much of what happens on the dance stage is new and unfamiliar. I find it interesting to hear from the dancers and choreographers about various elements involved in the performance. I find that my overall appreciation of dance has been greatly enhanced by the Dance Events." Gene Faba, Audience Member.
"Thank you so much...for the invitation to participate in what was a fantastic event. I'm still buzzing from it, and I hope you are too. I'm so impressed with the evening in every way, and your masterful weaving of themes and topics made for scintillating conversation. I can't wait to attend (as an audience member) the next series of events! What a great concept." David Leventhal,Program Director, Dance for PD®, Mark Morris Dance Group
"Christine, the event was truly spectacular. It's quite a testament to your talent as curator of the panel that things became even MORE interesting after the dance portion was over. From a dance lover, that's really saying something." Craig Badinger: Director of Development at MGDC.

---
---
---
Please Enjoy A SlideShow from Our Previous, Sold Out Enthusiastic Events! ( all event photos by Ben Gabbe of the Gabbe Group)
Dance & Fashion!: Dance & Fashion's Special Guests were: The Martha Graham Dance Company; Janet Eilber, artistic director of MGDC; Valerie Steele, the curator and director of the Museum at FIT; and Reid Barthelme, sought after dance and fashion designer.
Dance As Empowerment!:Dance As Empowerment's Special Guests were: Lucija Stojevic, director of the film, "La Chana"; David Leventhal, Director of Dance for (Parkinson's) PD (r); whose work was featured in Dave Iverson's film "Capturing Grace"  and Flamenco artists, Sonia Olla and El Bola.
Dance Art Fusion Family Party!: Dance Art Fusion Family Party's Special Guests were: Hu Bing, a visual artist who is known for  transforming the oppression she experienced during China's Cultural Revolution into ethereal art; Chrybabie Cozy, a Harlem, NYC entertainer and founder of the LiteFeet Nation --a hub to the new direction of Hip-Hop; The Brooklyn Ballet, who reflects a multi-disciplinary and multi-cultural approach to ballet with its artistic director Lynn Parkerson; as well as Cheryl McGinnis, art dealer and curator, who advocates for arts accessiblity to the public.
For a synopsis of each Enthusiastic Event! Click Here or Scroll Beyond the Slide Show.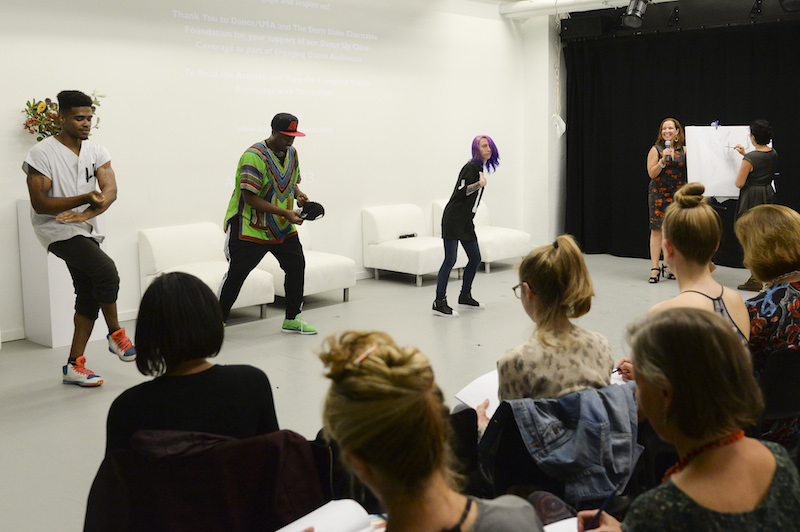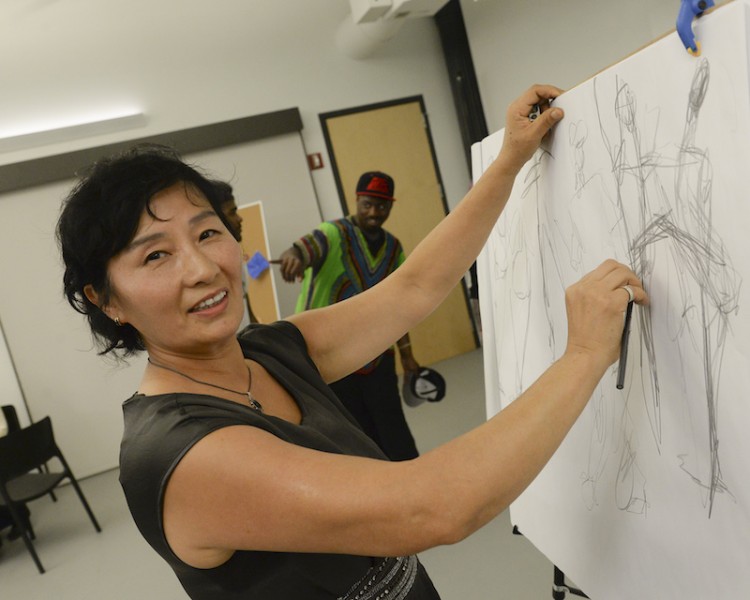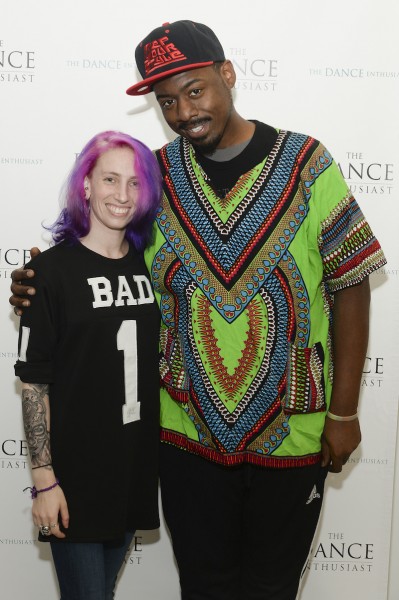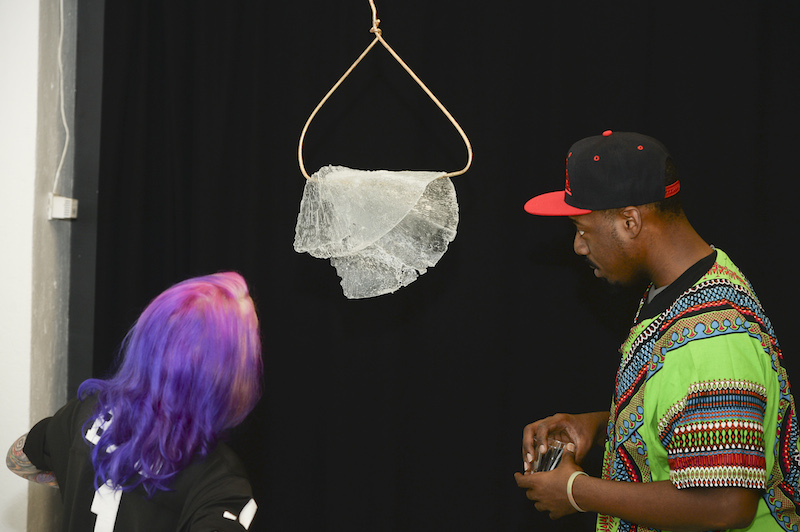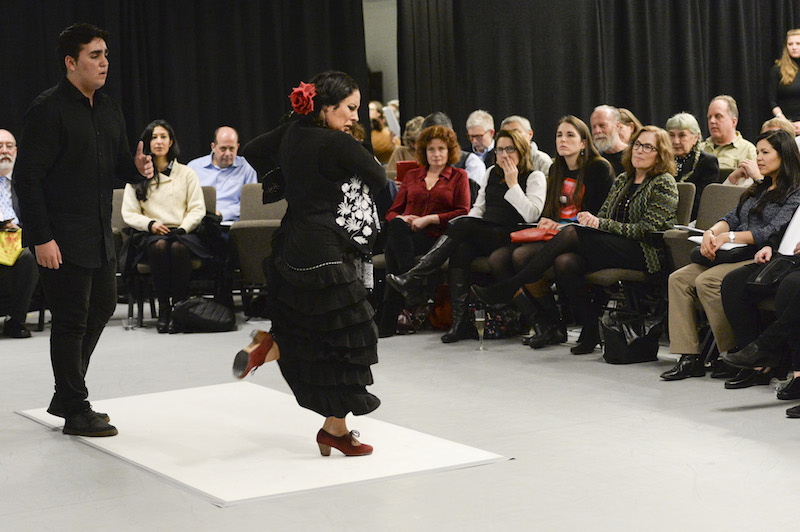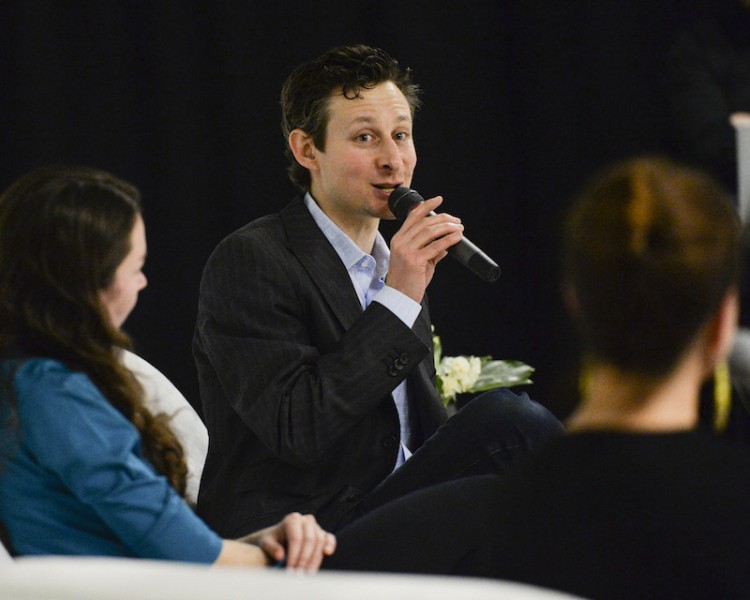 Dance & Fashion, a synopsis: After an intimate performance of the MGDC classics, Appalachian Spring, Lamentation and excerpts from Cave of the Heart, performed by the Martha Graham Dance Company, the discussion —researched and curated by editor-in-chief, Christine Jowers— pulled together shared themes and practices of the three guests, creating a rich, lively conversation among the artists, guests, and audience. Some topics of interest were the importance of fashion to Martha Graham and her concept of the body; how fashion and dance have inspired each other, and what real people's clothes borrow from dance costumes/and vice-versa, as well as the similarities and differences in the creative processes of dance-makers, designers, and a fashion curator. Chef Rodney Brown provided a sleek menu of appetizers and desserts, inspired by the theme.
Dance As Empowerment, a synopsis: After a rousing performance of Flamenco dance and song, the discussion centered on how dance creates empowering communities whether they be communities of people with a debilitating disease uniting over "finally" being able to move and feel good about themselves again, or the Spanish gypsy community for which dance and song is as essential as eating and breathing. We also discussed the healing power of dance, how dance is not simply for professionals but is a practice that helps people feel whole and create meaning for themselves throughout their lives. Chef Robert Surles, created the menu for the evening which included many mediterranean tidbits, a salute to Spain.
Dance Art Fusion Family Party, a synopsis: This festive event combined a meeting of the visual and dance arts with a celebration of The Dance Enthusiast's 8th Birthday. Performances by Chrybaby Cozie and his LiteFeet Crew introduced the audience to the LiteFeet Hip Hop dance movement. Chrybaby, one of  the prominent leaders of the LiteFeet Nation, revealed the elegant, speedy, and precise foot and hand work of Litefeet that differentiates it from earlier styles of Hip Hop dance. He spoke of the origins of LiteFeet coming from distinct moves of every day people at parties. Also performing were members of the Brooklyn Ballet, a company known for fusing Hip Hop, computer technology, and graffiti art with traditional ballet. A pas de deux from the Brooklyn Ballet's Nutcracker in which a classical ballerina donned in a graffiti tutu was partnered by a pop-locking dancer, whose every move was illuminated by LED lights, was a highlight. Hu Bing, a Chinese visual artist, known for creating magical intstallations out of debris and broken glass, led the audiences in creating line drawings of the dancers' movement. Our discussion included the performing artists and art curator, Cheryl McGinnis as well as, artistic director of the Brooklyn Ballet, Lynn Parkerson. Themes focused on were: Our artists and their origins : (Chrybaby starting in Harlem and Hu Bing, living through the Cultural Revolution in China and immigrating to the USA) as well as the roots of art in our everyday experience. We discussed the common elements in dance and visual art: line, shape, space, even movement, and spoke of the necessity to keep dance and visual art accessible to the public through education. We spoke of fusion as part of our daily life, and how bringing newer traditions together with older ones enlivens both people and art forms. Birthday Cake and champagne were on the party menu and as a special birthday party activity, guest artist Chelsea Hynrick Browne, involved the audience in making small works of art (snowflakes)to take home.
---