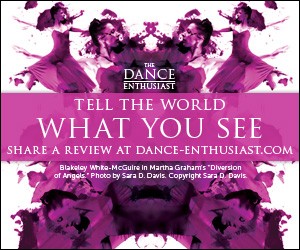 More Audience Reviews
AUDIENCE REVIEW: A Dance Garden Sprouts in Chelsea with Christopher "Unpezverde" Núñez
Company:
Christopher "Unpezverde" Núñez and Dancers
Performance Date:
April 23, 2019
 A garden in the shape of dreams. Un jardín en forma de sueños 
commissioned by The Kitchen in NYC and developed during the 2019 DAP (Dance and Process) Series.
Choreographer: Christopher "Unpezverde" Núñez
Performers: Christopher Núñez, Butch Merigoni, Vanessa Vargas, Mario Galeano, and Arantxa Araujo
Costume/Props designer: Branden C. Wallace
---
We enter the theater @the kitchen after an intermission long enough to cleanse the palette after the tedious navel-gazing piece that has opened the evening of new works --
It is immediately recognizable that we are in the presence of a seasoned and savvy performance-maker.  
Areas of the stage are set up as islands where actions will take place later on.  Scenic and costume elements are arranged in a fashion that we will only understand later.  A blue cloth draped across a horizontal pipe; a pile-up of artificial grass;  cone-shaped hat and mask made of the grass material. 
Stitching the piece together is a spare narration that clues us into the important milestones of the scenography -- memories of a grandparent's beautiful garden and an earthquake that destroys it;  experimentation with sex including a reference to incest (father to son), a deep and important friendship, and more.
Photo by Paula Court
Matisse's masterpiece, The Joy of Life, is referenced as vignettes and actions take place in the distinct areas of the stage.  Never is the stage swept in overall lighting nor does the ensemble come together in unison movement. Special pools and rays of light point the eye in a particular direction. Nuñez' high intelligence and research in the areas of 20th and early 21st Century art and performance inform his oeuvre of which this is by far the most complex and innovative to date.
For 5 minutes or more, two dancers hold a folded cloth - a sacrament - dressed in stylish silken pyjamas over nothing as the audience returns to the auditorium.  We have ample time to observe this most elegant Pierrot and Pierrette - he with a shock of red curls sprouting out of his natural black hair; strong features as if drawn in pen and ink;  she with platinum boy-cut hair and a mignon face - both with compelling but inscrutable expressions.  
A short but muscular man in red t-shirt and blue jeans enters the stage down right like a turtle, edging his way on the floor pushing an up-ended, bowl-shaped block of ice with his head.  With maximum effort, he navigates the front, side, back and side of the stage in this uncomfortable procession like a floor-bound Sisyphus.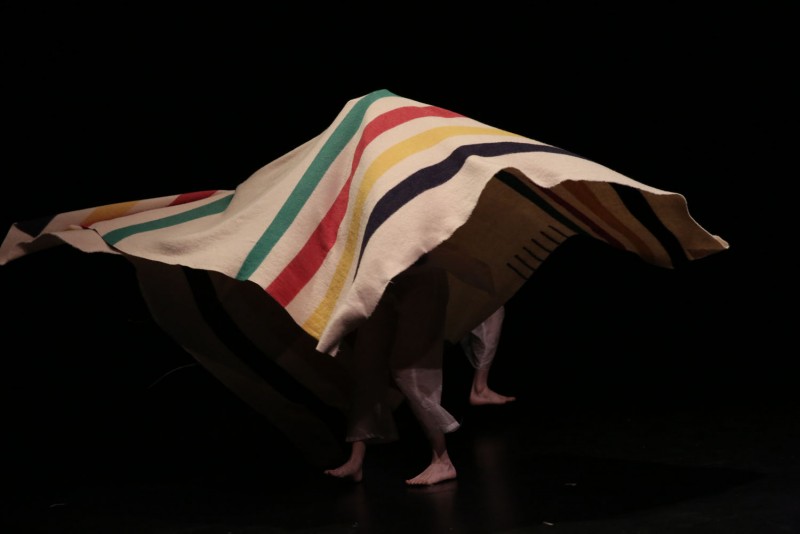 Photo Paula Court 
A dark-haired beauty is upstage in her own island and brings a dark theatricality to everything she does.  
Nuñez himself is the everyman in the piece.  The observer, the adult reminiscing about his past, dressed in a less stylized way than everyone else.
As the piece unfolds many memorable sequences punctuate the action.  The Hudson Bay Blanket becomes a presence onto itself, more than a prop.  At one point Pierrot twirls around like a banshee with the blanket flying out over his head with Pierrette carefully jumping in and replacing him under the spinning blanket. 
Earlier, Pierrot and Pierrette each face each other at the ends of the blanket, stretching it out like a tent.  What child has not made a fort out of a blanket or bedspread, under which fantasies transpire?
Periodically, short musical interludes amplify the childlike aspect of the piece.  Toy piano melodies are charming and light, glazing the work rather than propelling it.
The Kitchen audience is perhaps surprised by this lyrical piece.  The applause is polite but not rousing.  This austere avant-garde outpost and its habituees may not be well equipped to appreciate the painterly hand of a choreographer whose images are rich and extravagant, despite the fact that Nuñez' movement language is definitely of the current moment.
---
Jonathan Hollander, President and Artistic Director, Battery Dance Company & Dancing to Connect
jonathan@batterydance.org, www.batterydance.org
New York Office: +1-212-219-3910
Follow Battery Dance Company in New York and around the world on our FB page:
https://www.facebook.com/BatteryDanceCompany
Author:
Jonathan Hollander,President and Artistic Director, Battery Dance Company & Dancing to Connect
Website:
www.batterydance.org
Photo Credit:
photo by Paula Court