AUDIENCE REVIEW: 2019 DUMBO Dance Festival: Saturday 10/12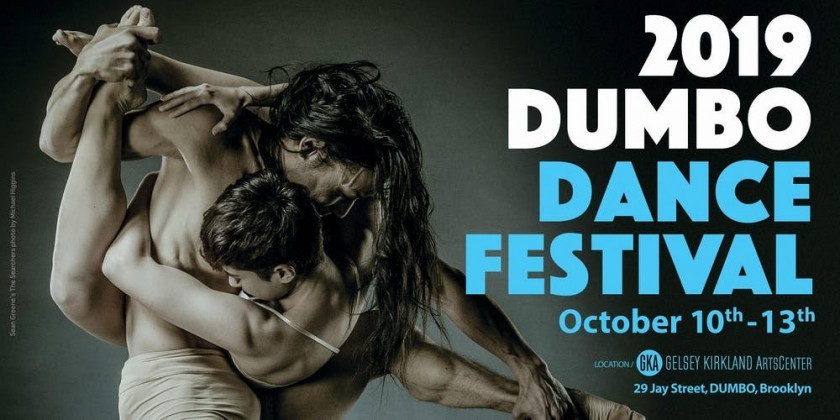 Company:
DUMBO Dance Festival 2019
Performance Date:
Saturday 10/12/19, 6:00PM
Freeform Review:

On Saturday evening at the Gelsey Kirkland Arts Center, the DUMBO Dance Festival continued its weekend-long marathon in presenting seventy dance groups from around the world.
The annual festival (now in its nineteenth year) is a valued opportunity for emerging choreographers to present excerpts of their work. I was fortunate to sample ten pieces by ten different groups.
Saturday's 6:00pm show opens and closes with three sets of student performers. The dancers in Dante Puleio's and Moriah Markowitz's pieces take the stage with gusto, demonstrating admirable commitment to their characters. However, the choreography of both pieces seems to obscure, rather than elevate, the potential of these young artists. Whereas Jesse Obremski, choreographing on Brigham Young University's dancers, offers some of the more exciting movement of the night, brilliantly executed by five tenured students whose careers certainly look promising.
The evening also features two solos. Collette Stewart crosses her arms and repeatedly grasps her face as she wrestles with the theme of vulnerability. Amos Pinhasi shamelessly rollicks about the stage to energetic accordion music, a performance reminiscent of a Saturday night spent dancing alone in one's room. Amidst the somewhat confused titters from the audience there were genuine smiles.
Charging through space in corporate attire are the dancers of Bodiography Contemporary Ballet. Five women, flowing through the balletic movement with dexterity, are repeatedly boxed in by the arrangement of chairs on stage, and often by angry gestures from each other. Ultimately the message of the piece feels stunted; I wanted more time with choreographer Maria Caruso's ideas.
Abigayle Cryderman's duet on two somber women holds potential but struggles to establish context between the dancers—which allows the poignant song by Richard Walters to overshadow their intimate gestures. The piece by Sheep Meadow Dance Theatre encounters a similar pitfall. Without context, the mysterious women draped in red cloth, who surround a distressed and apparently besieged soloist in white, vaguely perplex the audience.
The three women of Jen Stone and Megan Thompson Dance Project navigate a vast soundscape with thoughtful, snakelike movement. The dancers luxuriate in each placement of limb, inviting the audience to sink into their abstract world, until—with a gradual build—they tumble together and ricochet apart, as if at the mercy of some great magnetic force.
The highlight of the night belongs to Lin Jiaxi Dance Theater, as Park YoungDae and Lin JiaXi seize the stage with an eerie, inhuman quality magnified by their Japanese masks. They take turns manipulating and raging against each other with aggressive gesture and riveting, acrobatic movement. When the masks come off, we find ourselves staring at two people in the exact same throes of unhappiness—but the company, tragically, yields no comfort.
It is truly a gift to see so many emerging works on stage at one time, performed by an impressive number of talented dancers. Passion, and a great deal of hard work, makes a production like the DUMBO Dance Festival possible, and a sense of gratitude lingers with the audience as they leave the theater.
Author:
Elizabeth Shew