AUDIENCE REVIEW: Bijayini Satpathy in "Kalpana" during Drive East Festival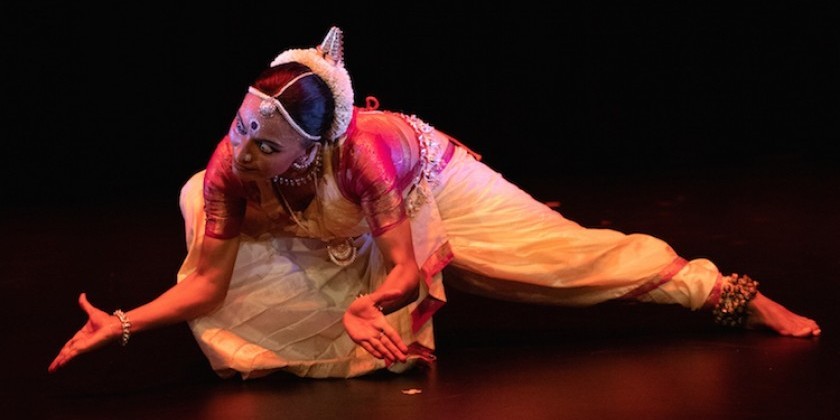 Company:
Bijayini Satpathy, Drive East Festival
Performance Date:
August 5th, 2019
Bijayini Satpathy, Drive East Festival
"Kalpana"
August 5, 2019 
Audience Review by Jonathan Hollander 
---
Americans are easily confused by Indian classical dance.  We don't understand the concept that a single country can boast of multiple dance styles that are not dialects or sub-forms of each other, but rather, completely unique forms in their movement vocabulary, music, costumes, stories et al. India has eight such officially recognized classical forms; and there are others campaigning for recognition.  It is fascinating to ponder why and how an ethnically, religious and culturally diverse region of the world came to dedicate so much creativity in this way.
Americans can also be confused by India's penchant for re-naming its cities and States, a practice that is set to expand in the near future.  The Eastern State of Odisha (formerly Orissa), has given birth to several dance forms, of which Orissi (formerly Odissi), is the only one thus far accepted as classical.  Its popularity in the U.S. is now approaching that of Bharatanatyam and Kathak, given a boost in the latter part of the 20th Century by the late Indrani Rehman who was the first professional dancer to learn it and present it internationally.  Indrani was a charismatic and generous woman, beauty queen, dancer, scholar and impresario who taught at NYU and Juilliard, and presented Indian dance programs at Asia Society, Hunter College Playhouse and elsewhere.
Nrityagram, a dance village in rural Karnataka, has become synonymous with Orissi in New York through the frequent performances of its leading dancers Bijayini Satpathy and Surupa Sen. 
The duo have carried on the legacy of the late actress/dancer Protima Bedi who established Nrityagram in 1990.  Bijayini's much anticipated New York performance was a kind of debutante affair – introducing her to the society of dance lovers as a soloist for the first time.
Holding the attention of a non-initiated audience for a solo performance is something that is a problem in the US and increasingly in India. The traditional Indian solo recital can often run to two hours or more; and given the short attention span of our rapid-paced times, this can strain patience.  However, one could not call the audience at the opening of the Drive East Festival at the ART Theater in Midtown West 'uninitiated'.  The familiar faces of dance critics, scholars, Indian dance performers, producers and ballet stars filled the ART theater to capacity – and the length was a reasonable 75 minutes. 
Time stood still as we witnessed a dancer at the top of her powers transform herself physically and metaphorically into an array of characters without the slightest hint of exaggeration or artifice.  Bijayini's technique and artistry fit her like a second skin. 
In storytelling aspects of the program, Bijayini became each character she portrayed, employing facial expression, body posture, dynamic and gesture all fused organically.  If that were all, it would have been a uniquely memorable performance.  However, it was the sinuous dancing, the execution of every turn, jump, sway, lilt, fall and recover as if she were born to do it, as if it were an inevitability, that rendered the program spiritual, ecstatic.  In one remarkable moment, she rose in relevé on a single leg, extending the other on an upward diagonal with eyes, chin and chest lifted high; and then, without pause, furled the extended leg inward, bent her supporting leg and flowed like lava to the floor. Any trained dancer knows how hard this is to accomplish.  And how much harder to do so without the appearance of any effort whatsoever.  The evening was filled with such extraordinary moments that spoke to a spirituality through dance, a concept that is shared by India's greatest musicians as well.  Communing with higher powers, paying obeisance to one's parents, one's guru, and one's god, while recognizing one's smallness – this is part of the Indian performer's mantra.
When Bijayini came out into the lobby after the performance, she appeared petite, almost childlike, and most definitely humble.  Having left the sacred heights of her dance on the stage, she greeted her fans with down-to-earth warmth, humor and affection.
Author:
Jonathan Hollander
Website:
www.batterydance.org
Photo Credit:
Anubhava