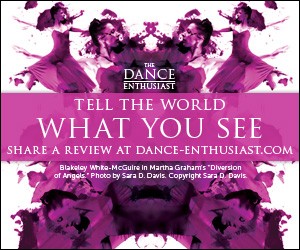 More Audience Reviews
AUDIENCE REVIEW: AZOTH Dance Theatre at New York City Center
Company:
AZOTH Dance Theatre
Performance Date:
Sunday May 28th, 2017
Freeform Review:
Last Sunday May 28th, AZOTH Dance Theatre was performing in the studios of City Center and Memorial weekend was a good occasion to have some free time to go see art.

When you go see a company perform for the first time, you never really know what to expect. Especially when it is the first performance of the company in New York, and although the company has performed internationally, the name was not familiar.

The performance started with a solo performed by Mr Breton, the choreographer of the company. Mr Breton was dancing blindfolded, which was quite innovative and intriguing to watch, and his sightless eyes did not prevent his performance from being powerful and exquisite. After removing the blindfold off his eyes, Mr Breton kept dancing on a beautiful and emotional music by Ezio Bosso - a solo that perfectly matched the music. Later in the show, this same solo was turned into a group piece, which brought a whole new atmosphere and perspective to the piece and its story, with interesting shapes and patterns. 

One of the technical highlights of the evening was Ms Kamei's performance in the piece « Connections ». Ms Kamei performed a solo and then came back for a duet with Jonathan Breton. Very emotional and evocative. Ms Kamei is an outstanding dancer, with great technique and lines, and she is very precise.

After this whirlpool of emotions and patterns, Mr Balmain performed an intimate solo, draped in a long orange sheet that enabled the audience to appreciate the true beauty of the body of a dancer. Watching Mr Balmain perform was a mesmerizing experience. 

The performance then picked up with another group piece entitled « Next », performed on a catchy music. Mr Santos appeared to be a great dance partner, lifting the female dancers in the air one by one, entertaining the audience with some acrobatic and exciting partnering.
Ms Bay then performed a solo that was more deeply rooted in the American modern dance tradition, and it was interesting to see that a dancer and a dance company can perform both classical, contemporary and American modern dance pieces. This piece, « Carcan », clearly traces its lineage to Martha Graham.

Mr Breton and Mr Balmain then both came back on stage, with an athletic and powerful yet emotional duet : « Black Sand ». A piece that they choreographed together. This piece was one of the choreographic highlights of the evening, and the sensuality, technique, and interpretation of the dancers were splendid.

The evening ended with the longest piece of the program, « Madeleine ». A 30-minute piece inspired by the life of the French great grand mother of the choreographer. This piece showcased almost all the dancers of the company, including Ms Walden, Ms Yamaguchi, Ms Takahashi, and Mr Cataldo. The lead role was performed by the director of the company, Ms Tant. This was the only piece Ms Tant performed in, but her performance was quite memorable. She was wearing a stunning wedding gown, and no bride wearing such an enormous - and certainly heavy - dress ever moved with such ease and grace. Ms Tant first performed an interesting and minimalist solo, with all the female dancers around her. Ms Takahashi then performed a solo on the voice of the original « Madeleine ». This solo, in a very simple costume, was full of emotion, beauty, and simplicity and Ms Takahashi performance was remarkable. Ms Tant, still wearing her gown, then performed a duet with Mr Breton, in which she gets rid of the wedding dress and all of a sudden, all the other dancers run on stage, with a myriad of colors… This piece was a real inspiration, full of emotions and high energy. Magnificent !
The audience was screaming with excitement and was loudly clapping after each piece. Mr Breton's choreography is very musical, and movement and music perfectly merge together.

It was very refreshing to see dancers that are both technical and emotionally connected. The performance was followed by a Q&A, and many audience members are already wondering when will be the next performance. Discovering AZOTH Dance Theatre was a beautiful surprise, and its energetic, emotional, and inspirational repertoire needs to be performed for a great many more people!