AUDIENCE REVIEW: Alison Cook Beatty Dance Explores the Narrative Side of Modern Dance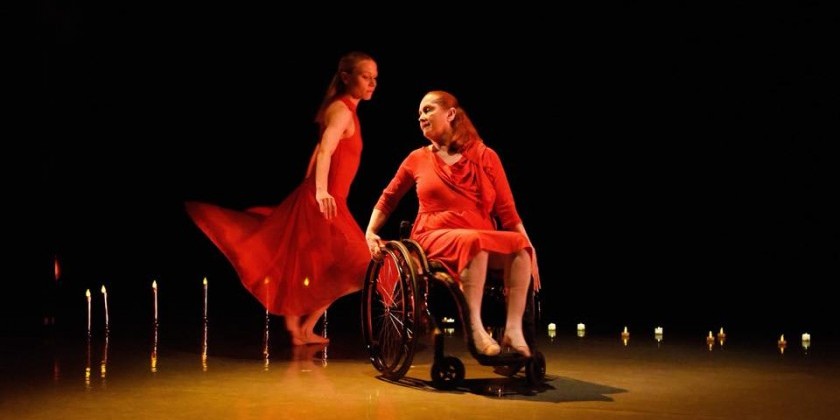 Company:
Alison Cook Beatty Dance
Performance Date:
April 8, 2018
Freeform Review:
Appropriately titled "Moving Stories," Alison Cook Beatty Dance's recent performance at the Salvatore Capezio Theater focused on how dance can express narratives drawn from literature, film, painting, and personal experience. Featuring both new works and re-stagings of Beatty's early choreography, the evening also told a story of the Beatty's journey as a choreographer so far, as she develops, expands, tweaks her approach to storytelling and theatrical expression. 

First on the program was "Humanitas," a display of modern dance classicism based on two Botticelli paintings of Greek mythology. Beatty's background as a dancer in Paul Taylor's company was clear. The strongly-executed movement showcased the signature lines, sweeping S-curves of the arms and back, hip turns, and powerful jumps, characteristic of Taylor's technique. The musicality was direct and precisely planned--with nearly every musical gesture matched by a dancer's step.

Most notably, Beatty has picked up Taylor's sense of unmuted theatricality. The dancers, each representing a mythical figure, expressed their characters loudly, colorfully, and literally with their costumes, pantomimic gestures, and exaggerated facial expressions, without the layer of cool irony characteristic of much contemporary performance. 

However, as she mentioned in a post-performance conversation, Beatty has been pushing herself find her own choreographic voice apart from Taylor's undeniable influence. This exploration includes letting go of precise planning in the early stages of creation, generating movement using impulse choices and structured improvisational games posed to the dancers, as she did with "The Emotions Project."

In this piece, originating from a Facebook discussion about the most vulnerable emotion, we see a series of emotionally charged and narratively independent scenes, including public shaming, ostracism, unrequited love, infidelity, and anxiety attacks, all of which smoothly blended into one another. Perhaps due to the dancer's input, this work featured a broader movement vocabulary, including some more pedestrian running, flinging, and throwing, as well as plenty of technical movement and partnering.

The dancers leapt into each world with intensity and abandon, showing each emotion at at its highest possible volume. Though the heightened dramaticism made the intention of each section clear, I sometimes wished to see quieter, subtler, mixed states included, for a fuller range of emotional expression.

I found some of that less-glossy expression I craved in "The Uninvited Guest," a short, simple, and uncomfortable piece adapted from a group composition class project in Beatty's student years.

The dancers performed simple repetitive movements--flopping, jerking, sliding, spinning--that slowly grew and developed over the course of the piece, most of them appearing undead or robotic. Dorrie Silver seemed to be the only human in this otherworldly room--and a relatably anxious one--who chewed gum and moves in tiny trembling steps as she observed her surroundings. Within her restrained movement, Silver built her nervous tension in a way that was both funny and unsettling, until the unresolved ending.

Not as complex as Beatty's more recent works, but effective in it's own right, "The Uninvited Guest," suggested that the seeds of Beatty's developing personal voice might be found in her pre-Taylor experiments.

"Touched by Fire" was another work with roots in Beatty's student years, now bridging into new territory. Originally a solo, the piece became a duet between Beatty and Kitty Lunn, founder of Infinity Dance Theater. As Lunn moves primarily in a wheelchair (she also walks with support and performs choreography on the floor), the duet was intended as an exploration of how two different bodies interpret similar movement.

Given the dance's origins as a solo, it was noticeable that the movement was primarily designed for Beatty's body, then adjusted for Lunn. As the dancers, cross paths Lunn often mirrored the sweeping arm gestures of Beatty's luscious phrasework, which also included extensions, turns, and waltzing footwork.

There were fewer moments that centered upon the unique capacities of a dancer on wheels, though these exceptions stood out. In one lovely bit of partnering, the two dancers grabbed arms, Beatty spinning Lunn and her chair in a whirl of momentum, the chair fully utilized as a tool for movement rather than a limitation.

The piece ended with Lunn's both effortful and graceful journey to standing. I only wished to have first seen a fuller exploration of the ways she can move while seated.

After this visit Beatty's choreographic past, the evening concluded with the newest work "Whale." The dance loosely follows the plot of Niki Caro's film The Whale Rider, about a Maori girl who defies family and gender expectations to become leader of her tribe. In the background is Sang-Hyun Chung's colorful, pixelated, surreal painting of a whale in the sky, accentuating the emphasis on dreams in the narrative.

The young heroine was played by Fiona Oba, who was often set apart from the ensemble of villagers' strong unison sections. Not shying away from the literal, the piece also included whales portrayed by two dancers covered in a blue sheet, that Oba would mount and ride. With such a reliance on props, the storytelling risked coming off as corny or forced. Yet Oba's captivating and genuine performance prevented me from seeing it that way.

From the opening sequence of gestures, in which she seemed to alternate between a pantomime of her dreams, and a nervous stroking of her hair, Oba captured a delicate tension between youthful wonder, strong convictions, and fear of following them. Throughout the work, Oba's light and effortless technicality as a dancer was matched by an equally sublime and unforced acting quality that made me care about her story, no matter how it was being told.
TOUCHED BY FIRE. Photography by Russell Haydn.
Author:
Nadia Khayrallah
Website:
www.nadiak.tk
Photo Credit:
Russell Haydn