AUDIENCE REVIEW: Alison Cook Beatty Dance presents ARTISTS IN MOTION – 7th New York City Fall Season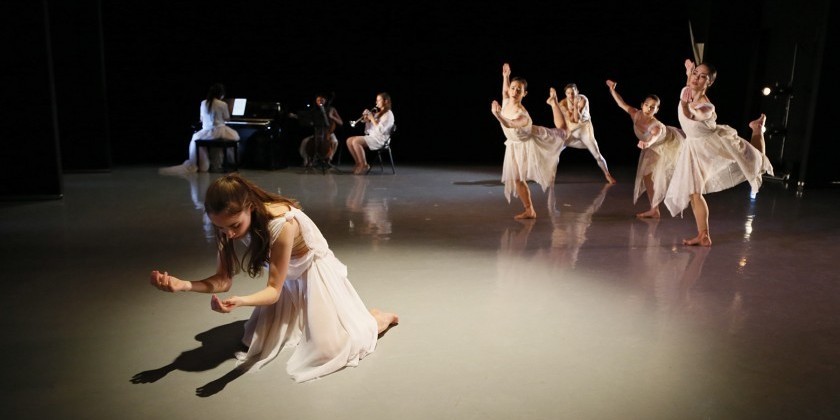 Company:
Alison Cook Beatty Dance
Performance Date:
Nov 9-10, 2019
Freeform Review:

Alison Cook Beatty Dance's 7th New York City Fall Season, ARTISTS IN MOTION, was a testament to how far ACB Dance has grown as a dance company. From humble beginnings in Milford, CT, artistic director Alison Cook Beatty has established herself such that she now works with a focus on giving platform to other companies as well as her own. Alison believes in the importance of other companies showing their work, and keeping dance accessible. In addition to presenting seven Alison Cook Beatty Dance repertories, ARTISTS IN MOTION also featured works by Igal Perry, Alessandra Corona, Chris Ferris, Natalie Flynn, Junichi Fukuda, Anastasia Ignatova, Celeste Lanuza, Ariel Rivka, Laura Katz Rizzo, Marlene Skog, and Ayako Takahashi.
Alison Cook Beatty Dance repertories featured included:
Saturday (Program B)
SEELE (2019)
BANSHEE'S LAMENTATION (2013)
MESSAGES IN TIME (2019) [World Premiere]
Sunday (Program A)
SONG OF THUNDER (2019) [World Premiere]
BEHIND THE CURVE (2017)
LIFELINE (2001)
WHALE (2018)
***
Program B
SEELE is a haunting and elegant trio that examines the human psyche. This was my second time viewing SEELE, and it was as abstract and dark as ever. The eerie mood was set thanks to the musical score by Ingram Marshall and Der Klang der Offenbarung des Göttlichn, the lighting, and the women's stunning black dresses, courtesy of Materials For The Arts and Hearts To Toes. The trio's interactions amongst each another especially created SEELE's atmosphere. Danced by Sasha Rydlizky, Vera Paganin, and Richard Sayama, Sasha and Vera acted as dark angels who flank Richard. Constantly following him and initiating movement, they seemed to be driving him mad - motivating him to speak out. However, the trio was littered with moments where Richard voluntarily approached and danced with them, though I was unsure whether or not the women supported Richard in a spiritual context. Together, they generated statuesque images; and they would promptly pull away from one another. The ladies whispered to Richard throughout the piece, which was subtle. Richard amplified this idea by speaking out in Japanese, Chinese, and Spanish. Soon after, Vera spoke to Richard in Italian, and Sasha spoke to Richard in Russian, as they hovered over his shoulders. What made SEELE convincing to me was how Sasha, Vera and Richard approached and departed from one another. Sometimes the audience saw a sustained adagio, and other times there were faster movements, such as an energetic floor sequence or a series of large jumps. Each moment the trio connected and separated, there was an honest moment of tension. They held on to their image a fraction of a second longer than I expected them to, which was satisfying.
BANSHEE'S LAMENTATION is a stunning ballet of about twenty-five minutes. Through contractions, cupped hands, knee bourrés, jetés, turns and triplets, the physicality of this dance sparkled with classicism (comparable to a Graham masterwork) – and even more stunning was how the dancers portrayed their characters. BANSHEE'S LAMENTATION had a beautiful balance between chorus, characters, and live music (played by Kate Amrine [trumpet], Jessica Wang [cello], and Eunbi Kim [piano]). I appreciated that The Three Sisters chorus was composed of three women, just like the musicians – I felt that all six women were united in the same story. I enjoyed the narrative aspect of the dance, though it was somber in subject matter. I saw Sasha as the "Taken Sister" dance beautifully as her character approached her inevitable death. She was accompanied by Timothy Ward as "The Banshee," who led her into the next life. Tim's dancing shone in BANSHEE'S LAMENTATION. All of his entrances were grand and bold – he floated through his movements with ease, sustaining the movements until the very last second of his musical counts, despite the technical proficiency required (i.e. penchés, and multiple pirouettes in attitude position). Sasha's three sisters were danced by Carolina Rivera, Vera Paganin and Fiona Oba, who were also extremely strong. One memorable movement from the chorus was a pirouette (consisting of at least two turns) that had approximately four whipping, wild arm changes – it happened so fast that I don't even know what happened! The chorus sisters desperately wanted Sasha to stay with them – and though their movements were very balletic and technical, their emotional intentions were clear. They moved together as a unit, mostly maintaining a triangular formation on stage when they were not surrounding Sasha. My heart broke when Fiona sunk to the floor, despondent, after Sasha departed. Fiona was truly sobbing, and it was at that moment that the heaviness of the story hit me as an observer. Sasha's character – so graceful and lithe – seemed accepting of her fate, and her departure from the stage with Tim was satisfying due to her character's bravery. The ballet concluded with Vera, Carolina and Fiona emphasizing the power of family support.
MESSAGES IN TIME, Alison Cook-Beatty's newest group work, offered another narrative that emphasized family, and community, support. The dance questioned how family functions in the face of fear. The piece had emotions running as fast as the dancers moved – with emotions ranging between hope, desperation, anger, fear, and love. This was achieved by the dancers, and the dance's stunning music (Preludes of Shostakovich and Auerbach, recorded for Alison Cook Beatty Dance by Shem Guibbory, Violin, and Susan Sobolewski, Piano). The audience was introduced to a mother and young son (Carolina and Niccolò Orsolani), a married couple (Tim and Sasha), and a small-town official (Richard), who were dancing together at a party. The group swirled around each other, the men executed smooth lifting sequences with Sasha and Carolina, and partners exchanged; all five characters appeared happy in their celebration. Tensions rose when both Niccolò and Tim challenged Richard's authority, after Richard attempted to dance with Carolina. Between militant walks, expansive dance phrases, and a harsh energy, Richard's character became fixated on punishing the other four dancers. Niccolò and Carolina shared a tender mother/son duet – the youth in Niccolò's character stood out, as his movements were playful, boundless, and believable. Soon after this duet, Richard appeared, and left them with a hard warning. And later, after an equally tender dance between Sasha and Tim, Tim was handed sheet of paper ordering him to report to an educational camp for his disrespect. While Richard's character questioned his morals, the four other characters were left to question how to move forward together. It was intriguing to me how the two couples handled their oppression. Carolina and Niccolò were honest with one another – Carolina reprimanded Niccolò for being bold and rash against Richard, and they accepted the severity. Tim, meanwhile, wanted to conceal his truth that he was being sent away, and he chose to keep Sasha in the dark for as long as possible. This demonstrates that every family deals with fear differently, but that the gravity of any situation is inevitable. The overall intensity of the piece was amplified by the dancers' red costumes, and consistent red stage lighting.
***
Program A
SONG OF THUNDER - a world premiere duet – was danced by Alison Cook-Beatty and Fiona Oba. The dance, while it had moments of ease, roared and ripped through the space. Alison and Fiona's movements were large, dripping with vigor, but clear. I noticed a recurring call and response pattern between the two women, contrasted with moments of touch and breath – demonstrating that even storms can breathe. The dance was paired with an original composition by Stanislav Fridman, which served as a huge driving force behind Alison and Fiona's movements. If the score's tempo increased, so would the vigor of their dancing. The stage lighting shifted to red when the energy heightened, and melted back to gray as the dancers settled. An original poem by Alison-Cook Beatty also layered against the music, and it described both nature (Raindrops falling…thunder rolling in…Lightning FLASHES) and human experience (True colors shine on...to love and be loved…stay present…just put it out there don't judge it). Metaphorically, I felt that Stanislav's music represented the thunderstorm, and the dancers conveyed human experience. Though there were technically challenging jumps, leaps and patterns in the duet, nothing felt mechanical or closed off. This intense dance was a forceful and gorgeous opening to Program A.
Alison's 2017 group work BEHIND THE CURVE was – physically - the complete opposite of a curve. The four dancers – Carolina, Tim, Richard, and guest artist Irving Amigon – had such a directness in their energy that the entirety of the space appeared linear. Also contributing to this were four caged walls – which the dancers manipulated, and danced within – which created visible boxes and angles. I later learned that Carolina's character embodied being "behind the curve" in terms of where she stood in society, for she was unable to get ahead in her life – and societal norms (the cages) were being bent at her expense. The dance is extremely physical, exciting, and a marathon of a story. Though BEHIND THE CURVE is not the most narrative piece of Alison Cook-Beatty's, Carolina's character was still evidently struggling, and doing all she could to get ahead.
LIFELINE is one of my favorite duets in Alison Cook Beatty Dance's repertory. Though I've seen it danced live twice already, there is always a new discovery for me when watching the dance. This time, I saw Vera dance the female role for my first time, with Niccolò Orsolani. I loved seeing how they approached the movement together - they were wonderful. They danced with maturity and precision, as if they had been duet partners for many years. In their white costumes, they looked like angels against the cobalt stage lighting. While LIFELINE is a duet about love, and dependency on one another to be their best selves, I appreciated that Vera and Niccolò danced with a believable realness. They did not paint lust or false passion on their faces, but instead maintained a neutral calm.
WHALE is colorful in costume, choreography, and creation. Inspired by the New Zealand film The Whale Rider by Niki Caro and the paintings of Sang-Hyun Chung, I found it difficult to decide what to focus on. Fiona Oba's grace, the backdrops of Sang-Hyun Chung, and a mesh, whale figure (which was dancers crouching under a mesh material) created a startling opening image. With so many elements, it was loaded, but not too overloaded. Fiona Oba began the dance, seated, with rapidly repeating gestural material. She remains separate from the rest of the tribe (the entire Alison Cook Beatty Dance company) during the piece. They appear to be after her – perhaps hunting her - yet celebrating her brilliance. I noticed a tribal aspect to the dance. Most of the company was dressed alike, in orange pants and printed orange short sleeve shirts, and they danced with long staffs. They would clang the staffs on the floor to create sound. They also collided their staffs with each other's staffs - and it never appeared hostile, but part of a method. The dancers would also use the staff as leverage to leap high into the air, which was a beautiful contrast to Fiona's slower, sustained dancing. While SEELE began the program with a dark tone, WHALE concluded Alison Cook Beatty Dance's 7th New York season with vibrant colors and vibrant dancing.
Author:
Kristen Hedberg
Website:
kristenhedberg.org
Photo Credit:
Paul B. Goode