AUDIENCE REVIEW: Ashley Bouder Disappoints (again) at The Joyce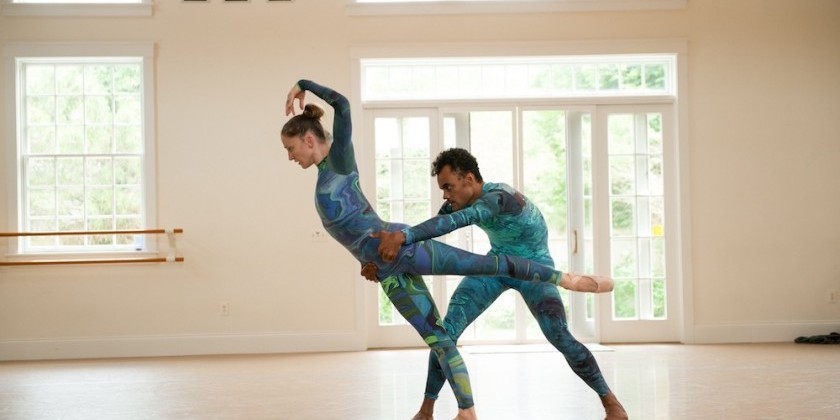 Company:
Ashley Bouder Project
Performance Date:
July 2 - 5, 2018
Freeform Review:
Ashley Bouder Dance Project at the Joyce Theater. July 2-5, 2018.
Artistic Director: Ashley Bouder
Choreographers: Ashley Bouder, Liz Gerring, Abdul Latif, Lauren Lovette Dancers: Devin Alberda, Ashley Bouder, India Bradley, Damien Johnson, Taylor Stanley, Claire Kretzschmar, Olivia MacKinnon, and Roman Mejia.
Ashley Bouder, star ballerina at New York City Ballet and public voice of feminism in the ballet world, recently produced her third year of the Ashley Bouder Project at the contemporary dance scene's coveted Joyce Theatre. The Joyce Theatre is a pivotal place for contemporary dance companies across the world, thus an audience expects the performances to reflect a high caliber of choreography and production.
I was excited to hear the lineup of choreographers picked by Bouder which ranged in style – Jazzharmonic, Abdul Latif, Lauren Lovette, Liz Gerring, Annabelle Lopez Ochoa, and Bouder herself. I was disappointed upon the end of the performance of the quality of creativity and direction of the production itself. A feeling I wasn't alone in, in comparison to her first year I didn't see much improvement from their inaugural season which these views I agreed with The Ashley Bouder Project Disappoints at the Joyce.
Fellow principal New York City Ballet dancer and new Virginia B Toulmin Grant recipient, Lauren Lovette, choreographed Red Spotted Purple as a solo for Bouder. She was costumed in a dress fit for a summer picnic and danced to a big-band score by Stephanie Ann Boyd. Bouder danced beautifully, as a principal dancer is expected, but the choreography lacked anything memorable or original. The choreography felt very forced and lacked intent. Lovette describes the solo piece as "an inner battle between a dancer's physical person and the music that driver her feet to dance", but neither of these concepts shined through in the three sections of the work. In her defense, I believe she has choreographed less than ten works, which shows. The work resembles much of a light amateur piece on a freshman collegiate level. The maturity in choreography and use of choreography devices were lacking, but the technical elements were executed by Bouder beautifully and left an overall light whispy feeling.
The evening hosted a dramatic introduction to one of the better aspects of the performance, The New York Jazzharmonic in a new work entitled Alas choreographed by Abdul Latif. But the mix of classical music, beat boxing, ballet and pop and lock inspired moves came off as a cheesy rendition of the popular movie Save the Last Dance with Julia Stiles and Sean Patrick. The Jazzharmonic performed a mix of Vivaldi and big-band jazz along the beat box percussive. The crowd loved it, as most of the audience members seemed to be New York City Ballet die hards and probably haven't been exposed to much other styles besides NYCB's collaboration with Lil Buck in JR's Les Bosquets, which even then was akward. Mixing street styles and ballet is rarely executed well in a fluid way. The piece if anything was entertaining and did spark some joy in me with catchy jazzy music with a delightful melody, but the beat box style scat came off as monotonous and I tended to tune it out. It would have been better to utilize this in a more textural way with the music. Thoughts include introducing it on its own and then combining the music and scat, as at first it sounded as if maybe they were accidentally playing a track over the live musicians. The movement itself was rather simple – a solo, to duet, to pas de trois, to two different sections using the full cast of six dancers - of course all NYCB dancers or SAB trained. The only memorable moment of the work was during the pas de trois of India Bradley, Devin Alberda, and Damien Johnson and all of the dancers cohesively finally made the music work and it clicked for me. Additionally, Olivia MacKinnon was also a nice memorable addition to the piece as she displayed grace and pizzazz in group sections that had the entire cast swirling around her to the beat of the orchestral and beat box scat.
Annabelle Lopez Ochoa's Symbiotic Twin was a commission by Bouder choreographed to a short cello piece by Kate Moore and played by Ashley Bathgate.  The costumes were full body unitards with a tie dye swirl effect designed by another NYCB affiliated artist Marc Happel. From a seasoned choreographer who has been choreographing around the world, I was expecting something more than it was. It was one of the better pieces of the evening in terms of line and creative movement, but I couldn't get past the tackiness of it all. The program was noted as "we're all dual creatures made of contrasting energies, such as male and female," and was danced by Bouder and Taylor Stanley. The concept wasn't fresh, the costumes were too styled as a competition dance, and the short timing of the work added to the feel of a duet at a dance competition versus a prestigious contemporary dance mecca in NYC. I would like to see this piece again perhaps with different styling and I could possibly change my mind.
In another pas de deux, Duet choreographed by Liz Gerring was performed by two males which was performed the year before with two females. The concept of changing roles was nice, but the piece itself seemed a bit bland.  Damien Johnson and Taylor Stanley are impeccable dancers but the repetitive choreography created a distance between the two dancers on stage. They seemed to freeze in various poses, extend their arms out in said pose, then move to the next pose – the entire piece. Gerring's work is celebrated and I have witnessed her rather clever works as they tend to be a mix of post modern and contemporary concepts, but this particular piece felt disconnected and jaunting like the year before. In contrast, how bad can a dance be if the dancers are executing it perfectly? Gerring's vision was seen, just not understood.
The Bouder choreographed work, In Pursuit of  was also a short coming for the evening. It was ok, just nothing worth seeing again. The dancing was flawless but needed some cleaning in terms of unity. Beautifully executed plain pirouettes, basic partnering, and a lively feel gave it a cheerful tone. Elegant 95 degree arabesques and perfect fifth positions were evident, but I came expecting more than just good dancers. The partner work and choreography hummed a familiar tune with any open Steps on Broadway class combination so it was entertaining but not riveting. The music had nuances I wish were explored, but Bouder as a choreographer doesn't have the experience in creating movement to reveal the musicality of the piece quite yet.
It isn't easy putting yourself on display in such a high limelight when you have an established name for yourself as a dancer, you are up for expectation and critique. I give her credit for putting it all on the line, and I do appreciate the push for female artist recognition on her part. I just don't think the right female artists were chosen for the mission at hand by The Joyce. I would have liked to have seen these resources given to other female artists who have been working in their said fields of choreography, Artistic Direction, and/or producing and have been waiting for their chance to bring their already fruitful brilliant ideas to a coveted stage versus taking a chance on a novice in all three aspects besides the actual dancing.
(These statements are gender neutral and apply to all choreographers and Artistic Directors) I do think these skills as a director and choreographer need to be developed in a more honest way amongst many of the world's choreographers who didn't have a star power ballet career behind them. That is where experience, ingenuity, your voice, and artistry is found and not just given a coveted platform to try it out for the first couple times.
It makes you question motives of these leading venues: are they interested in presenting true artistic revelations or more so in giving dancers with a name an opportunity to try something new for excuse my English, sh*ts and giggles?
Have they learned the tools needed to be presenting as a choreographer or director to be presenting on a stage of this caliber? Why didn't they need to go through what other choreographers and directors without the Principal dancer status go through in order to make it to this stage?
What if we flipped the script – giving recognized choreographers the chance to be thrown on to a Lincoln Center stage as Principal dancer role in Romeo and Juliet, Swan Lake, or Nutcracker?
---
THE DANCE ENTHUSIAST DOES NOT EDIT AUDIENCE REVIEWS, BUT HERE WE WANTED TO INCLUDE WHAT OTHERS HAVE SAID ABOUT THE SHOW IF YOU ARE LOOKING FOR MORE THOUGHTS.  AS ALWAYS THE DANCE ENTHUSIAST WELCOMES YOU TO CONTRIBUTE YOUR REVIEW TO THE CONVERSATION! (JUST DO IT )
Review of Ashley Bouder Project on CriticalDance
https://criticaldance.org/first_impression/ashley-bouder-project-mission-accomplished/
Review of Ashley Bouder Project  on Broadway World
https://www.broadwayworld.com/bwwdance/article/BWW-Dance-Review-Ashley-Bouder-Project-July-5-2018-20180711
Review of Ashley Bouder Project on Stage Biz
http://stagebiz.com/dance-the-joyce-ballet-festival/
Review of Ashley Bouder Project on Dancetabs
http://dancetabs.com/2018/07/ashley-bouder-project-red-spotted-purple-duet-alas-symbiotic-twin-in-pursuit-of-new-york/
Author:
James Martin
Photo Credit:
Paula Lobo