AUDIENCE REVIEW: "BAND with MMDC" by Mari Meade Dance Collective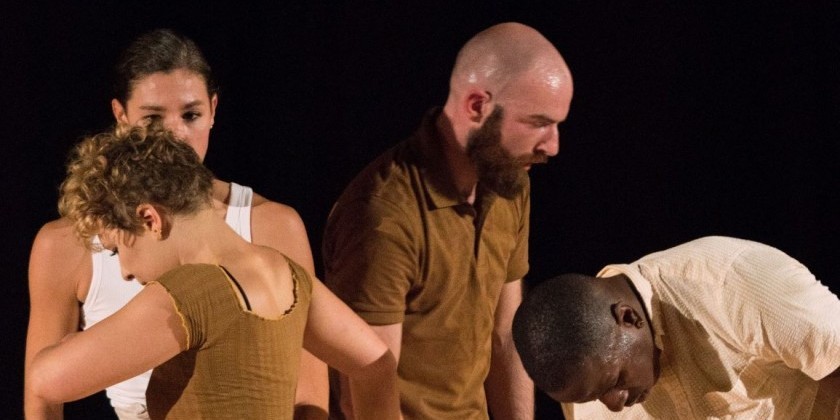 Company:
Mari Meade Dance Collective
Performance Date:
11/17/18
Freeform Review:
On Saturday night, the Mari Meade Dance Collective debuted snippets from a work in progress alongside a full-length piece—and ten other artists had the opportunity to show work with them.
Weeks ago, Artistic Director Mari Meade asked ten emerging choreographers—carefully curated through an application process—to "open" for her at Spoke the Hub.
This novel approach is familiar to concert-goers, who see one or several musical artists perform before a major headliner. But it's an unfamiliar form in concert dance. Unlike a split bill, the openers for BAND with MMDC were selected by Mari Meade, and not the venue.
Meade views this as an opportunity to showcase fellow choreographers and foster a sense of community.
I had the chance to see one of three unique shows, and the evening overwhelmed with talent. Highlights from the openers include Ainesh Madan, whose humorous solo is both riveting and poignant, and an except from Mat Elder, whose expansive, fearless dancers are breathtaking.
The Mari Meade Dance Collective closes the first act with two excerpts from a work in progress.
The first, which utilizes the whole company moving like a flock of birds, creates the riveting impression of individual isolation in a great crowd. It conveys a solemn, collective anxiety which sits heavily, though not uncomfortably, on the audience. The second excerpt, following immediately after, is similar in structure—perhaps too similar for this particular billing.
The evening closes with highlights from Meade's recent full-length work dialogues, an abridgement which stands fantastically on its own.
Allison Beler, a strong and delicate dancer, delights with her spunky solo—though the occasional ballet steps seem incongruous with the rest of the choreography. Misuzu Hara and Isaac Owen, in their duet "missed connections," convey a household of history in a few short minutes.
But by far, the highlight of the night is Meade's closing number, a theatrical, Broadway-esque exploration of a drunken night out. Meade assembles a cast of diverse and riotous characters, and her narrative-driven choreography is a joy to watch.
I left Spoke the Hub feeling invigorated. BAND with MMDC speaks to the overflowing talent present in New York City, and the potential that artists have to lift each other up. I can only hope that more opportunities like this one will exist in the future.
Author:
Elizabeth Shew
Photo Credit:
Ben Yannette