More Audience Reviews
Advertise With Us
Make an impression — place an ad on The Dance Enthusiast and receive thousands of eyes on your work every week. Learn more. 
Contribute
Your support helps us cover dance in New York City and beyond! Donate now.
AUDIENCE REVIEW: Chronicle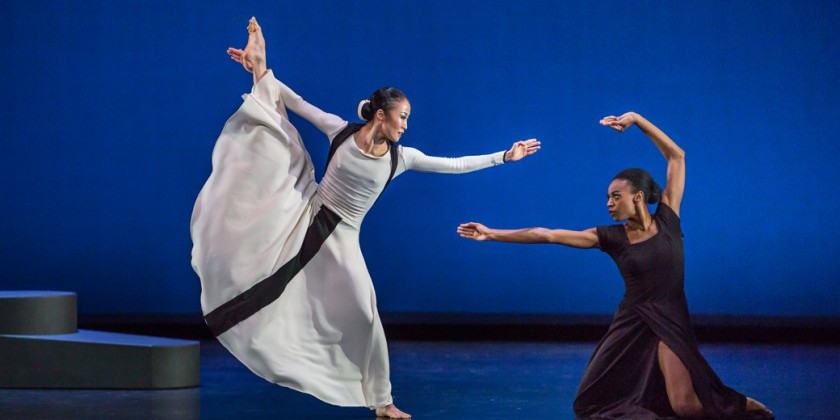 Company:
Martha Graham Dance Company
Performance Date:
October 13, 2019
Freeform Review:

On October 13, I had the oppurtunity to see a second Fall For Dance performance that involved a plethora of performers such as: Les Ballets Jazz de Montréal, Sara Mearns & Taylor Stanley, Monica Bill Barnes & Company, and Marta Graham Dance Company perfoming Chronicle.
Chronicle is a dance that Martha Graham created and was premiered in 1936 at the Guild Theater in New York City. This empowering all female cast was a response to the fascism and anti-feminism in Europe at the time.
Being that this was my first time seeing the Martha Graham Dance Company perform I did not know know what to expect. I am familiar with the technique, therefore I knew there would be contractions, but I did not know how they would be put to use within movement. To my delight the piece was packed with technical rigor and determination of these powerful women on stage!
The piece began with a solist, Xin Ying, in a long black dress with a red underlining under the skirt with her sleek black hair cascading down her back. She begins sitting on a platform that appears to be to connected circles, one is taller than the other. The music by Wallingford Riegger begins. It is a very haunting yet awakening piece of music that carries a dramatic minor tone with a march in the background. In combination, the soloist portrays strong powerful movements that are driven by the solist staccato, yet seamless movement. The skirt also plays a key part in this solo; how it cascades over the platform as well as how the solist manipulates it is very intruiging. Throughout the solo it's almost as if time doesn't pass because of the quality that the movement carried.
After this soloist finished, a group of women began pouring out of the wings one by one, wearing short sleeve black dresses, holding their arms as if they were a shield, and slowly walking backwards. These women in their maticulous patterns and united movements across the stage almost give the feeling of an army or a force. In combination with the loud and sudden music although their movemnt is techinal and precise there is an transcedent energy emersed in the movement.
As the piece moves forward the same soloist that we see in the beginning comes back in a white dress with three prominent black stripes. The platform also returns with her. Opposing to her last solo the movement in this section called Prelude to Action is much more athletic and more open to the audience. Unlike her first solo she is joined by the force of dancers that we saw in the second section. This section is really what pushes the idea of unity between women and lets us, the audience, into a world that shows the force that women can be! This section almost feels like an uproar. Their are a lot of unified jumps and in the end the ladies in black are dancing around the soloist. The piece ends with all dancers, including the soloist dancing together with a powerful gestural phrase facing the audience.
Overall I found this piece reviding! I loved what it stood for and found the technique of the company astounding! I look forward to diving into more works by Martha Graham and heavily enjoyed this performance!
Author:
Naya Hutchinson