AUDIENCE REVIEW: Collective Body Dance Lab/Let's Pretend We're All Wearing Sunglasses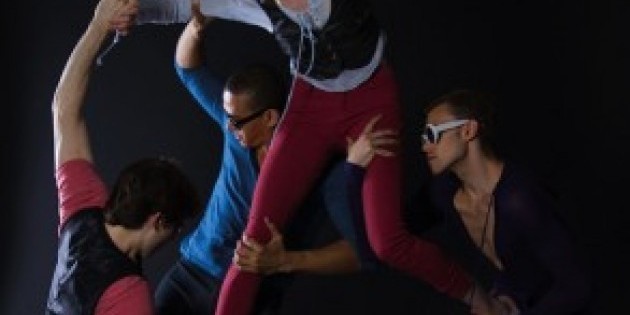 Company:
Collective Body Dance Lab/Let's Pretend We're All Wearing Sunglasses
Performance Date:
09/22/2012
Company / Show / Event
Collective Body Dance Lab/Let's Pretend We're All Wearing Sunglasses
Performance Date
09/22/2012
Venue / Location
MANHATTAN MOVEMENT AND ARTS CENTER/ 248 West 60th Street (between 10th and 11th aves) New York, NY
A bit about you:
(your occupation, the last time you moved, your website, etc.)
psychotherapist and dance maven, www.aquietroom.com
Freeform Review:
Young choreographers like Brian Carey Chung renew one's hope for the future of dance, by pushing limits and keeping it fresh, but always maintaining a baseline of professionalism. Chung has danced with the best, and he maintains that level of performance at all times, even when turning openly experimental, as he does in the opening piece, "Let's All Pretend We're Wearing Sunglasses" - where he utilizes a microphone and addresses the frustration a company of dancers faces in attempting to communicate views on larger issues facing the world. Humor is present in the piece, and spoken dialogue that makes the audience pause and think. But always - always - there's great dancing, and a consistent, sophisticated gestural and expressive vocabulary. Chung has hand-picked top dancers for Collective Body, and he gives them a workout.

The middle of the program was filled with two shorter, more literal pieces by DanzLoop Chicago. The first was a competent and entertaining, but predictable response to Irish music and dance traditions, the second, set to Bel Canto opera, an occasionally clumsy exploration of expressive possibilities utilizing a large bolt of fabric.

The program took flight again with the final work, again by Chung and performed by his Collective Body company, titled "Bloom". To the ethereal strains of Arvo Part, Chung did here what he does best - find ways to let his dancers express themselves beautifully, with effortless sophistication. The piece culminates in a shattering male pas de deux - the effect was at once emotionally gripping and hypnotic, and it created a mood that endured after the piece ended.

A lovely night of dance.