AUDIENCE REVIEW: CoolNY
Company:
CoolNY
Performance Date:
02/02/2013
Company / Show / Event
CoolNY
Performance Date
02/02/2013
Venue / Location
White Wave's John Ryan Theatre
A bit about you:
(your occupation, your website, etc.)
Former dancer; friends with lots of dancers who have lots of shows :)
What was the last time you moved your body?
This morning!
Why did you go to the show? What did you expect to see?
Thought I'd initiate a friend into the world of contemporary dance...
Freeform Review:

Free dance is a good thing, even when it is located all the way by the water in Dumbo, and even if it does take a while to locate the theatre in the snow and slush. I'm no stranger to White Wave's John Ryan Theatre, or to Young Soon Kim's mission to produce a variety of emerging & established artists (60+ in this 10th year, according to the program) at her CoolNY Festival. After watching tonight's performances however, I am wondering a bit- worrying would be more accurate- about the disconnect between Ms. Kim's mission as a producer and the quality of the work I witnessed. Of the seven works offered in Program G, I felt that two pieces were actual advanced stage works, one had great potential for development, and the rest belonged at a works-in-progress showing. Perhaps some additional attention to curating is in order for Ms. Kim at this juncture with CoolNY.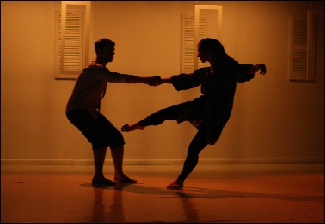 White Road Dance Media


The evening's best for me was an excerpt of a longer work,
North Country,
from white road Dance Media / Marisa Gruneberg. The trio of Miranda Lyon, Emily Maurer and Hanna Olvera were on from their first moment- instant connect with space, music, movement and one another, with a bright openness that continued through duet forms, intricate spatial patterning and thoroughly inventive movement phrases. The performers were technical, seasoned pros who negotiated the awkward columned performance space from moment to moment as a group, and seemed to enjoy the risk of - well, of enjoying themselves. The excerpt made me wish for the full-length work. If anything, it went by too fast.
The duet piece immediately following, Tableau Vivant by FLUSSO Dance / Vanessa Tamburi, had some really lovely dancing by Giorgia Bovo and Katie Moorhead. While certain elements of this work- the Arvo Part, the performers painting on themselves onstage- have been pretty overplayed in recent years, the piece held together structurally quite nicely and the bodies of these two women were a pleasure to see in motion. Really youthful, energetic movements that were perfectly executed in nothing but underwear. I longed for a bit more invention, since these women were certainly technically capable.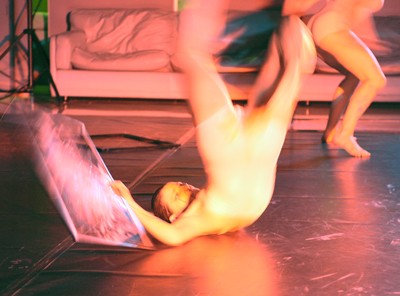 FLUSSO Dance/Vanessa Tamburi
Finally, Megan Nicely's not-so-nice (in a good way) gothic solo got me wrapped in a warped Mary Shelley-type fantasy. It was unsettling at times-I'm not one for growling performers- but as she lifted her dark skirts and whirled beautifully, dare I say it, I wanted that dark vision of hers to grow into a longer, more expanded work with more performers.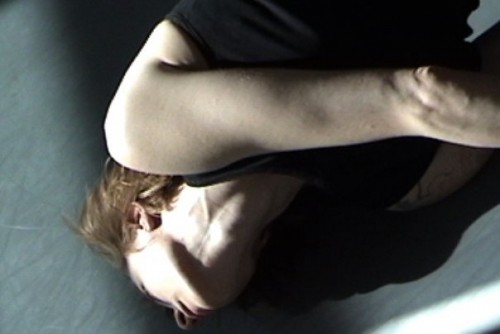 Megan Nicely
-Elliott W.