AUDIENCE REVIEW: DANCE GALLERY FESTIVAL: Professional Development Panel Offers Advice for Young Artists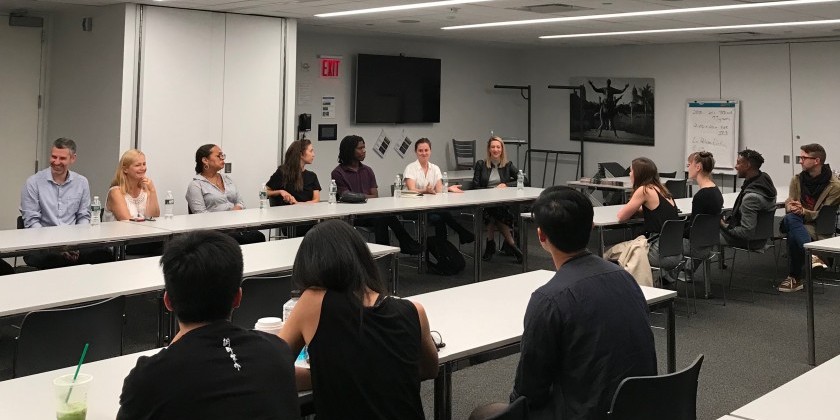 Company:
The Dance Gallery Festival
Performance Date:
September 27, 2019
Freeform Review:
As a dance publicist, I was hired to help promote the Dance Gallery Festival, which just celebrated its 13th year with a weekend of performances at Ailey Citigroup Theater, Sept. 27-29. Fifteen young choreographers presented work over the Festival weekend, including Manuel Vignoulle M/motions, Stewart/Owen Dance and Santa Barbara Dance Theater. A new edition to the programming this year was the Dance Gallery's "Professional Development Panel," held a few hours prior to curtain on opening night. I was curious to attend.
A distinguished group of artistic directors, choreographers, presenters and industry professionals gathered in a fourth floor classroom at Ailey studios to offer young artists concrete advice on how to best move their work forward. Some of the topics covered in the 90-minute session were how to make yourself notable on an open call application, how to negotiate grant applications, strategies for forming relationships with presenters, fiscal sponsorships and even the time table presenters use to decide on programming. On the panel were Ariana Massery, Associate Producer at Jacob's Pillow, Cameron McKinney, Choreographer of Kizuna Dance, Danni Gee, Dance Curator for CityParks SummerStage, Helen Simoneau, Choreographer of Helen Simoneau Danse, Nicole Von Arx, Choreographer NVA & Guests, Astrid von Ussar, Founder and Artistic Director of the Dance Gallery Festival, and Kristin Gregory, Program Officer, National Dance Project, NEFA – New England Foundation for the Arts.
A few takeaways from the discussion:
Share your "full work" on an application video, not just a trailer. Rehearsal footage is great!  Close ups of faces do NOT work well, show your full body, and don't use intros in your videos – have your video go right into the work itself.
Be sure that if you apply to an open call, you're available and willing to travel if the performance is out of town.
Check that your work is a good fit. For example, if the festival is out of doors – do you need quiet, special lighting, or costuming that can't be used in an outdoor venue?
Form relationships with presenters – invite them to see your work, call them, participate in phone conferences, ask for an informational session.
Don't just participate in a festival and leave - introduce yourself, get back in touch with the presenter, don't run for it after the show!
The dance world is a small one – if you are difficult to work with, word will spread. Make a good impression - presenter's talk to each other!
There was so much more. The panel was followed by Q/A session, and then, sadly, time ran out. There was still so much valuable information to share.
The Dance Gallery hopes to become a yearlong presence in artist's lives, furthering the organization's role in helping artists connect and network. I'm proud to help them get the word out.
About the Dance Gallery Festival:
Since its inception, the Dance Gallery Festival has featured more than 650 dancers, and has grown from a single showcase to a festival with performances in NYC and Texas, residency programs for choreographers and free master classes for both NYC and Texas communities. 
Under the guidance of Astrid von Ussar, Festival Artistic Director, The Dance Gallery Festival has mentored hundreds of artists seeking to establish a foothold in a business with few resources and much competition. 
Over 170 emerging and established choreographers have participated in The Dance Gallery Festival since its founding, with more than twenty-five works commissioned. Many Festival alumni have gone on to perform at Jacob's Pillow, the Joyce Theater, international venues and national television. Video.
Author:
Adria Rolnik
Website:
adriarolnikpr.com