More Audience Reviews
Contribute
Your support helps us cover dance in New York City and beyond! Donate now.
AUDIENCE REVIEW: Dance for PD® Community with The Lovelies (NEVER BEFORE NEVER AGAIN)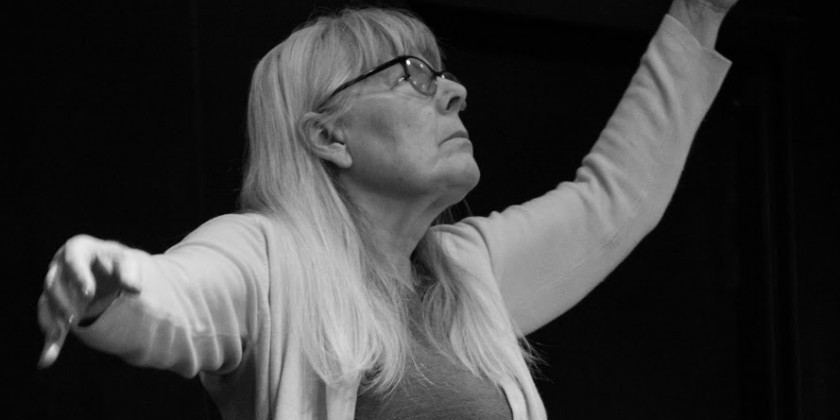 Company:
Triskelion Arts (guest curated by The Lovelies)
Performance Date:
January 9, 2020
Freeform Review:

From the moment the public stepped into the performance space, there was life onstage – moments being harnessed, and duets being forged between friends. Flights of fancy and gestures of enveloping tenderness coinciding with slow, steady, thoughtful, and focused moments too. There was a playful spirit above all, that was both inviting and engaging. As the audience filled in, the dancers took turns as if warming up the space and the night to what was in store. When their musician Kirin McElwain silently entered, there was a breath, a stasis, and the entire prelude seemed a fitting beginning to Triskelion's NEVER BEFORE NEVER AGAIN (NBNA) Festival. Like any grand epic, this 3 week festival would start by quiet surprise, and in the middle of things.
Beyond the sense of comradery connecting this ensemble, which was evident from the first playful duets to the stunning creation of intricate tableaus, there was also a keen sense of spatial composition apparent. A composite complicité. Duration and dynamics played their parts as well – moments found, relished wholeheartedly, and then broken, leaving performers in the wake of lift or loss, to carry that inertia with them. But always there was a sense of whole body listening from the periphery, and the waves of sound and movement would bring more offerings in due time – a tide that never ceased. Guided mirroring would churn possibilities forward, enhanced by group listening; and gestures might develop distinctly as each body would carve space in their own replicative manner yet in the same rhythm. Finding respites after moments of fullness and fruition, the performance kept propelling itself forward, and overall this ensemble's willingness to play and push into the unknown was most compelling.

There is a mystery to improvisation, where deep flow invites subconscious connections to surface, for performers and audiences alike. Where quotidian gestures of an embrace or a ball toss might ignite some distant memory in our own sock hop Salad days; or a peering performer might awkwardly invite us to the party, away from our passive roles in the dark. There's courage inherent to improvisation-as-performance beyond its proof of life, and the Dance for PD® Community with The Lovelies took rigor and practice to heart. Their creativity shone brightly against any shadow of a doubt.
Artistic Director Rachel Mckinstry has proven time and again that Triskelion Arts is a hearth for hearty discourse of this incendiary practice. So whether you believe in magic or mystery this NBNA festival, guest curated by The Lovelies, asks us to believe in the transformative power of improvisation, reminding us "this work MUST be practiced by everyone." Members of Dance for PD® must do so every time they step foot inside a dance class, for what is stepping into the realm of mystery if not through the unknown ups and downs of Parkinson's disease? Now, as engaged participants, shall we heed their courageous example and stretch beyond what we already know of this ephemeral present? We may never have seen moments like this before, and as we hurl towards the future, we may not have moments like this again. "That's the way," Patricia Bebe McGarry poetically points out to her fellow dancer Nancy Petaja in the piece's penultimate moments. "It's dark," Nancy says, "I can't see", as she looks out towards the silent house. "It's the right way to go," McGarry responds, and she puts out her hand welcoming her friend's grasp so together they could step through the once enveloping crowd, who now open and billow like a forest unfurling before them. Hand in hand they went pressing onwards together. And together we can too, hand in hand and with open hearts.
By Michael Vitaly Sazonov
Author:
Michael Vitaly Sazonov
Website:
MichaelVitaly.com
Photo Credit:
Nancy Petaja by Hannah Long Photography