More Audience Reviews
Advertise With Us
Make an impression — place an ad on The Dance Enthusiast and receive thousands of eyes on your work every week. Learn more. 
Contribute
Your support helps us cover dance in New York City and beyond! Donate now.
AUDIENCE REVIEW: Dances at a Gathering (1969) by Jerome Robbins and Everywhere We Go (2014) by Justin Peck.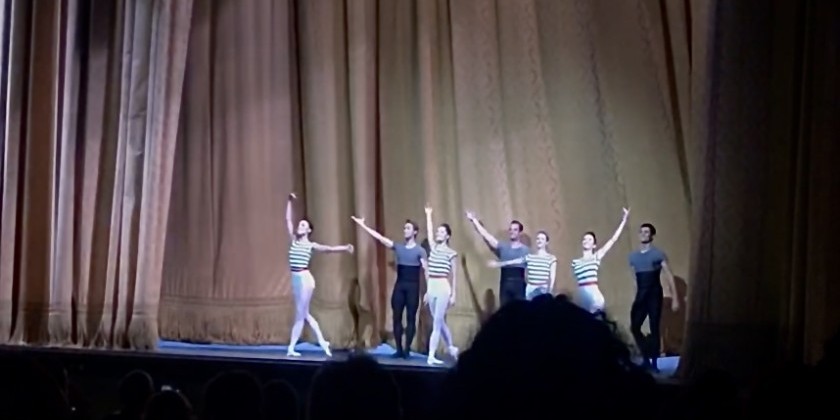 Company:
New York City Ballet
Performance Date:
October 11 2019
Freeform Review:

During New York City Ballet's Fall season, I had the pleasure of seeing Dances at a Gathering (1969) by Jerome Robbins and Everywhere We Go (2014) by Justin Peck.
The evening began with Robbins'. Set to the music of Chopin. The ballet consists of short solos, duos, trios, and group work eventually finishing with all ten dancers on the stage. The women wear different color dresses that create a semblance of individuality while remaining crisp and still uniform. Robbins' choreography reflects that by giving each of women different key steps and emotions to play with. The repetition at various points of the ballet to contribute to the choreography by giving each dancer in the piece a personality to explore and play with adding to the liveliness and pleasure of the ballet. Similarly the men are also dressed in various colors to complement the ladies.
Interesting to note is the ballet is primarily danced by principals in the New York City Ballet along with some upcoming soloists. There are not many ballets in the repertory of ballet companies that have a cast of principal dancers dancing as a corps. This choreographic choice was unique and created such a high caliber ballet.
Principal dancer Lauren Lovette was especially a stand out of the evening. She danced the role of "Pink Girl" with elegance, fluidity, heart, and grace. It was a true joy to witness her technicality and artistry.
The second ballet of the evening was a personal favorite of mine. Justin Peck's Everywhere We Go showcases ballet in a modern context. The beautiful music of Sufjan Stevens, adds so much vibrancy to the already breathtaking choreography. Much of the lighting is focused on making geometric types of patterns which complement the angular movements of the dancers. The piece utilized a lot of the male and female dancers in the corps de ballet. It was especially powerful seeing such body of individuals moving as a unit. It was also very interesting to use so many male dancers in the corps. That was very unique to this ballet.
There were three principal couples and one soloist. The soloist role was danced by corps de ballet dancer Emily Kikta. Call me biased (she's my cousin), but she stole the show! She has a natural performance quality that makes her look right at home on the stage. Her legwork and footwork aided in her ability to eat up the floor and cover distance with clarity and speed. Her height accentuated her flexibility making her lines look long and beautiful. It was a complete joy to watch her dance with so much energy and control. She was truly magnificent and a true stand out of the evening.
Both Robbin's and Peck's ballets were the work of a genius. Putting them together in the same program offered variety and showcased the company's versatility. It was an absolute pleasure to witness the artistry and talents of the dancers in one of the highest caliber ballet companies in the United States.
Author:
Caitlin Yatsuhashi