More Audience Reviews
Advertise With Us
Make an impression — place an ad on The Dance Enthusiast and receive thousands of eyes on your work every week. Learn more. 
Contribute
Your support helps us cover dance in New York City and beyond! Donate now.
AUDIENCE REVIEW: Einstein on the Beach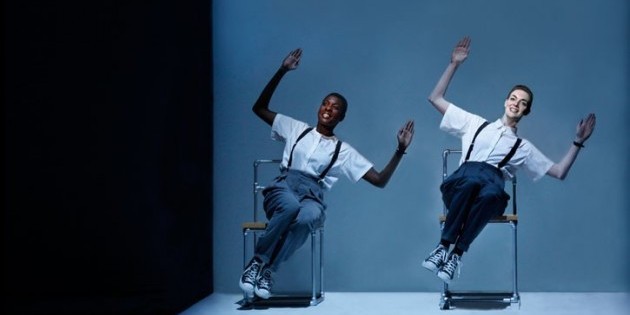 Company:
Einstein on the Beach
Performance Date:
09/14/2012
Company / Show / Event
Einstein on the Beach
Performance Date
09/14/2012
Venue / Location
BAM-Brooklyn Academy of Music
A bit about you:
(your occupation, the last time you moved, your website, etc.)
Originally from Argentina, Anabella Lenzu is a dancer, choreographer and teacher with over 20 years experience working in Argentina, Chile, Italy and the USA. As Artistic Director of Anabella Lenzu/DanceDrama, Lenzu draws on her diverse background to create thought-provoking and socially-conscious dance-theatre in the interest of improving our human condition. Classically trained at the renowned Teatro ColAn in Buenos Aires, Lenzu studied the modern dance techniques of Humphrey/LimAn and Graham in New York. Her studies of Tango and the folkdances of Argentina, Spain, and Italy, further inform her work. Her choreography has been commissioned all over the world, for opera, TV programs, theatre productions, and by many dance companies, such as Anna Sokolow Theatre/Dance Ensemble (New York) and Movimento Danza (Naples, Italy). Lenzu founded her own dance school LaAtelier Centro Creativo de Danza in 1994 in Argentina, and has maintained an active teaching career ever since. Currently, Lenzu conducts classes at Peridance Capezio Center, Wagner College and Lehman College. Lenzu is also a published author for various dance and arts magazines, and plans to debut her first book in November of 2012, entitled aUnveiling Motion and Emotiona. The book contains writings in Spanish and English on the importance of dance, community, choreography, and dance pedagogy. Photography by Todd Carroll will document Lenzuas vast range of experiences dancing, teaching, and choreographing. http://www.AnabellaLenzu.com
Freeform Review:
www.scaddistrict.com/wp-content/uploads/2010/01/Einstein-on-the-Beach.jpg



A QUESTION OF PALATE
Friday, September 14th, 2012, New York
The lobby of BAM was boiling.
Ages range from 25 to 70, as does the fashion, with people in flips flops to a Oscar de la Renta dress. That night, BAM felt like Europe came to visit NYC.
I thought: I belong here!
A gentlemen in the will call line told me: "This place is exciting!
I arrived early to see what interesting books I could find in the corner booth. I end up buying a documentary dvd of the show entitled Einstein on the Beach, The Changing Image of Opera from 1985.
In four hours and 30 minutes, I experienced 10 symbolic tableaus constructed and executed with the precision of a surgeon, except for the two scenes of dances by Lucilda Childs. The dances were not in synch as we are used to seeing from Childs' choreography. The magic of the kaleidoscope was missing, because the dancers did not even feel their kinesphere (what Rudoph VonLaban, German dance theorist, called the personal space surrounding the body).
The beautiful light design and symmetry of Robert Wilson stage designs are perfect, and ideally appeals to a cerebral audience. I caught myself many times turning my head and looking at the faces of the audience, noticing the emotional response to the work ranged from mesmerizing to sleep.
As a neophyte in the Robert Wilson art world, I arrived in the theater open to receive, absorb and process, trying not to have preconceived expectations. The piece hit me intellectually.
How long does one need to be exposed to a simple and dream-like image?
25 minutes? Why?
Though the images encountered on stage appeared simplistic at first glance, they were actually meticulously elaborated. Even so, they did not have any emotional appeal to me personally. As Albert Einstein said "The most beautiful experience one can have is the mysterious." I compared experiences with other audience members, and sadly, I did not feel the mystery.
I noticed myself thinking about, but not experiencing any mystical transformation like some of my friends experienced, but herein resides the beauty of Art, in the different interpretations!
I often enjoy extended performances that play directly with time and length.
I am aware that Einstein on the Beach is a piece about time, and how Einstein explores this concept, but the length of the performance did not affect deep change in my experience. When you go to church or a temple you find yourself contemplating paintings, icons, sculptures and other representations of transformative events meant to encourage your own transformation. In this presentation of Einstein on the Beach, the context did not provide additional insight.
As an European/Argentinean artist, my palate is accustomed to long opera, meticulous ballet and music concerts. I did not need to prepare myself on endurance. But my main question is this: when in life do we need to be exposed for a long time to the observation of something, whether it is nature or art? As the wife of a photographer, I can testify to long days watching and waiting, trying to capture the perfect light to take a photograph. There is value in participating in active observation.
The highlight of the night for me was a scene called Night Train, where the couple sings an incredible duet building in anticipation as they are suspended in the infinite, performed by Elga Davis and Gregory R. Purnhagen.
I take my hat off to the singers and actors involved in this production for their high caliber acting, focus and endurance in this production. Extraordinary. And what I can say about the musical composition of Philipp Glass? Genius.
As always, I want to go as deep is possible in understanding and researching themes. As an educator I need to support my impressions after the show by talking, interviewing and reading reviews and publications about the show.
I was lucky to enough to participate in the after party of Einstein on the Beach, where I spoke informally with some of the singers, ex Wilson's assistants and donors.
What happens when you look a painting or a photo for a long time?
After my research and reflection, one of two things happens: You get closer to, or farther away from the piece.

Analyzing my Wilson experience:
I first approach the piece technically, then consider its structural composition and finally tackle the intellectual ideas. This informs my mind so that an emotional response can surface. The first 3 stages were successfully achieved, appreciating and admiring the precision, detail and rich elaboration of the piece. However, the emotional experience was not fulfilling on the same level.

After all is said and done, it is a question of palate as well as context.
What about you?